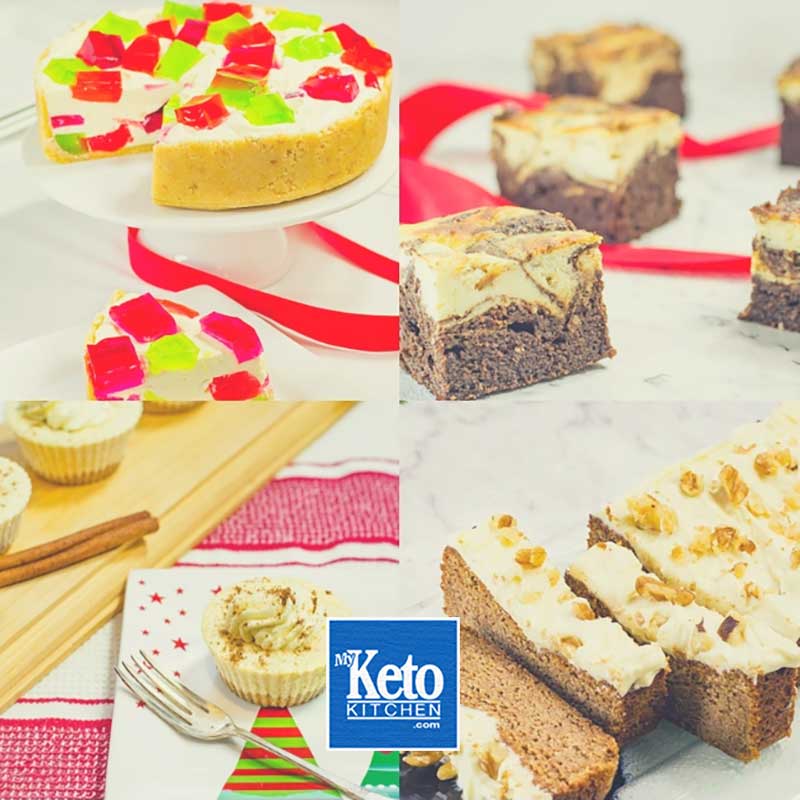 It's the best time of year and the festive season is almost upon us so we collected a bunch of our favorite Keto Christmas Recipes to make it easy for you.
We've grouped our Keto Christmas recipes into four categories to make them easy to scroll.
Dinner Recipes
Side dishes
Keto Christmas Treats
Desserts
Keto Christmas Dinner Recipes
The main event on Xmas day for us is Dinner. We've pulled together a collection of warm high fat Keto Christmas dinner recipes that you can prepare before the party arrives.
Roast Pork with Crackling
Homemade Rotisserie Chicken
Roast Turkey Legs
Corned Beef with Special Mustard Sauce
Tender Juicy Lamb Shanks
Keto fried Chicken
Pulled Pork Carnitas
Three Cheese Pie
You can gather together the ingredients and prepare many of these recipes before Christmas day and simply pop them in the oven if you like.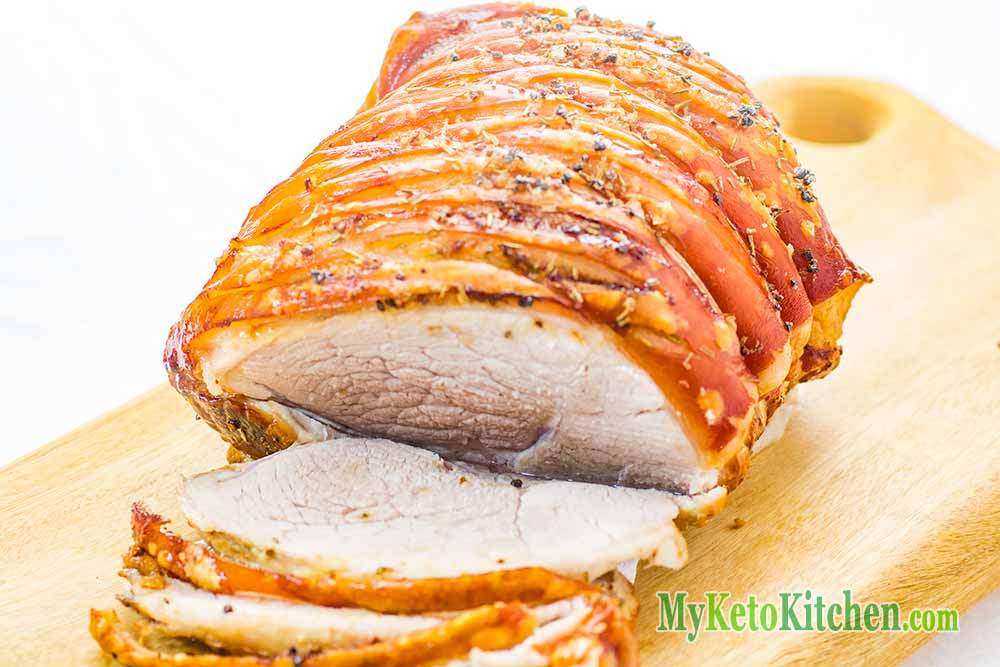 There's nothing quite like fatty roast pork with crispy crackling served hot straight on the oven on Christmas day.
We'll be making this recipe our centerpiece at the Xmas dinner table.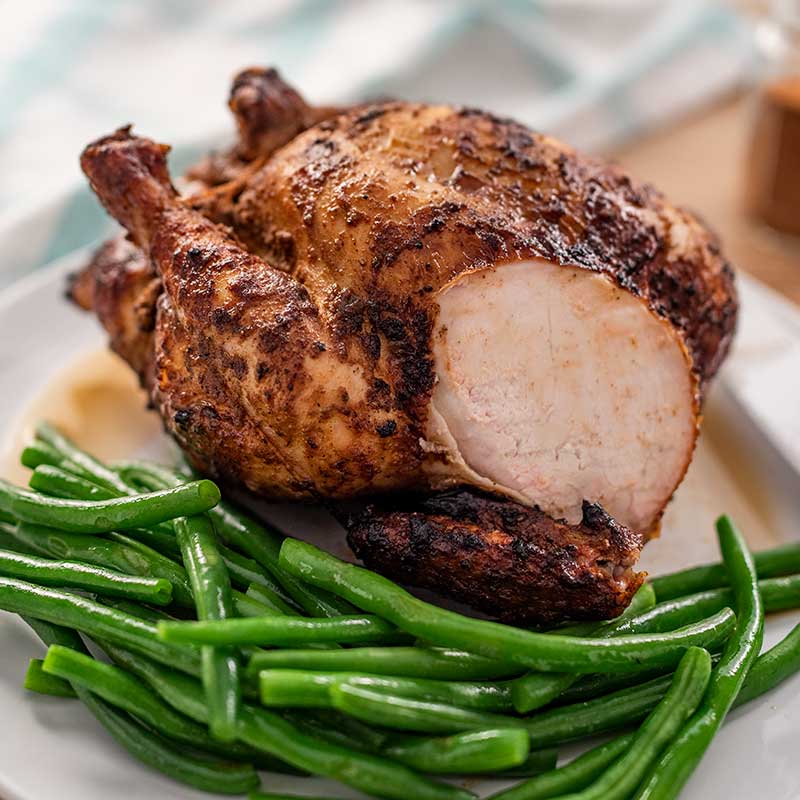 This super juicy and tender Rotisserie Chicken is perfect for a Christmas feast! Cooking your chicken on a rotisserie saves space in the oven for more important things – like dessert!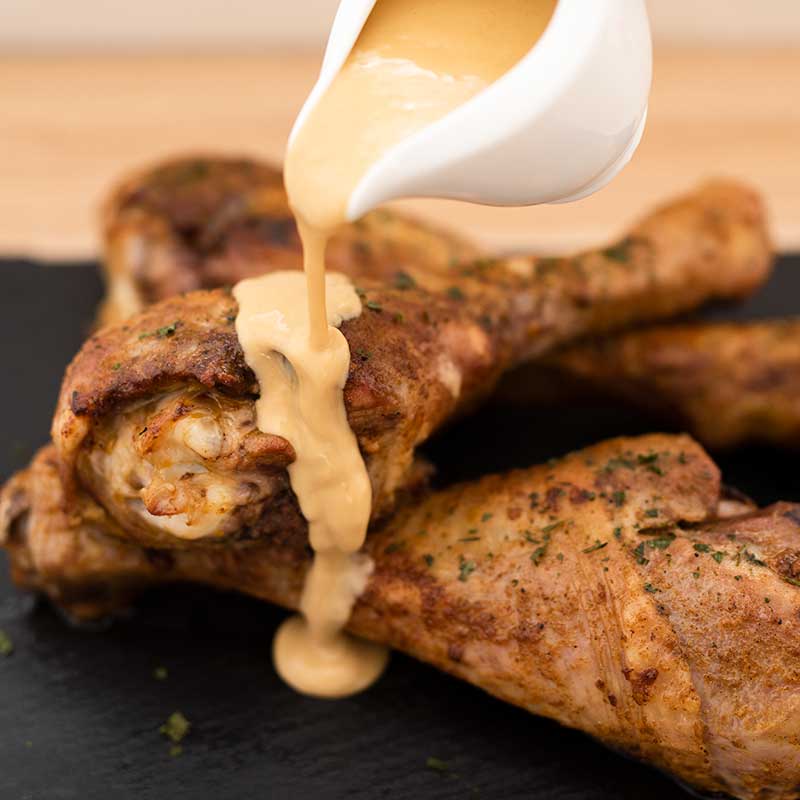 Didn't have enough Turkey at Thanksgiving? Roast these delicious legs for Christmas Dinner!
Corned Beef With Mustard Sauce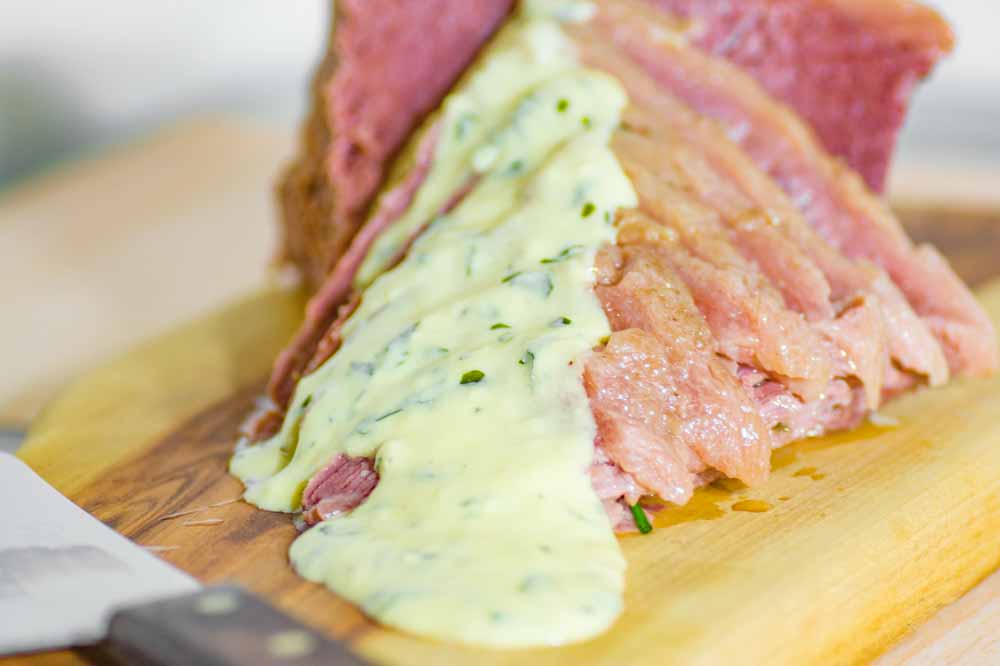 Another favorite keto Christmas dinner recipe is our corned beef with "special" keto mustard sauce.
Slice it up and smother with the sauce in a large serving dish. Place the dish in the middle of the Christmas dinner table for your guests to help themselves.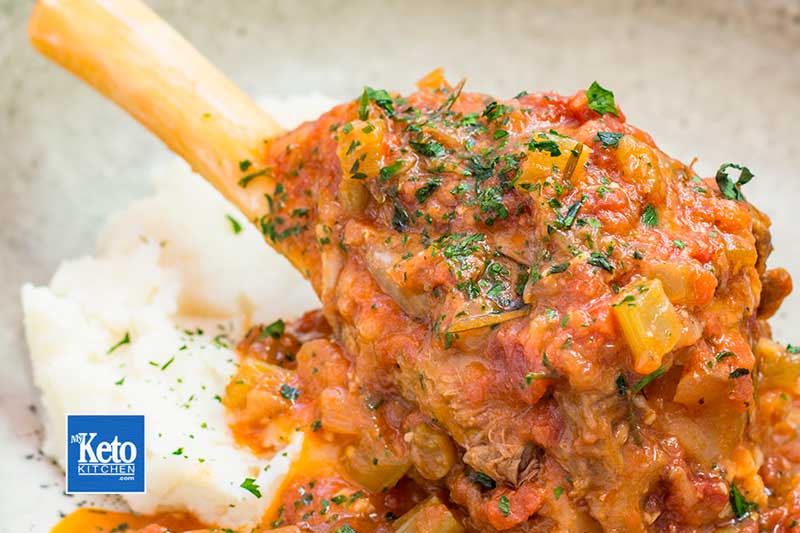 This tender and tasty lamb dish is quite easy to make in a pressure cooker or Instant Pot.
You can make this recipe the day before Christmas lunch or dinner and reheat just before serving, nobody will even know it's keto!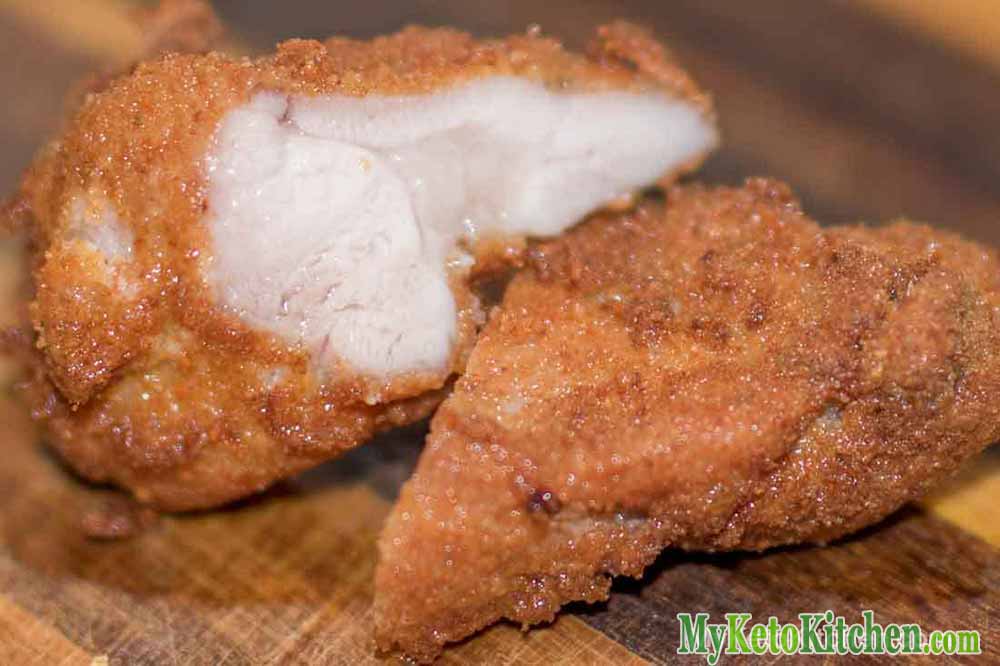 In Japan, Christmas is all about fried chicken and you can't tell me that a serving dish full of fried chicken will last long. Nobody needs to know that the recipe is keto either.
This fried chicken is 100% Keto and the perfect for Christmas dinner.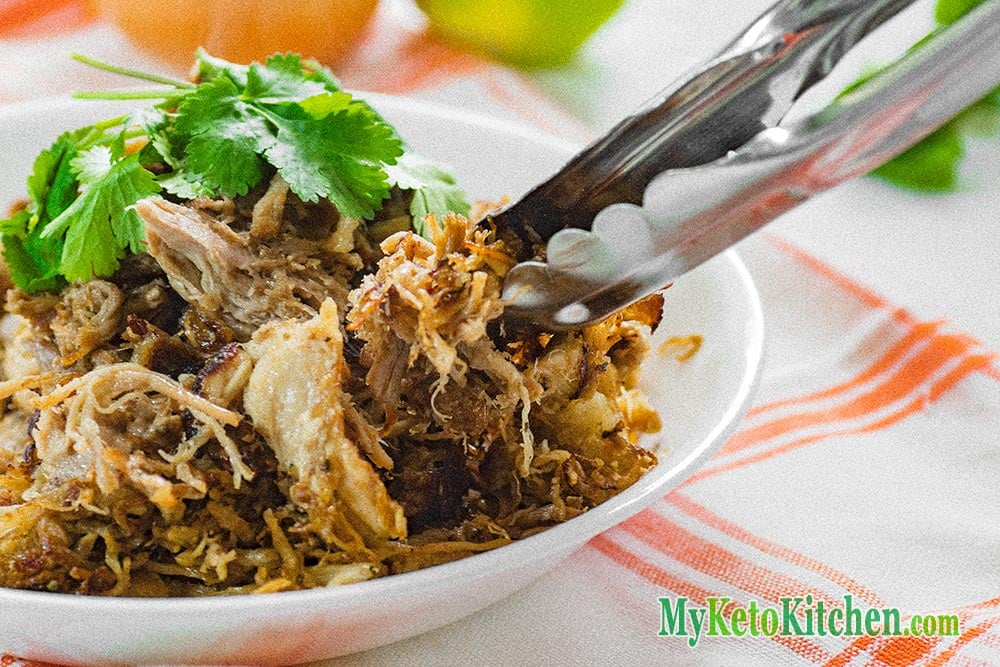 You can do so many things with pulled pork that's why it is the perfect food for Christmas Dinner. Use your imagination and come up with some tasty dishes.
Pulled pork is another food that can be made in bulk ahead of time, freeing you up for other things on a busy Christmas day.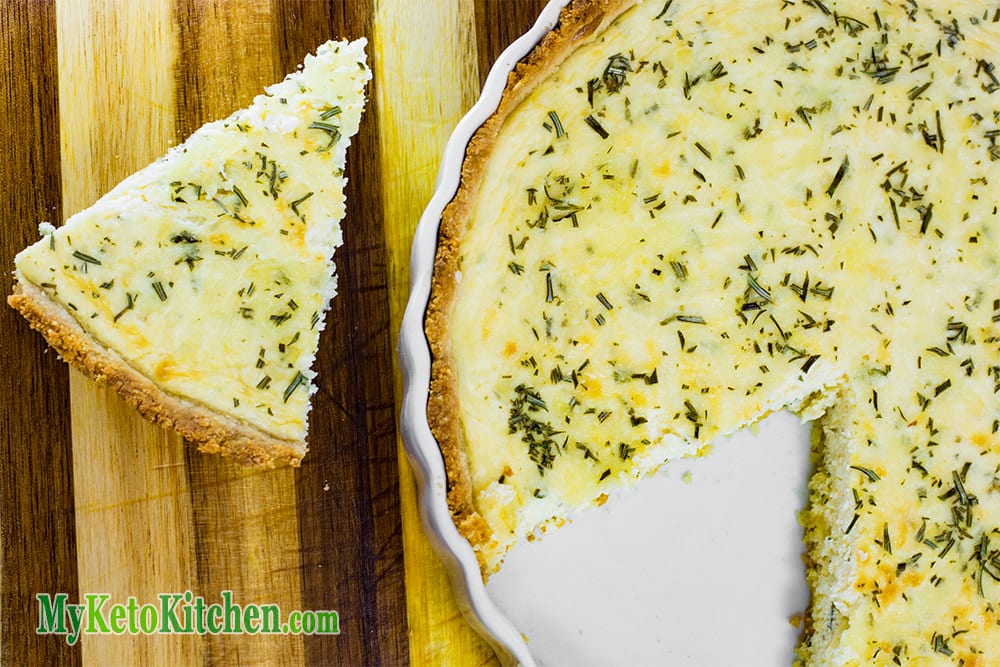 Cheese is a great ingredient to make a tasty Keto Christmas dish. Serve this three-cheese pie alongside your meat or on its own.
Make this cheesy delight the night or day before Christmas dinner and let everyone help themselves – it's a great option if you are feeding vegetarians!
Keto Christmas Side Dish Recipes
Christmas dinner isn't complete without side dishes and these low-carb Keto recipes make the perfect addition to your festive feast.
We make use of some common Keto foods and mix them together to make the perfect accompaniment to your main dishes.
Keto Gravy
Keto Whole Baked Cauliflower
Loaded Cauliflower Casserole
Creamy Keto Cauliflower Mash
Smoked Salmon and Avocado Salad
Keto Maple Pecan Brussels Sprouts
Buttery Garlic Mushrooms
Easy Roast Asparagus
Classic Keto Green Bean Casserole
Keto Garlic Green Beans
Keto Bacon-Wrapped Cabbage
KetoSausage and Herb Stuffing
Keto "Cornbread" Stuffing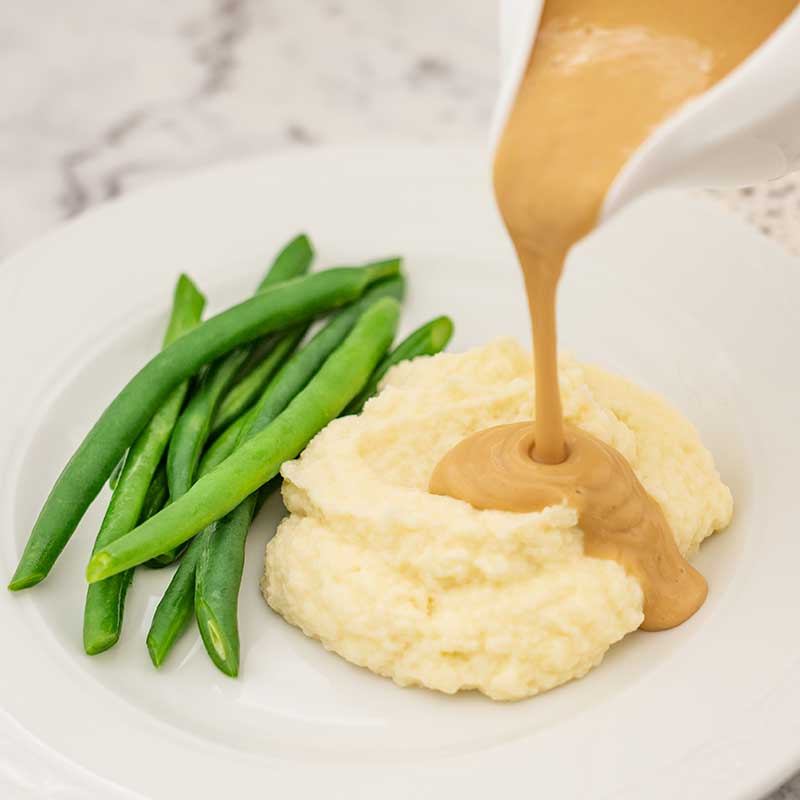 What Christmas Dinner without gravy! Our Keto Gravy is rich, smooth and best drizzled over everything, so load up that plate and get pouring before it runs out!
This Gravy is so good, no one will even realize that it's keto!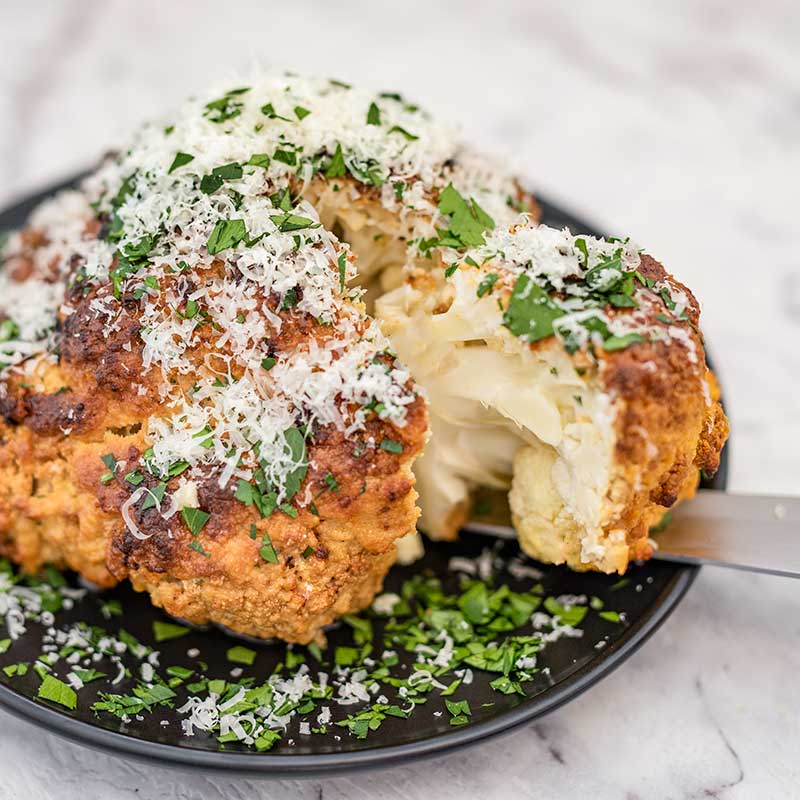 This impressive side dish also works an a centerpiece for your Christmas table. It even makes an excellent main for vegetarians!
Loaded Bacon & Cheese Cauliflower Mash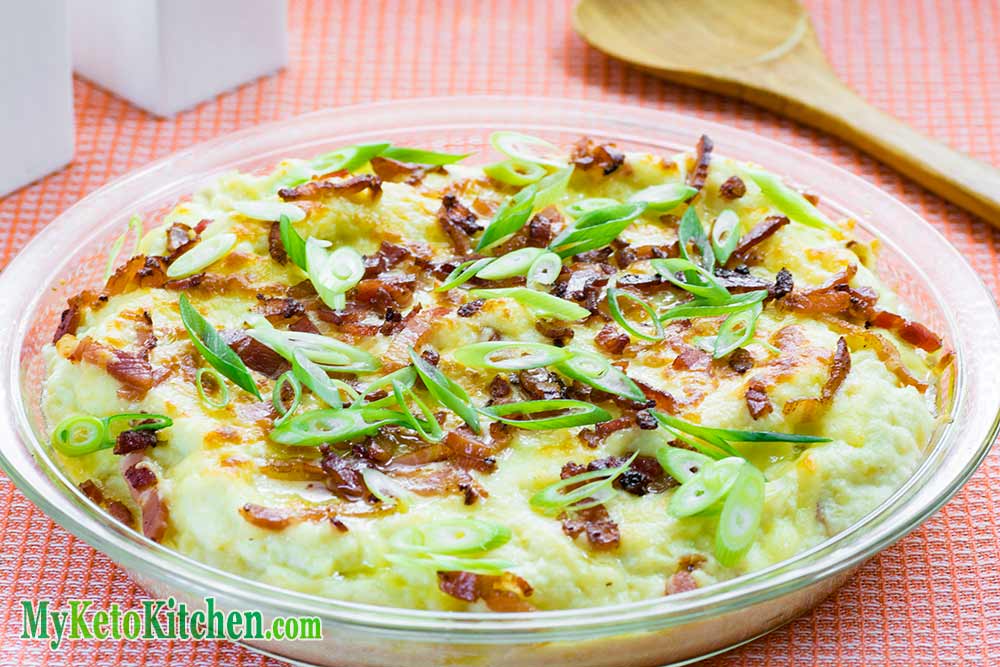 This Keto Christmas side is such a flavorsome favorite that we make it all year round, not just for Xmas and Thanksgiving.
Depending on how many are coming to Christmas dinner you might have to double up on this recipe as it's usually the first side dish to go. Who can resist bacon?!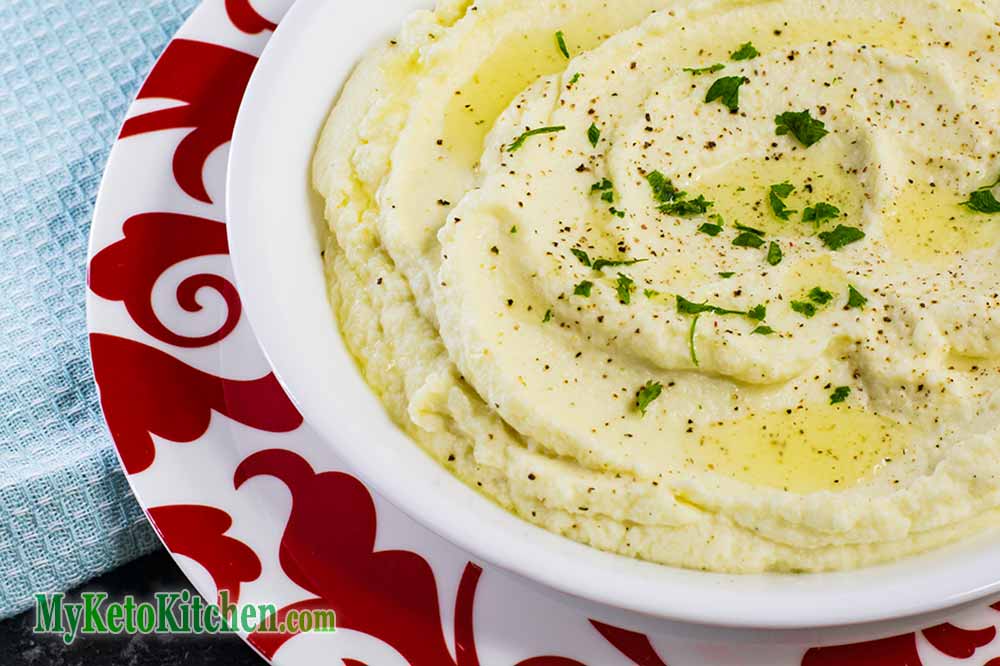 Creamy Mash is easy to make without potatoes and we think it actually tastes better.
Make a big bowl for your Keto Christmas menu and serve with a big knob of butter melting over it. Yum!
Salmon Avocado and Rocket Salad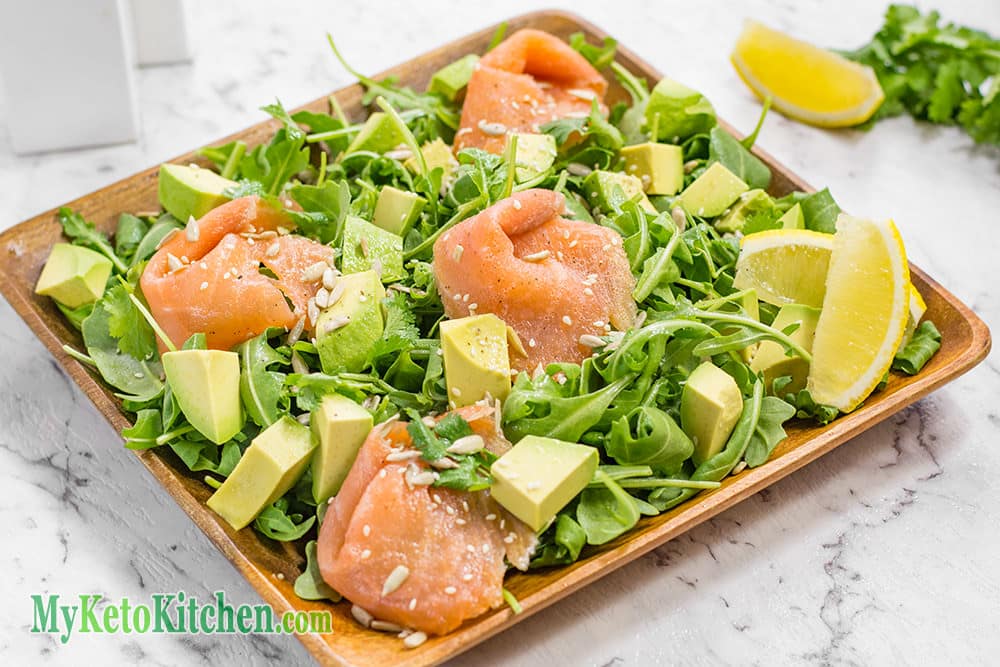 If you like a cold salad popping with flavor and healthy fats at Christmas dinner this one will hit the spot.
Both salmon and avocado are loaded with healthy fats, potassium and moderate amounts of protein, it's very a very tasty side dish recipe.
Keto Maple Pecan Brussels Sprouts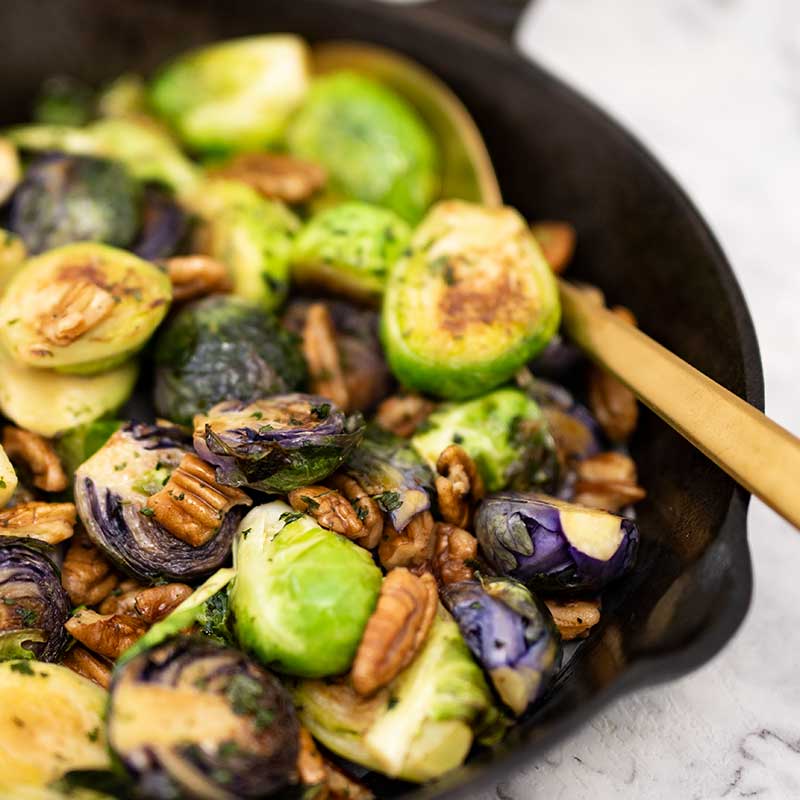 These sweet and salty Brussels Sprouts are a delicious addition to the dinner table.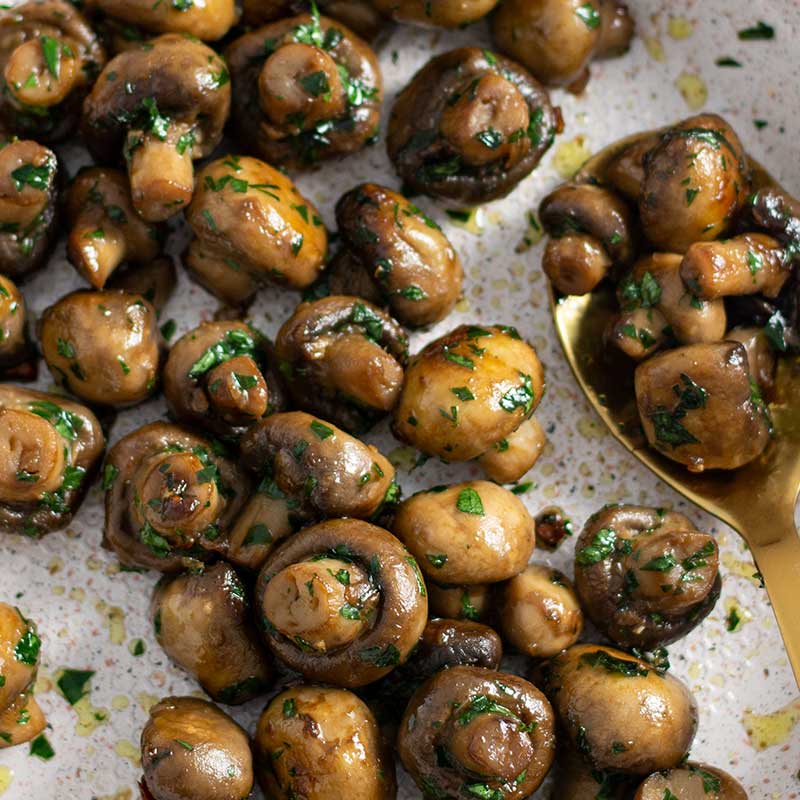 Buttery, garlicky little morsels of flavor, this is one easy side dish that you can make in advance or throw on at the last minute!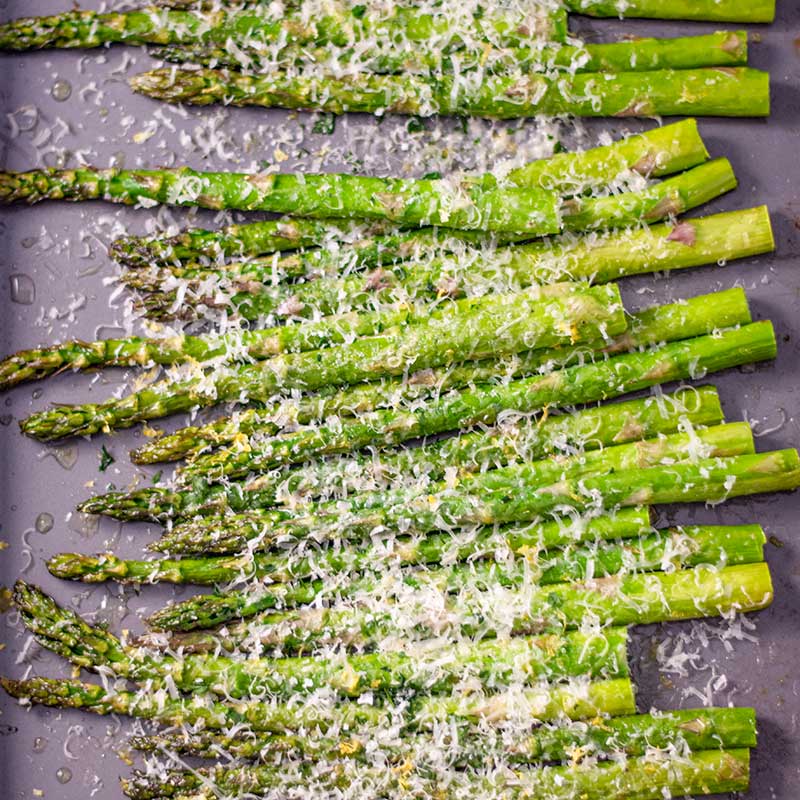 This is a fresh, zesty side dish loaded with parmesan cheese. Simple and delicious!
Classic Keto Green Bean Casserole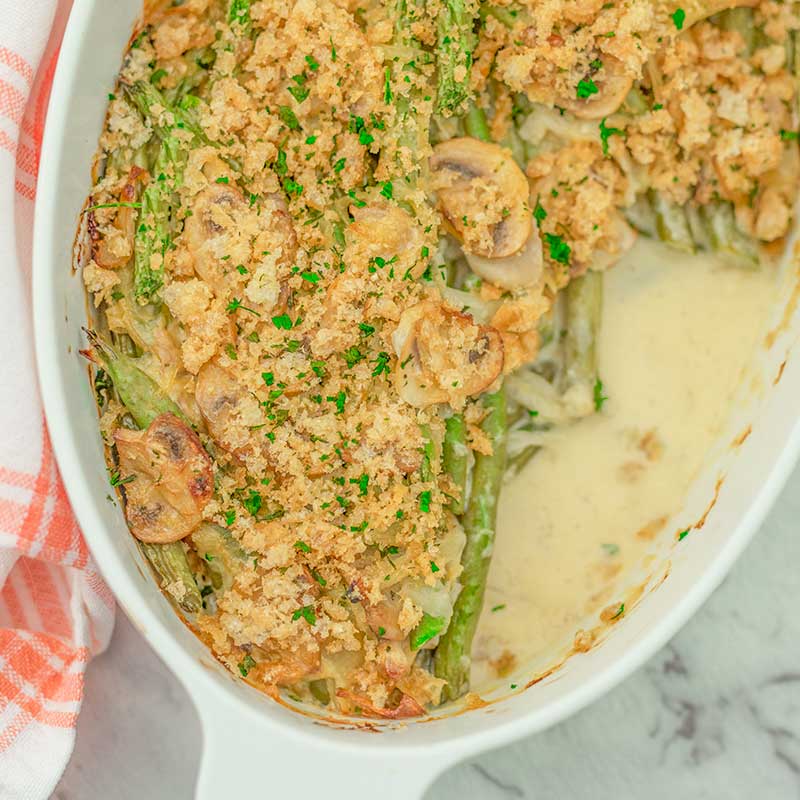 The festive season is ALL about Green Bean Casserole and our Keto version is so good that it will trick those high carbers in the family (we all have them, don't we).
Make ahead and bake just before dinner!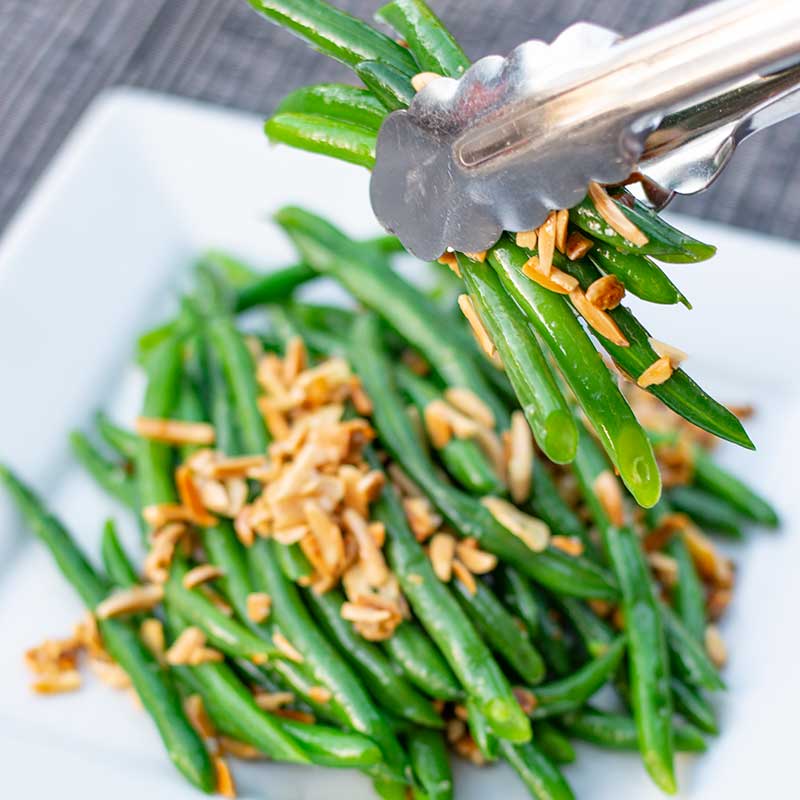 Is your oven overloaded? These tasty green beans are an exclusive stovetop recipe! The beans can be blanched in advance and tossed in a hot pan just before eating!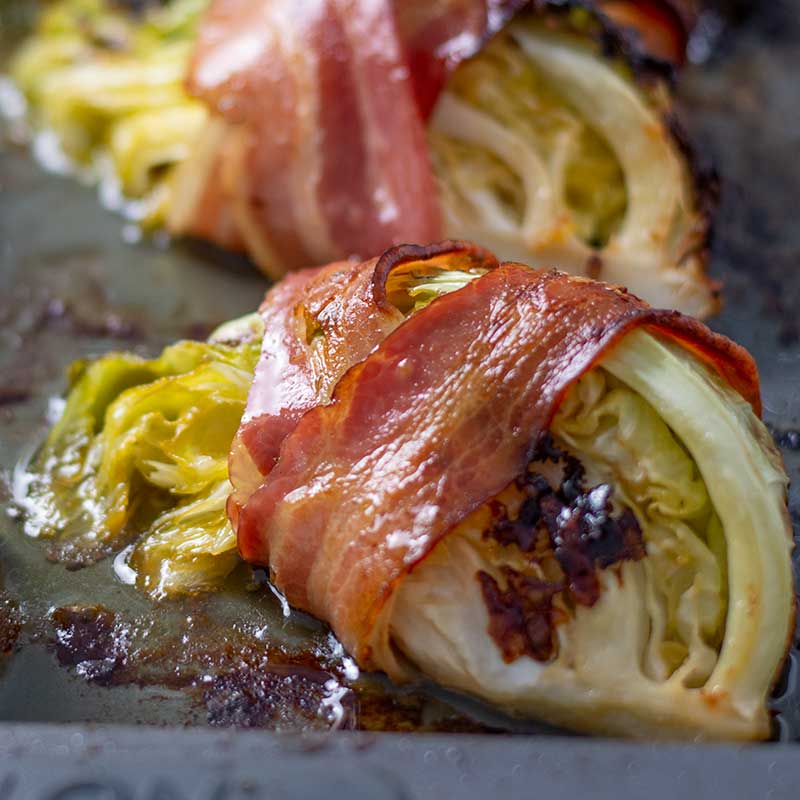 Want something a little different on your Christmas menu this year? Three words – Bacon – Wrapped – Cabbage! The tender cabbage wrapped in crispy bacon makes this a solid favorite!
Keto Sausage and Herb Stuffing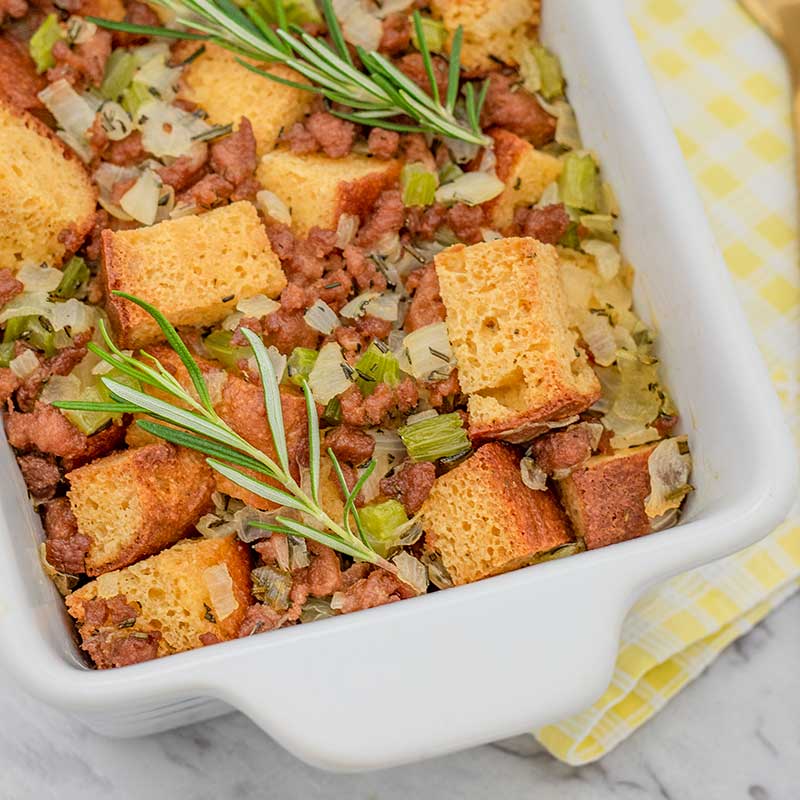 Whether it's called Stuffing or Dressing at your table this sausage and herb one is bound to hit the spot!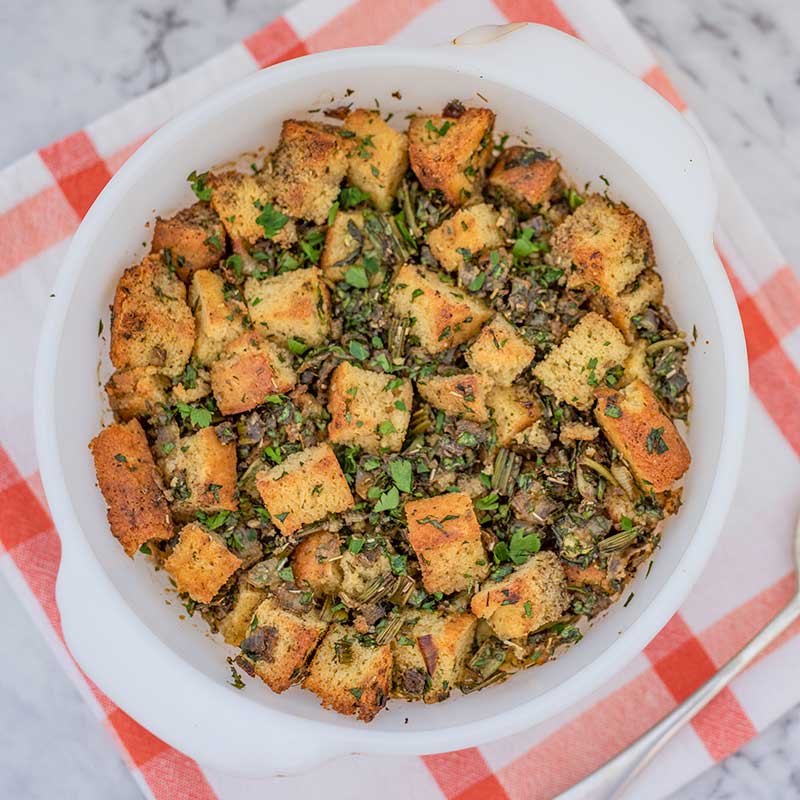 Whilst the recipe contains no corn – the texture and flavor is as close as they come! This stuffing (or dressing) has a little kick thanks to a few jalapenos!
Keto Christmas Treats Recipes
With so many gatherings over Christmas, it's always handy to have some tasty treats on hands for guests. We don't always wait for Christmas to eat these delicious Keto treats though.
Eggnog Cheesecakes
Eggnog Fudge
Strawberry Vanilla Fudge Christmas Treats
Chocolate Cheesecake Brownie Swirls
Sweet and Spicy Pecan Nuts
Most of our Christmas Keto treats recipes can be made ahead of time and made in bulk then refrigerated.
Special Christmas Eggnog Cheesecake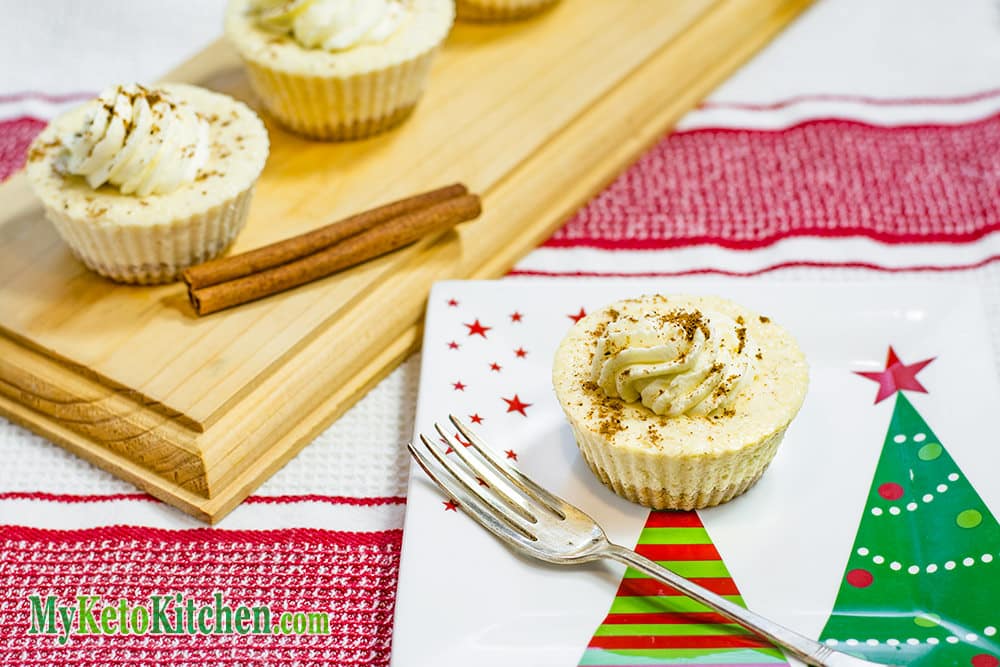 With almost no carbs and full of healthy fats these Keto Eggnog Cheesecakes are sweet and tastes just like the real thing.
These Christmas treats were a hit last year so we're making them again!  We make these in batches and serve them on one of our Christmas platters.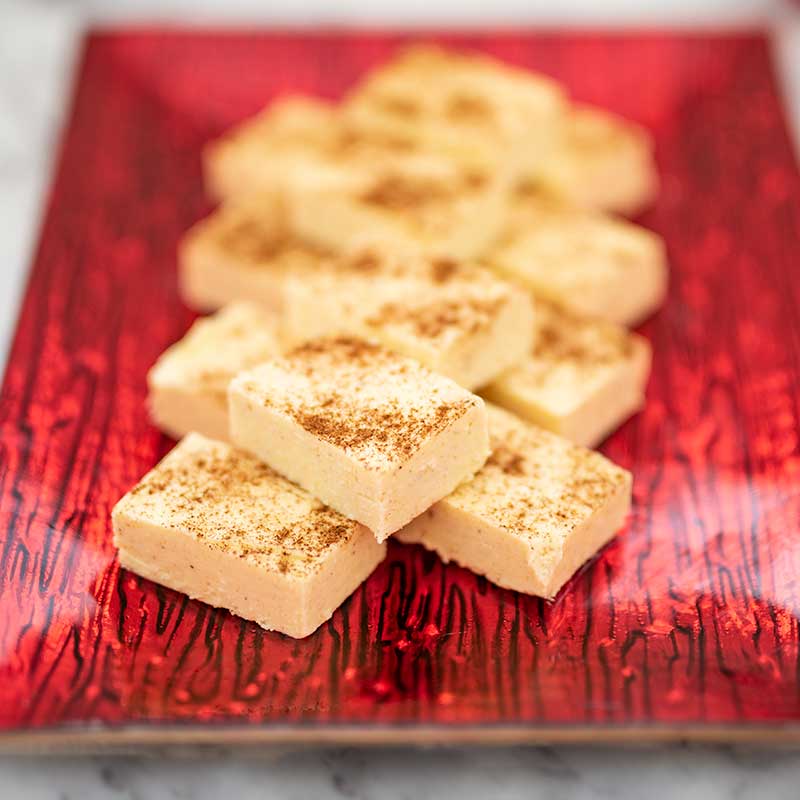 It's creamy, soft and very tasty. This eggnog fudge is also alcohol-free, so it's perfect to feed adults and kids!
Strawberry & Vanilla Fudge Treats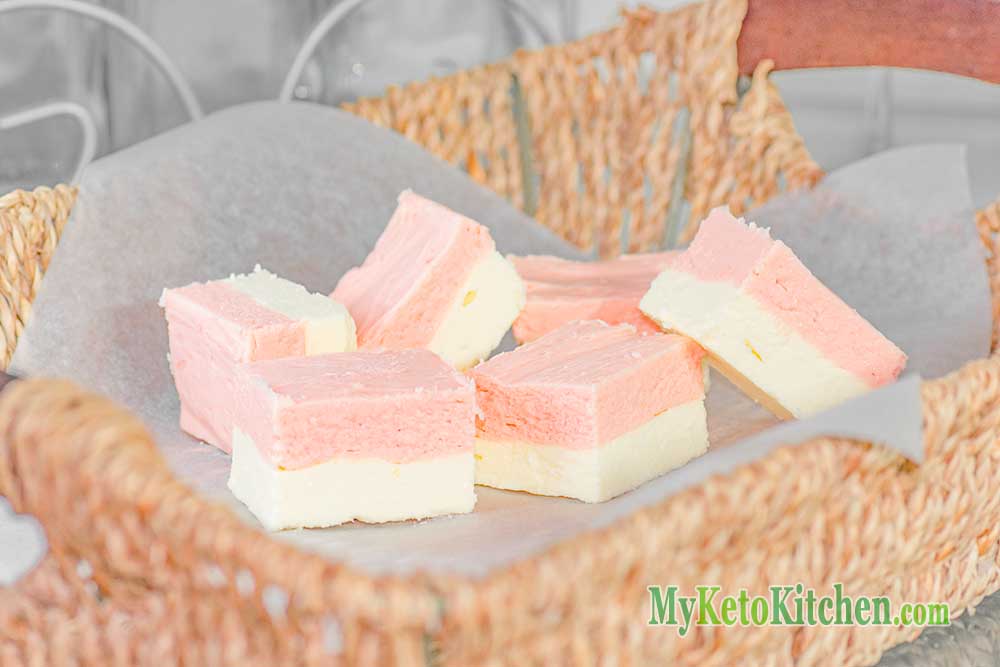 Chewy and of course "Fudgy", the vanilla and strawberry complement each other perfectly for this Keto Christmas treat.
You make them in a slab and cut them up into bite-sized treats. Make these for Christmas and you won't be disappointed.
Keto Chocolate Cheesecake Brownie Swirls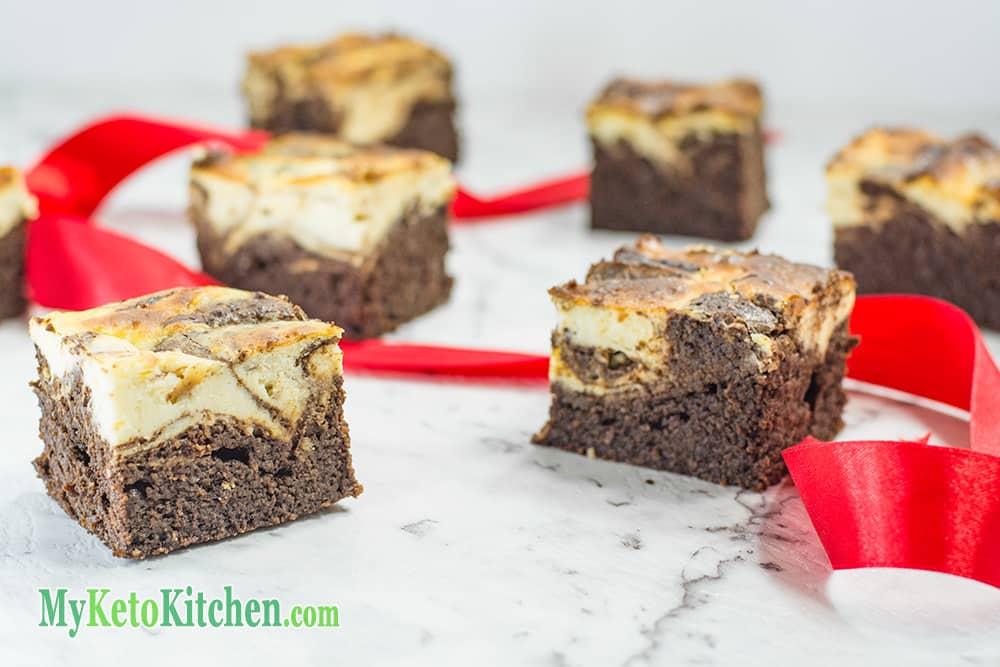 Soft and moist these chocolate swirls make a great snack with coffee or tea but could also be served alongside your Christmas dessert recipes.
Make these brownies in batches and refrigerate them for the entire festive season.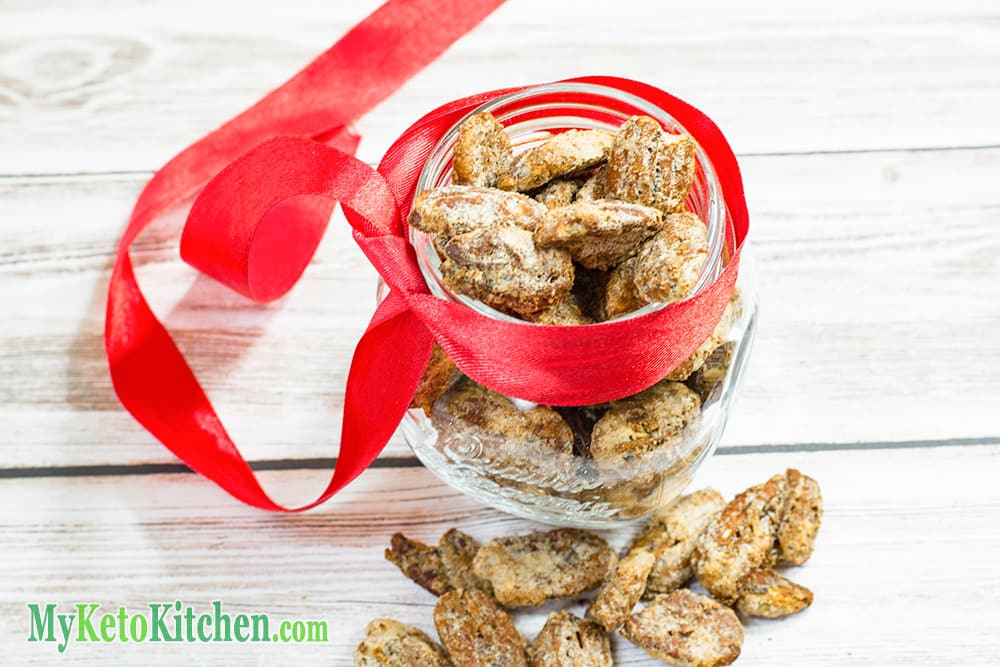 Just a simple healthy snack to have around at Christmas, we jar them and give them to our family and friends as little gifts.
Pecans are full of healthy nutrients.
Keto Christmas Dessert Recipes
Keto Pecan Pie
Keto Chocolate Chip Pie
Keto Ginger Bread Loaf
No-Bake Keto Chocolate Cheesecake
Keto Jello Christmas Cheesecake
Keto Spice Cake
Keto Rice Pudding
Keto Berry & Vanilla Jello Ring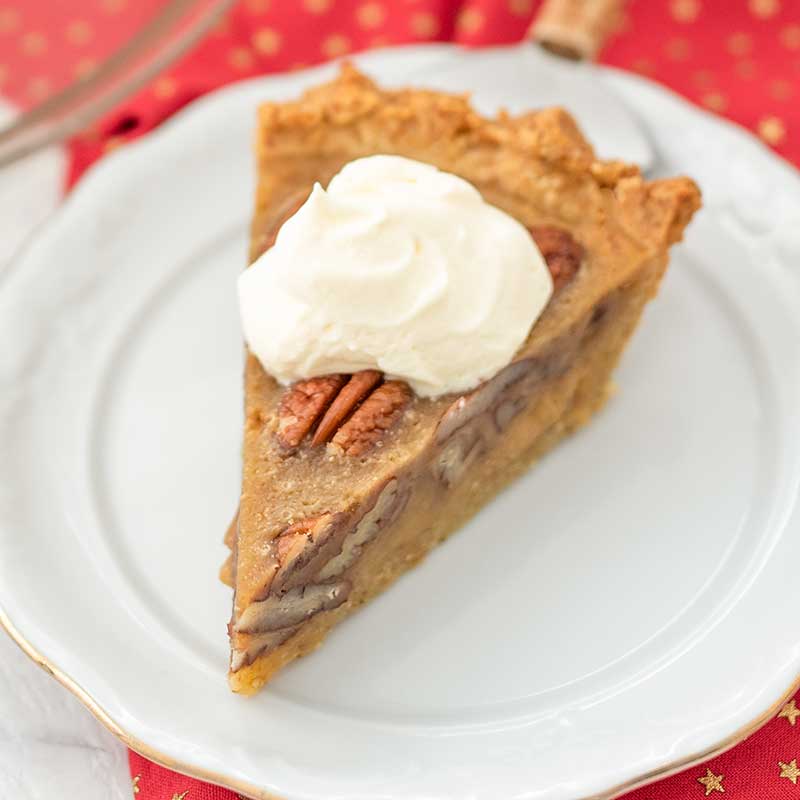 There's no reason not to eat Pecan Pie at every chance you get! It's a sweet, delicious dessert to serve up at every event – Thanksgiving, Christmas, breakfast on Monday morning when life just seems too hard – it's perfect.
But if pecans aren't your jam, just scroll a little further!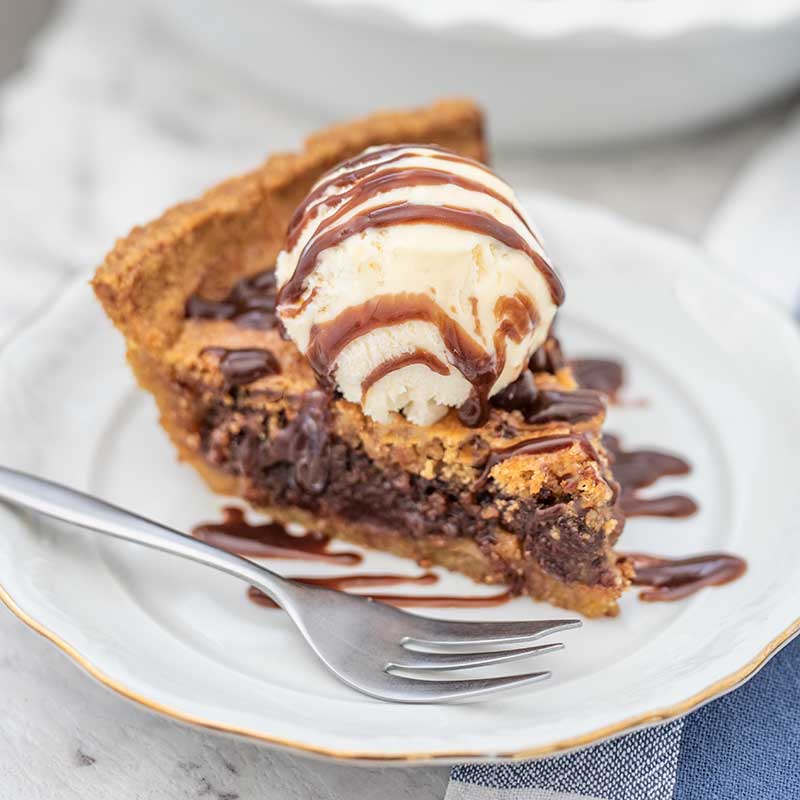 Keto Chocolate Chip Pie – this pie is so good that it doesn't need an introduction. Served warm, with melted chocolate oozing out, that crisp crust, cold ice cream – there are no words. You just need to make it!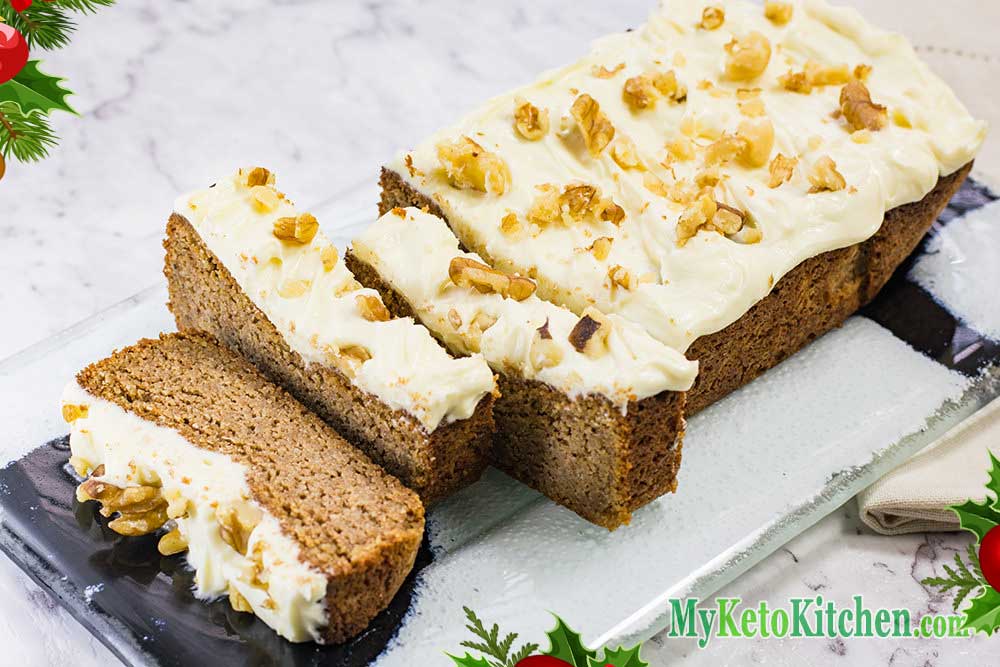 What would Christmas be like without gingerbread? Well just because you're on the Keto diet it doesn't mean you have to miss out.
Or Christmas Keto Gingerbread recipe is a moist and sweet cake that will put smiles on everyone's face.
No-Bake Keto Chocolate Cheesecake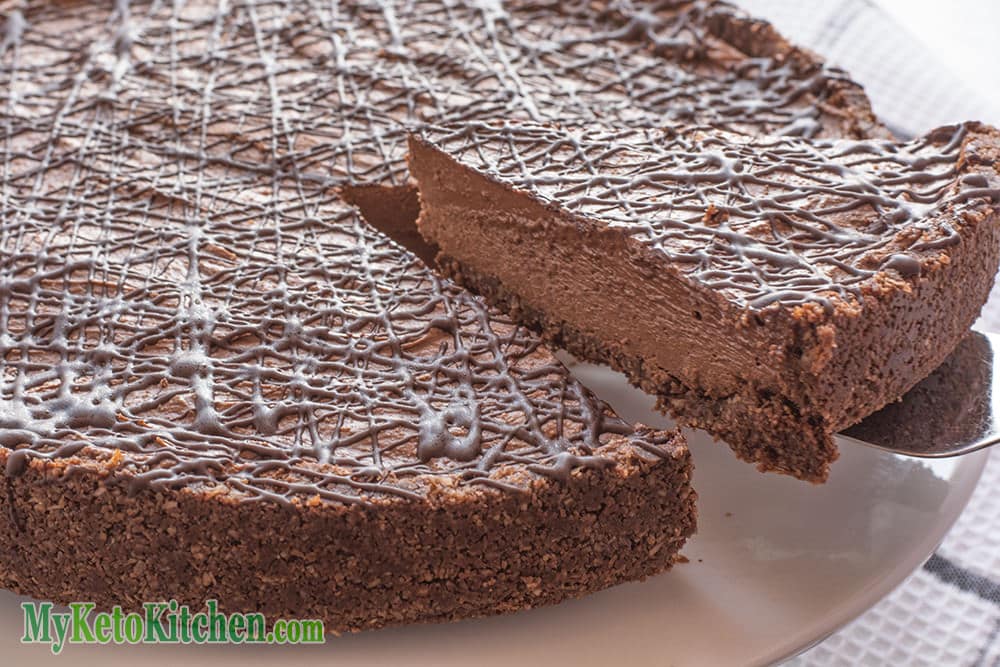 Don't want to bake? No worries, our chocolate cheesecake is the perfect recipe for you.
Just put it together and pop it in the fridge for Christmas dessert! It's very "rich and creamy".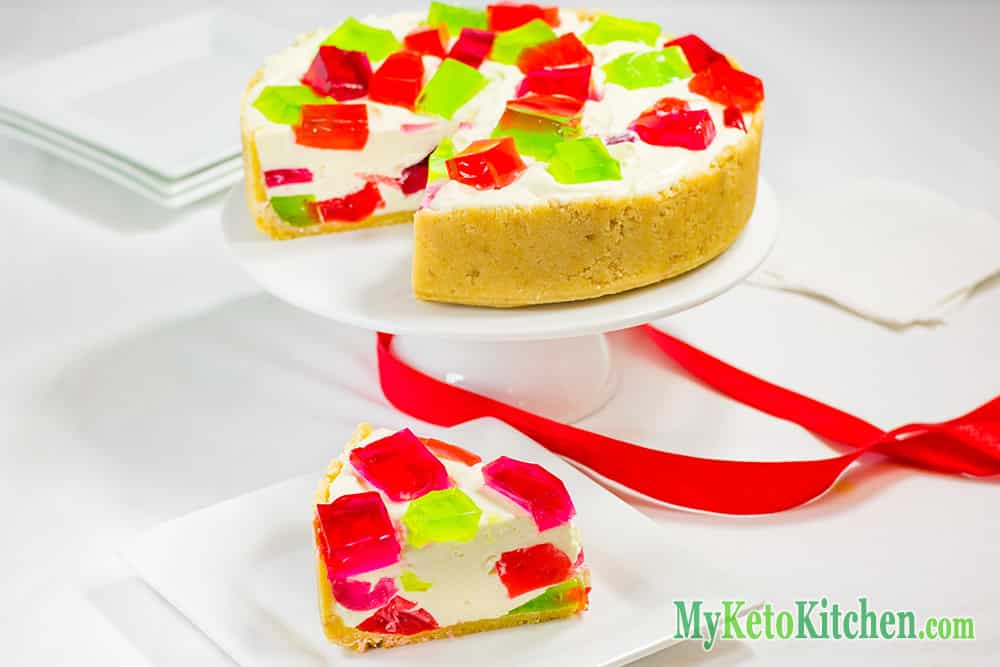 The loudest cake in our repertoire. It was a Christmas recipe challenge presented by Gerri's sister that just happened to turn out perfectly.
When you use the recipe provided it's quite "easy and fun" to make.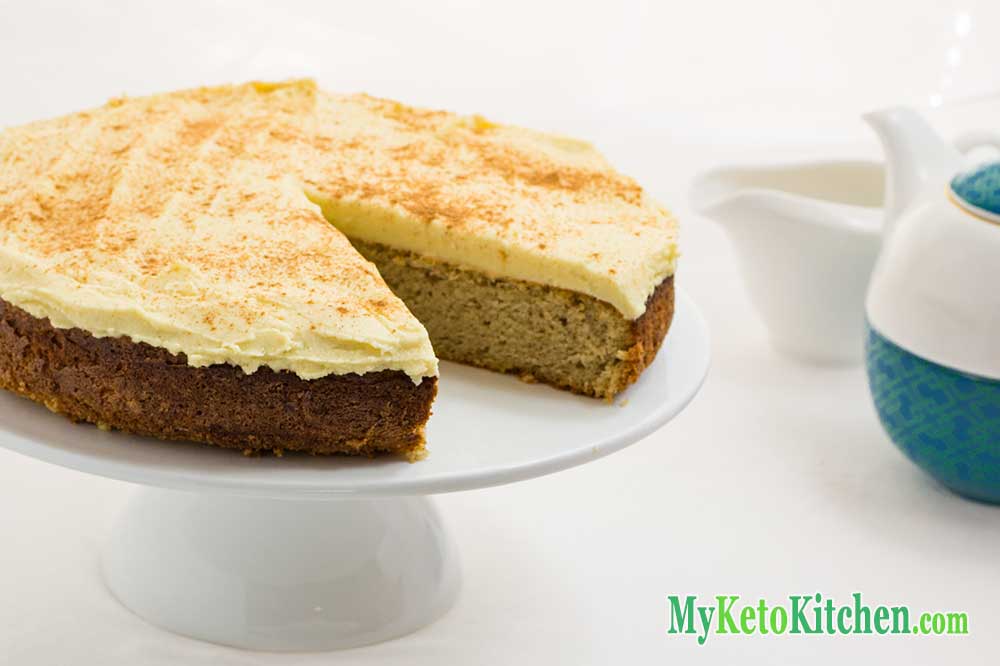 This spice cake is a moist and flavor-filled cake that would take pride of place on any hip cafe or restaurants menu.
We've actually already made two of these in the last week as we couldn't wait for Christmas. This one makes a great birthday cake too!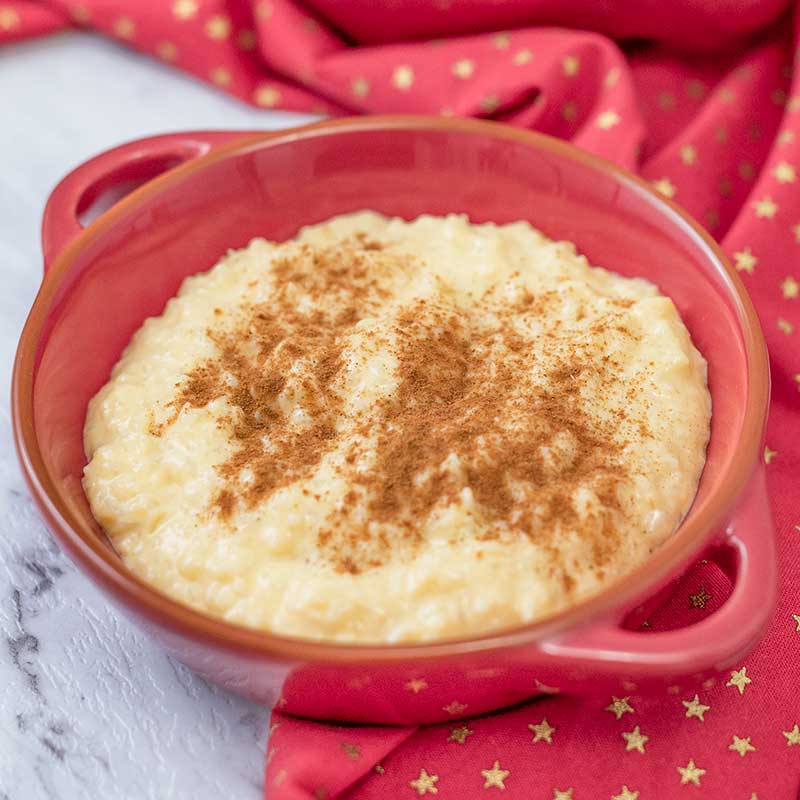 Cauliflower is now a dessert! Best served warm, this rice pudding has almost zero cauliflower flavor! It's creamy, sweet and a great comfort food for cooler weather.
Keto Berry & Vanilla Jello Ring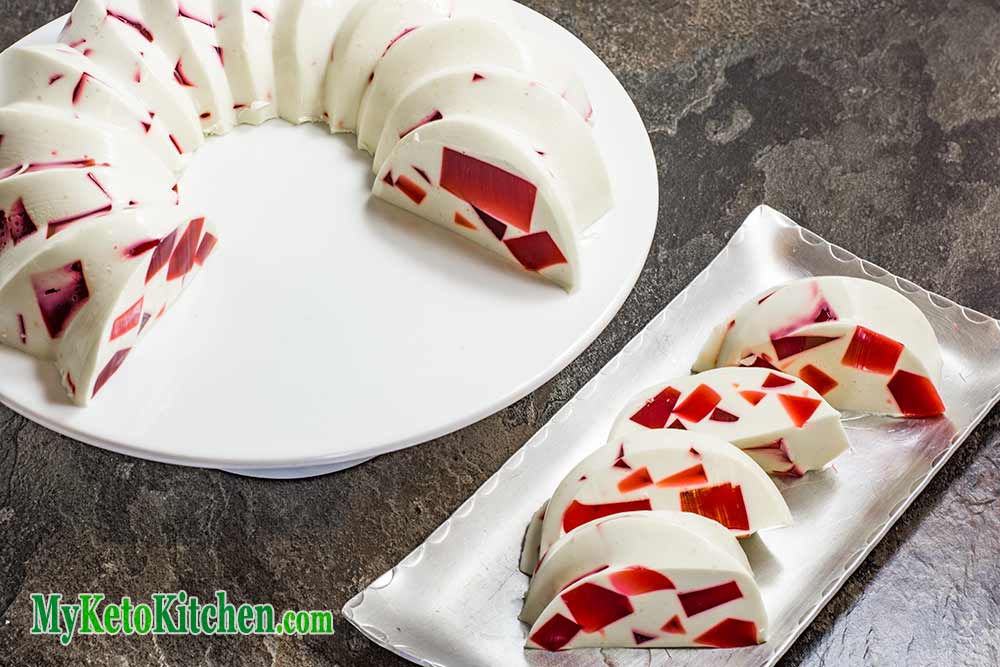 The creamy vanilla jello is like an explosion of flavor as it melts and breaks open in your mouth.
Its a quick and easy no-bake Christmas dessert that you can keep in the fridge for days.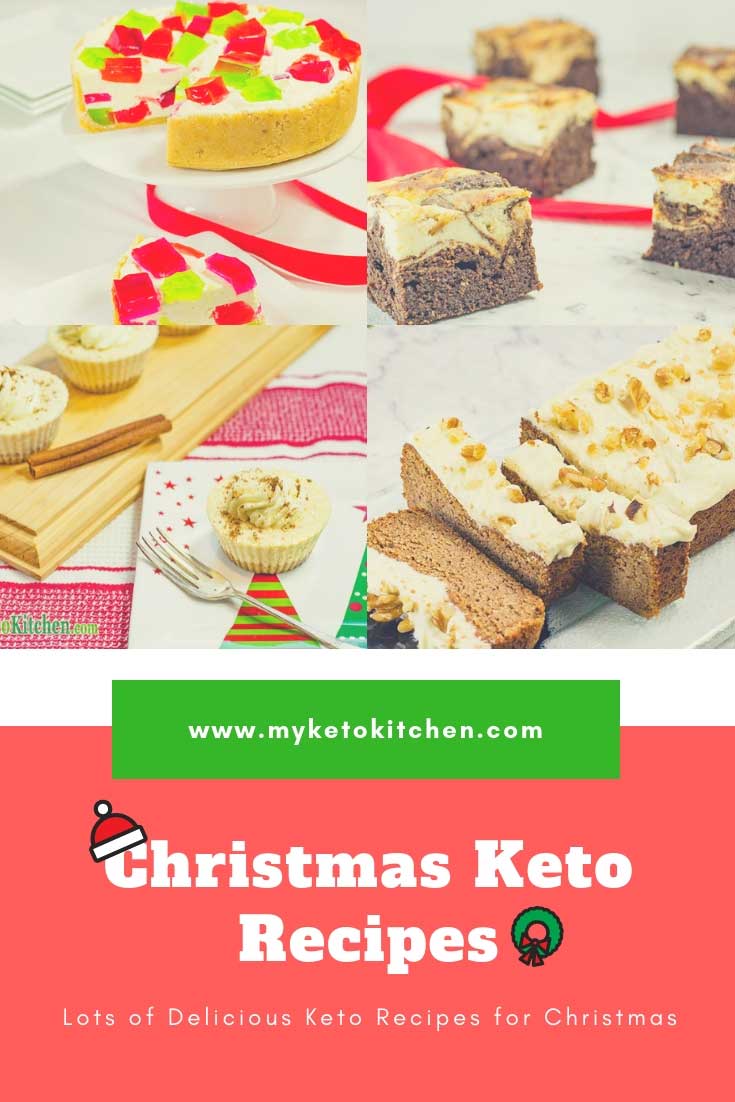 As the festive season draws nearer we'll be making more Keto Christmas recipes, so bookmark or email the page and revisit for more tasty treats.