Keto Fat Bombs are a favorite, easy-to-make snack food among ketogenic and low-carb dieters. Due to their delicious taste, high fat, and no-bake cooking.
Fat bombs are perfect to make in advance, to have on hand for an LCHF (Low-carb, high-fat) hunger buster, or when carb cravings strike.
Keep scrolling down the page for dozens of more fat bomb recipes
Our Best Keto Fat Bombs Recipes
We make a variety of LCHF snacks for our keto menu and invented probably one of the most popular recipes around (the vanilla cheesecake fat bomb).
Raspberry Cream Keto Fat Bombs (recipe card at bottom of this page)
The possibilities are endless, with new natural sweeteners becoming available all the time.
Add them with high-fat creams, healthy fats, and flavors. And you'll be creating your delicious fat bombs in no time.
That's right, we first cooked these little beauties a few years ago now.
Combining the fats in cream cheese and heavy cream with vanilla and erythritol, they're a dream to eat.
Not just for the festive season, these Eggnog Fudge Fat Bombs are the perfect high-energy snack any time of year!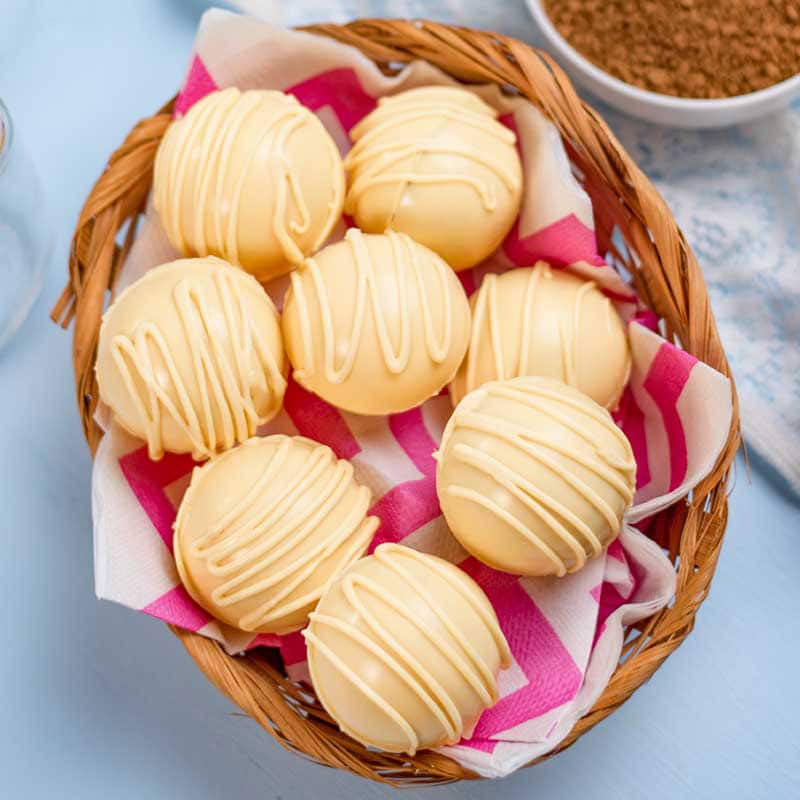 A sweet yet sugar-free Coffee Bombs recipe that is loaded with energy from fa and MCT's, just drop one in hot water and drink.
Keto Everything Bagel Fat Bomb
A tasty savory fat bomb that is perfect as an appetizer or snack
Delcious chocolaty borwnie fa bombs are a hit, we love them with a cup of tea or coffee.
This 2 ingredient chocolate matcha bark makes the perfect fat bomb with the thermogenic powers of green tea and high fat contents.
These coconut fat. bombs were fun to make you can use any mold that you like to make them interestin or suit a theme.
The pecans in these fat bombs along with the maple syrup and collagen powder give them a variety of textures and flavor.
Not only loaded with flavor the ingredients have a variety of health benefits such as providing energy for focus and performance from the fats as well as skin and cell health from the collagen.
Easy Raspberry Cream Fat Bombs (recipe card at bottom of this page)
Another one of our original recipes. We first made them for Valentine's day a few years back.
We utilize the ingredients of heavy cream and sugar-free jello.
We've seen a few variations out there and they remain one of our favorites and are a very easy fat bomb recipe to make.
Just look at them, they're sweet and creamy the keto fat bombs have been a hit since we first cooked them.
Just like the cocktail, this fat bomb recipe was a recreation of a jello shot we saw somewhere.
Creamy, and sweet with a hint of bitter lemon, another easy fat bomb recipe that would look right at home served with high tea.
Chocolate Cheesecake Kisses Fat Bombs
A chocolatey twist on the original fat bombs above, they're just as delicious and are easy to make in batches.
Vanilla Strawberry Fudge Fat Bombs
You could palm this LCHF snack off as fudge as well, the recipe has the attributes of both fat bombs and fudge.
You make this fat bombs recipe in two layers (you could also make a separate keto treat out of each layer). One of the best fat bombs we've made and is very popular.
These sweet and refreshing fat bombs are a great high-fat snack and they are super easy to make.
Just melt, mix, chill, and enjoy!
Strawberry and Cream fat Bombs
Another cute little LCHF snack to make for your keto collection of high-fat delights.
These fat bombs ingredients are the perfect fat-burning combination with Green Tea & MCT Powder blend.
Along with the very keto ingredients of coconut oil and cocoa butter, they have a very smooth flavor like white chocolate.
Ingredients For Fat Bombs
This is an example of the ingredients used for the choc peanut Fat Bombs. Ingredients vary depending on the Fat Bomb recipe.
2 tablespoons coconut oil
2 tablespoons cocoa powder unsweetened
1/2 cup natural peanut butter
1/4 cup chia seeds
1 teaspoon vanilla essence
2 tablespoons xylitol (or your preferred sweetener
1/3 cup unsweetened shredded coconut
How To Make Fat Bombs
This is an example of the Chocolate Peanut Butter Fat Bombs. Each Fat Bomb recipe varies.
Melt Coconut Oil
Put all ingredients "except melted coconut oil and shredded coconut" into a bowl and mix well.
Add melted coconut oil and mix until combined. Place the mixture in the fridge for 30 minutes to allow the chia seeds to soak up the excess liquid and the coconut oil to set.
Spread shredded coconut out onto a flat dinner plate or tray.
Take one heaped tablespoon of the mix and roll it into a ball in the palm of your hand.
Roll the fat bomb around in the shredded coconut until coated and place on a tray lined with baking paper.
When all of the mixes have been rolled into fat bombs, place the tray in the refrigerator for 1 hour, or until the balls have firmed up.
When the fat bombs are firm they're ready to eat. Keep them in the fridge (particularly if you live in hot climates), they will keep for a week.
What Are Fat Bombs?
Fat Bombs are small snacks made almost entirely of fat, with other low-carb ingredients added for flavor and sometimes protein.
Most of these LCHF keto recipes are very easy to make with few ingredients.
The best fat bomb contains healthy fats, natural sweeteners, and only a touch of protein.
Most fat bomb recipes require no baking and are usually set in the refrigerator.
Do Fat Bombs Help You Lose Weight?
Fat Bombs when made correctly have an excellent amount of fat, protein, and carbohydrate ratio.
If eaten within your keto diet macros and Fat Bombs will give you a good increase in energy and blood ketone levels, therefore, they will help you lose weight when eaten with a ketogenic diet.
Fat bombs should be eaten in moderation and responsibly. The energy from one fat bomb should fuel you for hours and keep you in ketosis.
If you want to see the ketogenic effects after eating a fat bomb, use a ketone monitor to monitor ketosis.
Be aware if you eat carbs elsewhere no amount of fat will make you get into ketosis.
The Benefits Of Eating Fat Bombs
Other than tasting great and being easy to make, fat bombs have a lot of benefits for Keto diets.
Eating one Fat Bomb before exercise gives you a longer-lasting energy
Fat Bombs are great for beating carb cravings while starting keto
They can help initiate ketosis
Precise ingredients give greater control over macronutrient partitioning
They're an excellent accompaniment to your morning tea or coffee
They keep well in the fridge (for up to a week, five days to be safe), so you can make them in bulk
Fat Bombs are very easy to make
The variety of fat bombs is only limited by your imagination
How Long Do Fat Bombs Last?
If you don't eat them all fattest Bombs will last in the refrigerator for up to 5 days.
Depending on the Fat Bomb, they may or may not be able to be frozen (check the recipe) those can be frozen you can freeze for 3 months.
Note: Most Fat bombs should be kept cold.
We hope you enjoyed our LCHF Keto fat bombs creations.
If you have any suggestions or cool ideas for keto fat bomb recipes, we'd love to hear them.