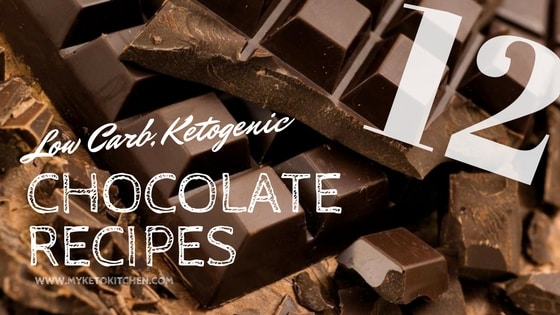 12 Low-Carb Chocolate Recipes for Sugar-Free, LCHF Keto Diets
If you're a chocolate lover on a ketogenic diet or any other LCHF diet you're going to love this list of sugar-free low-carb recipes. Let's go and get cooking 🙂
LCHF Double Chocolate Fudge Muffins
Double the chocolate minus the carbs with these delicious ketogenic muffins. They're rich moist and very morish. We dare you to eat just one.
This low carb chocolate recipe is very easy to make and will fit right in with your keto snacks menu.

Low Carb Choc Chip & Peanut Butter Blondies
A blend of Peanut Butter and sugar-free choc chips come together to make this delicious recipe.
These Low Carb Peanut Butter Blondies are easy to make and store in the fridge when you want a sweet bite to eat.
Sugar-Free Choc Cheescake Kisses
Low Carb Cherry Cream Chocolate Cookie Bars
These Cherry Cream Chocolate Cookies Bars are just loaded with flavor and different textures, they're like a party in your mouth.
Smooth and creamy top filling with a delicious chocolate base this recipe will be a pleasure to cook and a delight to eat.
Sugar-Free Chocolate Macadamia Brownies
Chewy, rich and loaded with healthy fats from macadamia nuts these sugar-free chocolate macadamia brownies are a breeze to cook and use no flour.
Simply make them in a large baking tin and slice to size.
Ketogenic Chocolate Ice Cream – Sugar and Carb Free
Did you ever think you'd be having ice cream again on your keto diet?
Well, you can with the special ingredients added to our sugar-free chocolate keto ice cream. It's rich and creamy and easy to make with the right stuff.
Low Carb Chocolate Mousse
Chocolate Mousse is one of those desserts choc lovers gravitate to on the menu and you can too!
Well, you might not find a sugar-free version in a restaurant but this Keto Chocolate Mousse is easy to cook in the kitchen and keeps well in the fridge for dessert.
Raspberry Chocolate Cream Pie Keto Style
Similar to make as the above cherry chocolate recipe above with a distinct flavor of its own these low carb raspberry chocolate cream pie will be a hit.
Made in layers and served cold, you can cook this dessert ahead of time and it will keep in the fridge for quite a while.
Low Carb Chocolate Cheesecake Brownies
For a snack, afternoon tea or dessert these Keto Chocolate Cheesecake Swirl Brownies will be sure to satisfy your cravings.
Cook them in batches and keep them in the fridge for later, just don't eat them all at once.
A delicious keto chocolate fudge that's easy to make and keep on hand for times when you need an energy hit on the run.
It's another lchf chocolate recipe that we like to cook and keep handy in the refrigerator for when hunger calls for a quick bite.
Inspired by chocolate crackles this recipe calls for almonds, pepitas and sunflower seeds in place of rice crisps (rice bubbles).
A quick to make no fuss snack that will set in the fridge and keep for a long time.
Follow us on Facebook for more ketogenic chocolate recipes and other tasty low-carb cooking creations. or sign up below to get recipes delivered free to your inbox.