If you're a chocolate lover on a keto diet or any other LCHF diet you're going to love these low-carb sugar-free keto chocolate recipes.
We've put together a list of our favorite keto chocolate recipes just to show that you can have your chocolate fix and eat it too, even if you are low-carb.
Our Best Keto Chocolate Recipes List
Scroll down past this list for images and links to the keto chocolate recipe.
Simply click the links on the keto chocolate recipes below to be taken to the printable recipe card.
Keto Chocolate Peanut Butter Cupcakes
Delicious and moist, these keto chocolate peanut butter cupcakes are the perfect morning tea snack.
Super easy to make and this keto ripple cake makes use of a few simple ingredients to cup up with a delicious dessert.
Super easy to make and the perfect cold treat or simple dessert. The Keto Chocolate Ice Cream Bars are very creamy and rich.
A cold version of the following recipe this Keto chocolate Milk is sweet and tasty, perfect for a mid-day pick me up.
Super moist and rich this keto chocolate banana cake will surprise you at just how good it tastes.
A divine-tasting low carb version of the Jewish style sweet bread it will disappear from the table fast so you better make plenty.
You'll appreciate this Keto hot chocolate not just on a cold night or day but we drink them year-round.
A very easy-to-make keto chocolate recipe using coconut flakes, they make a classy chocolate finger food snack.
This is one very healthy Keto chocolate Smoothie with avocado this chocolate smoothie packs a load of healthy fats, vitamins, minerals with a good dose of potassium.
Double the chocolate minus the carbs with these delicious ketogenic muffins.
Keto Chocolate Mug Cake Recipe
This keto chocolate mug cake recipe is one of the simplest cakes you'll ever make. Moist and rich whip this chocolate delight up in under 5 minutes.
Keto Chocolate Chip Blondies Recipe
A blend of Peanut Butter and sugar-free choc chips come together to make this delicious recipe.
A chocolate version of our popular Vanilla Cheesecake Fat Bombs. These Sugar-Free Chocolate Kisses make an excellent ketogenic addition to a fancy sweets platter.
Cherry Cream Chocolate Cookie Bars Recipe
These Cherry Cream Chocolate Cookies Bars are just loaded with flavor and different textures, they're like a party in your mouth.
Keto Chocolate Macadamia Brownies Recipe
Chewy, rich, and loaded with healthy fats from macadamia nuts these sugar-free chocolate macadamia brownies are a breeze to cook and use no flour.
Keto Chocolate Ice Cream Recipe
Did you ever think you'd be having ice cream again on your keto diet? Well, you can with the special ingredients added to our low-carb chocolate keto ice cream. It's rich and creamy and easy to make with the right stuff.
Chocolate Mousse is one of those desserts choc lovers gravitate to on the menu and you can too!
Raspberry Chocolate Cream Pie Keto Style
Similar to make as the above cherry chocolate recipe above with a distinct flavor of its own these low carb raspberry chocolate cream pie will be a hit.
Keto Chocolate Cheesecake Brownies Recipe
For a snack, afternoon tea or dessert these Keto Chocolate Cheesecake Swirl Brownies will be sure to satisfy your cravings.
A delicious keto chocolate fudge that's easy to make and keep on hand for times when you need an energy hit on the run.
Inspired by chocolate crackles this recipe calls for almonds, pepitas and sunflower seeds in place of rice crisps (rice bubbles).
Delicious and easy to make no-bake cheesecake, perfect for dessert.
This yummy layer cake is slathered in sweet, creamy chocolate buttercream.
Keto Chocolate Almond Clusters Cereal
This Keto cereal is a healthy, sugar-free way to start the day! Loaded with nuts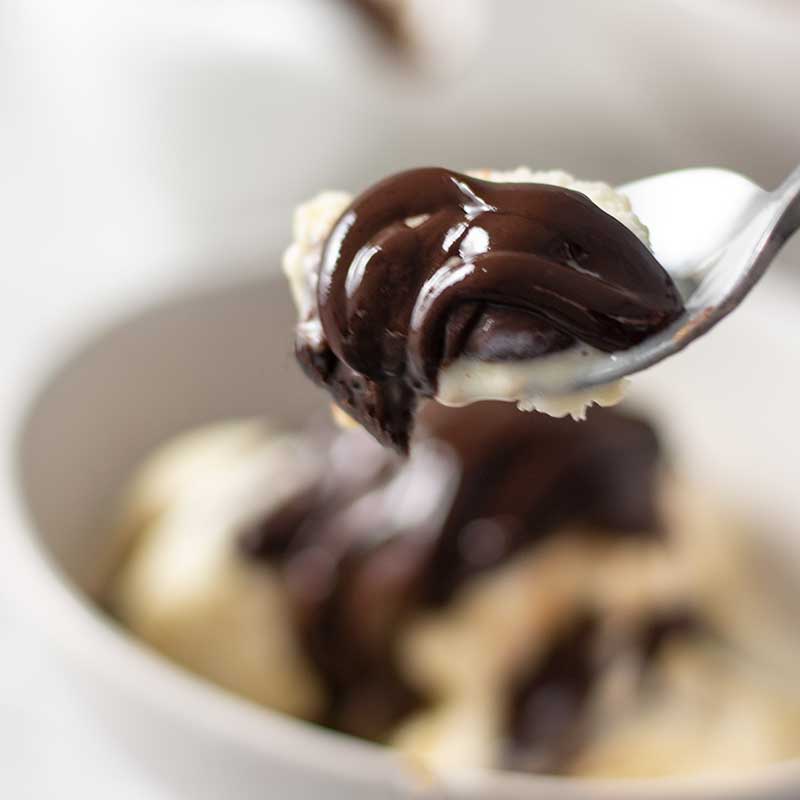 Creamy, rich chocolate fudge sauce, perfect for pouring over Keto Ice Cream.
Simple, rich balls of chocolate ganache with a light cocoa coating. Perfect for an after-dinner treat.
Our Fat Butter bars are an easy no-bake recipe that tastes great chilled or frozen!
Soft, fluffy sponge cakes filled with cream and coated in chocolate and coconut. Truly one of the great Aussie sweets!
This rich and decadent chocolate lava cake with a gooey, oozy center is the perfect dessert. Top it with Keto Ice Cream or Keto Whipped Cream for the ultimate treat!
This Chocolate Souffle is a light and fluffy cake, best eaten straight from the oven! While making a souffle might seem a little intimidating our easy recipe will have you enjoying this delicious cake in no time!
Is Chocolate Low-Carb & Keto Friendly?
Surprisingly enough the more cocoa that is in the chocolate the lower in carbohydrates it is. So yes chocolate can be low carb especially when you get over 80% cocoa.
To make chocolate low-carb enough for it to be keto-friendly however, you need to either make your own with natural sugar substitutes or buy chocolate made with them already.
Thankfully more and more companies are emerging with naturally sweetened sugar-free chocolate that is very low carb.
Subscribe to our newsletter below for more keto chocolate recipes and other tasty low-carb cooking creations as we create them. or sign up below to get recipes delivered free to your inbox.