One of the most affordable and versatile ingredients for keto cooking is chicken. Choosing the right cut of chicken is important for keto recipes, we usually go with the wings, thigh, and legs.
Adding extra fat to the ingredients is often how we bring the recipes up to be keto-friendly.

Keto Chicken Recipes List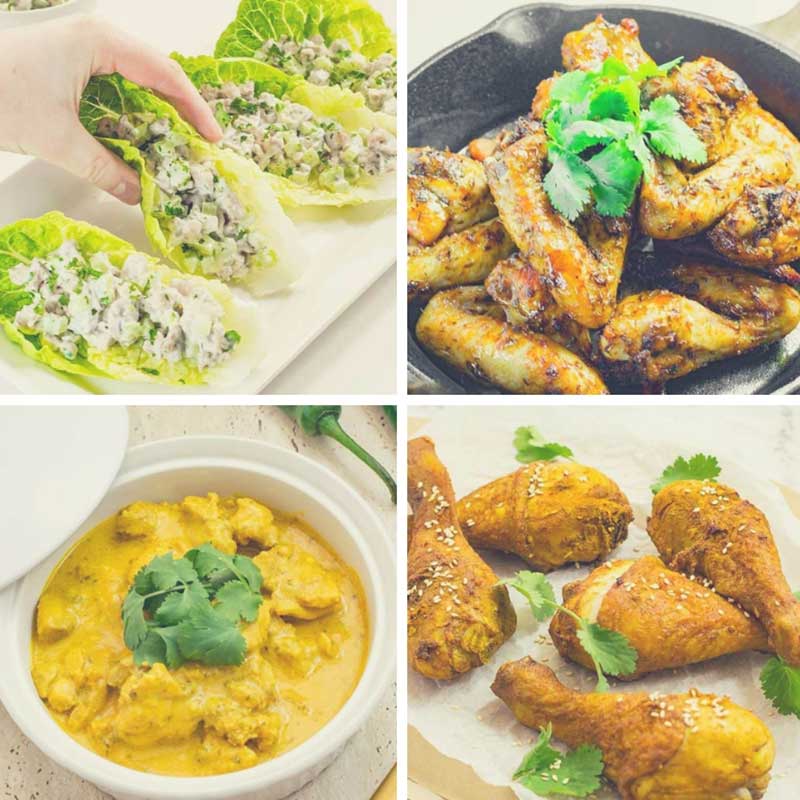 To go to the recipes simply click the keto chicken recipe image below to go to the recipe card.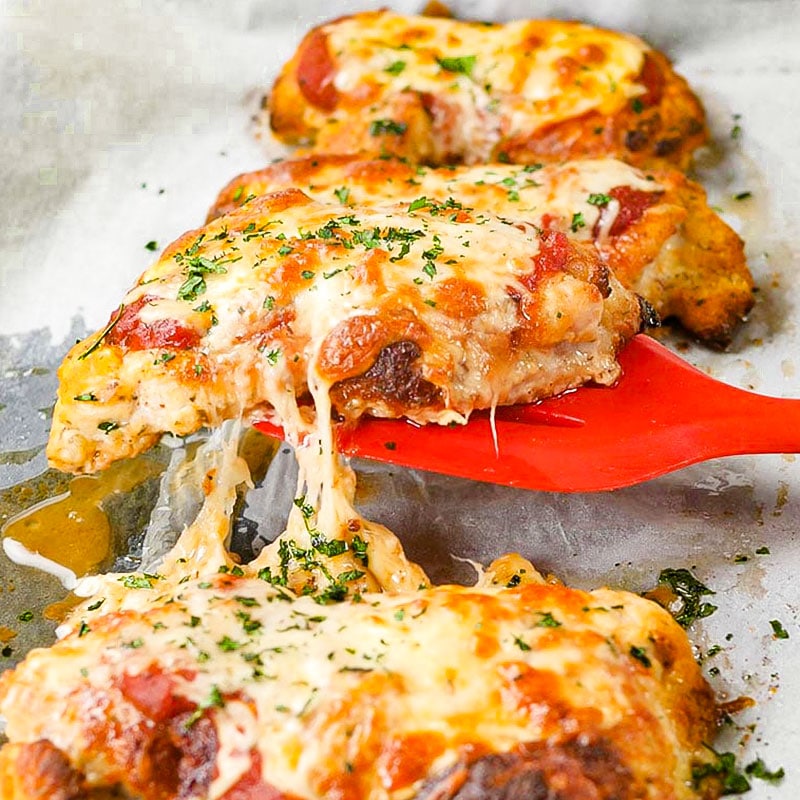 Keto Chicken Parmesan / Parmiagiana Recipe
Super cheesy and  saucy this keto chicken parmigiana is one of our favorites.
You can make the keto parmesan chicken recipe ahead of time and freeze in the freezer without the topping.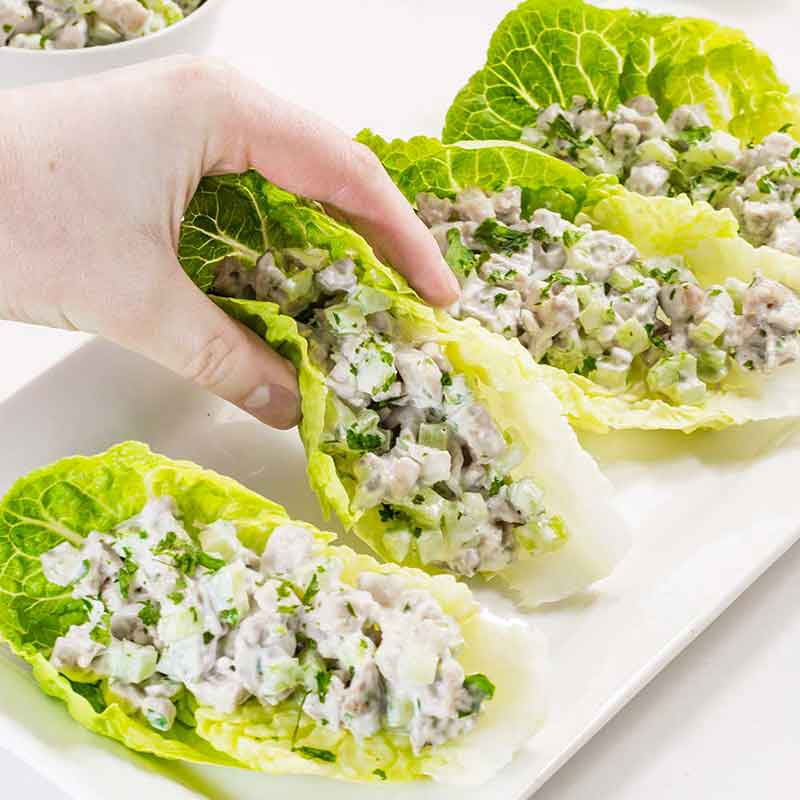 Keto Chicken Salad Wraps Recipe
This keto chicken recipe is a summer classic but we eat them year-round.
This low-carb, high-fat chicken salad is easy to make and you just wrap them up in a lettuce leaf.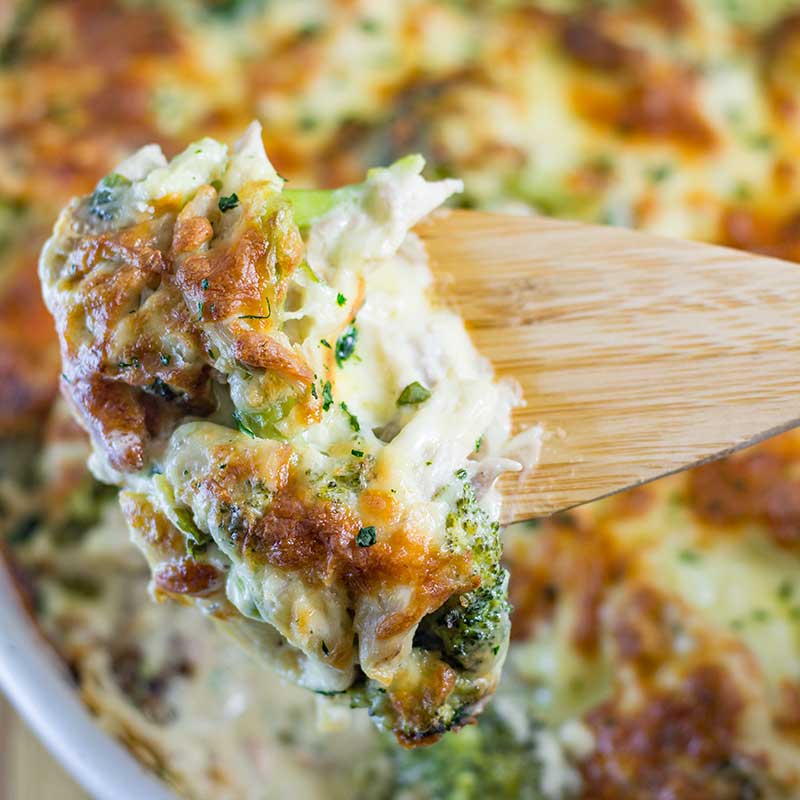 Keto Cheese Chicken Broccoli Casserole
One of our newest and most favored keto chicken recipes is this delicious low-carb casserole.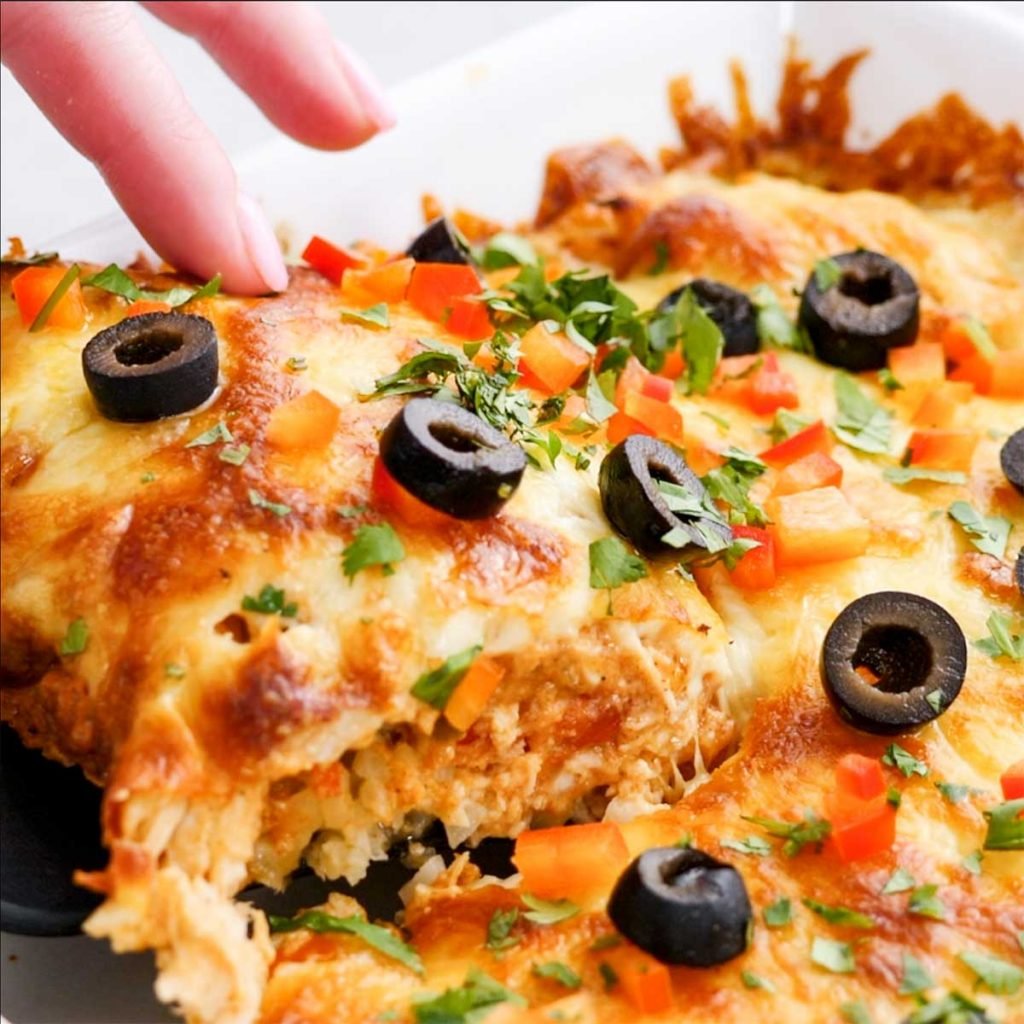 Keto Chicken Enchilada Casserole
This easy casserole is made using shredded rotisserie chicken, cauliflower rice, and Keto enchilada sauce. Dinner doesn't get much easier than this!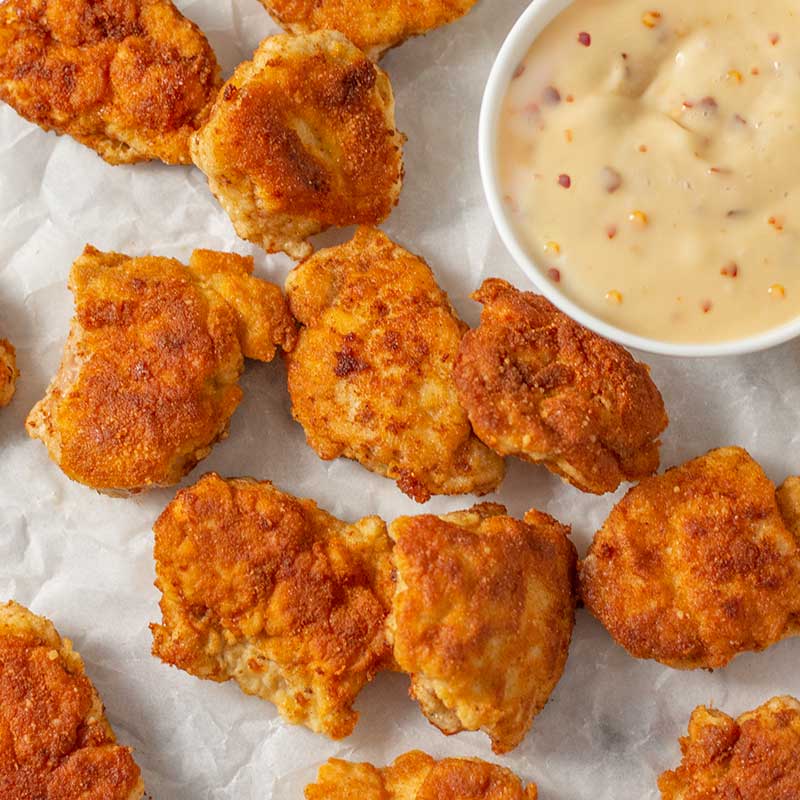 These pan-fried nuggets are deliciously crispy and tender. Even the fussiest eater will love these yummy chicken bites!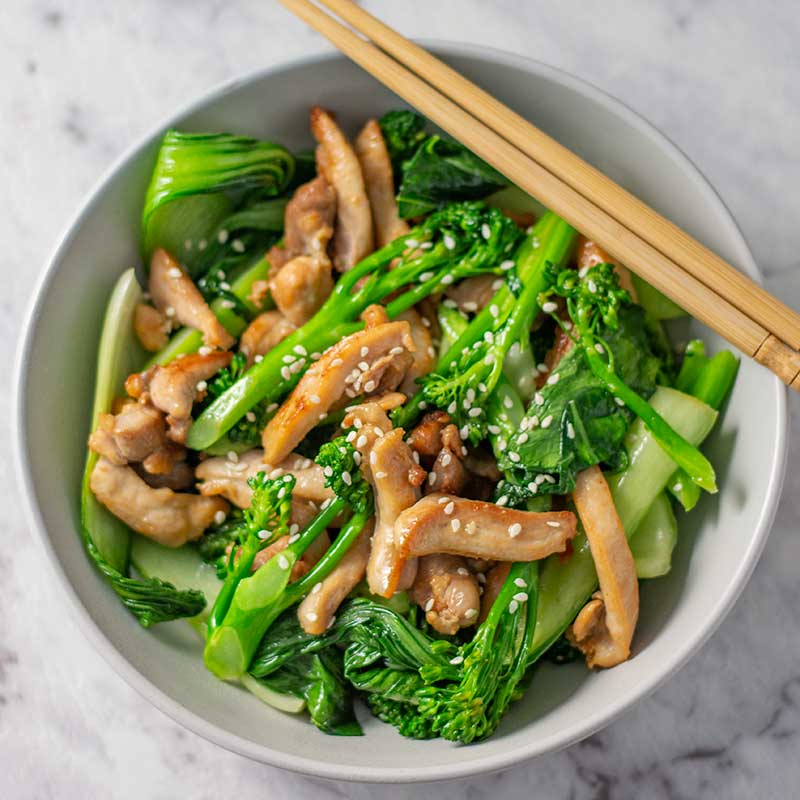 This stir fry is quick, easy, and keeps it simple – just chicken, fresh green vegetables, and a light garlicky sauce.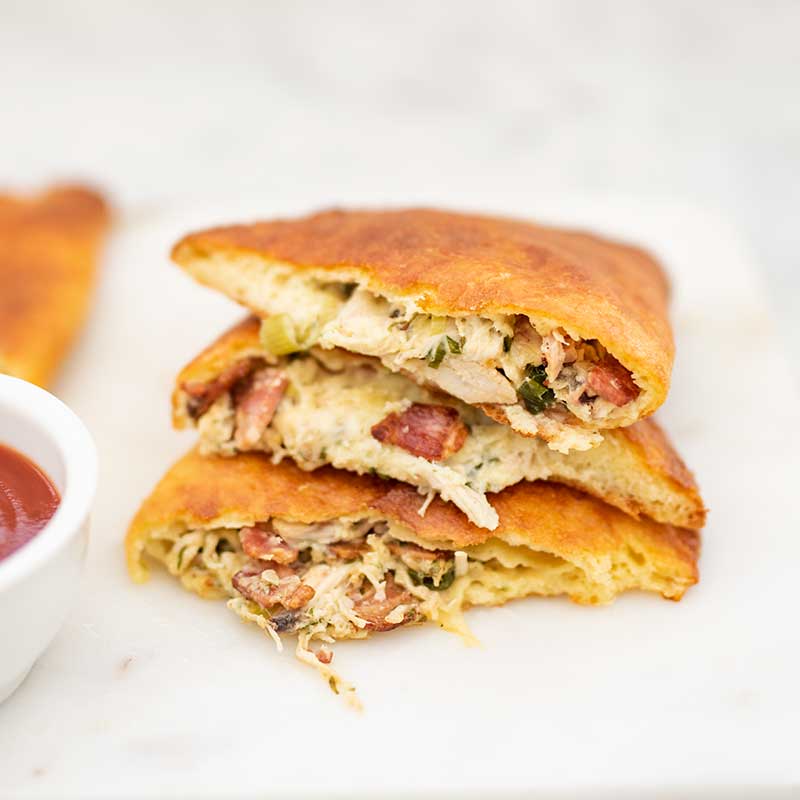 Keto Chicken Bacon Ranch Calzones
These tasty pizza pockets are made using our famous Keto pretzel dough, filled with shredded chicken, crispy bacon, ranch seasoning, and yummy melty cheese!
They are great to make ahead and freeze for a quick meal!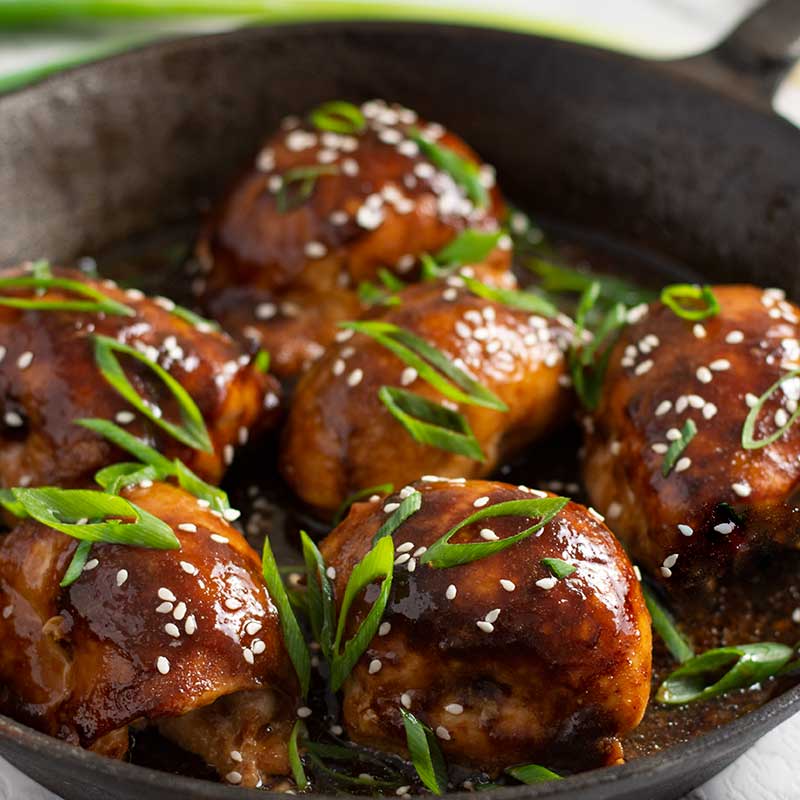 This oven-baked recipe is loaded with Japanese flavors, thanks to the sweet and salty Keto Teriyaki Sauce! Enjoy with cauliflower rice or chop up and add to a salad!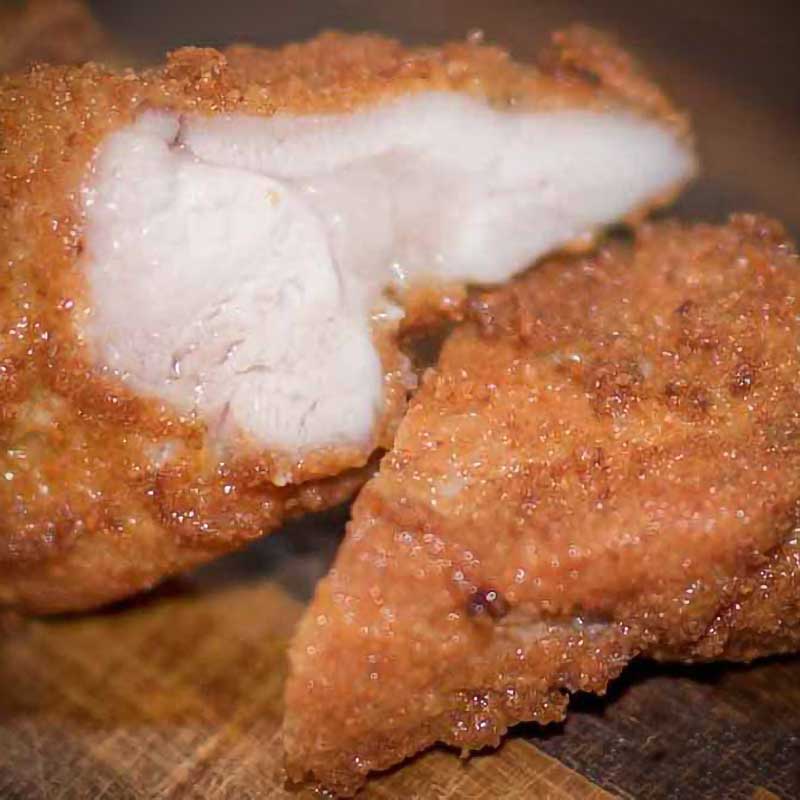 Missing deep-fried chicken because of the carbs in the breading? We've got the solution for you with these keto-fried chicken thighs.
Keto Breaded Chicken Thighs Recipe
They're juicy on the inside yet crispy on the outside, these delicious Keto breaded chciken thighs will be a hit.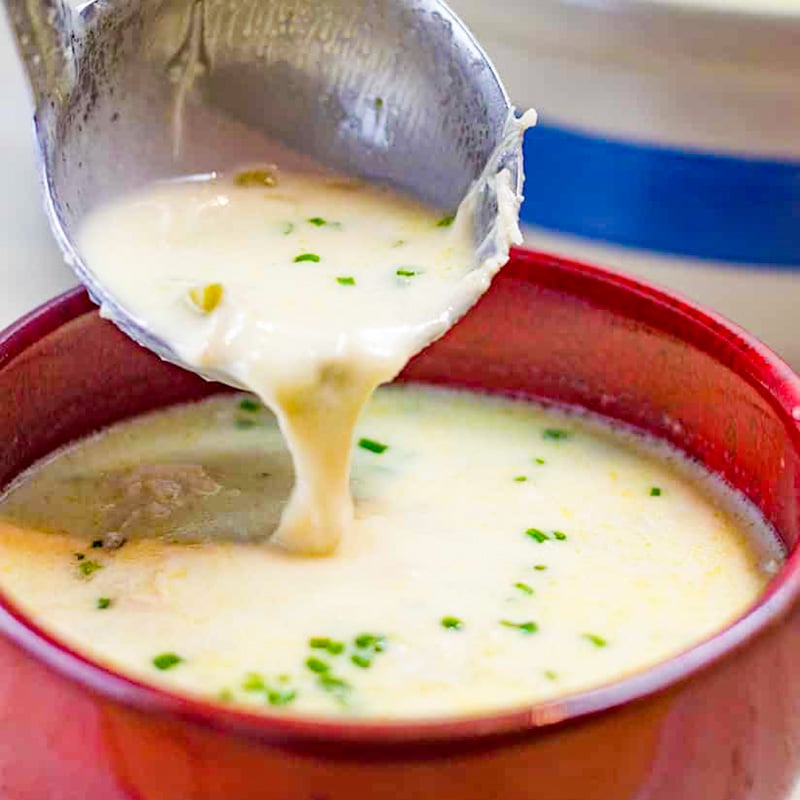 Warm and hearty this keto cream of chicken soup recipe is delicious and very easy to make.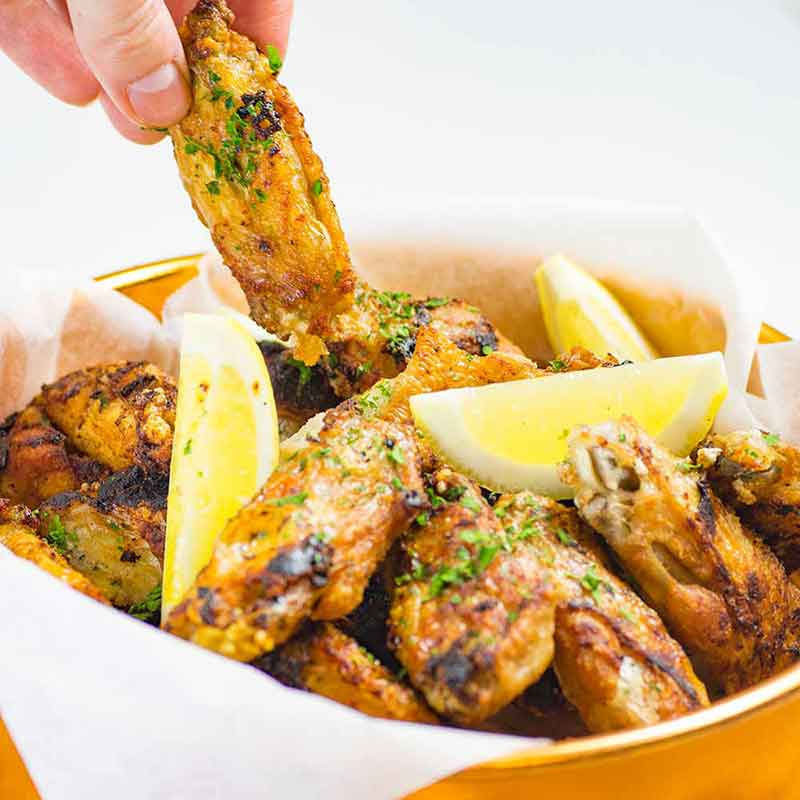 Here the perfect keto finger food for game day or a casual dinner sitting around watching a movie. Chicken wings are a very affordable ingredient, you can feed a herd for pennies.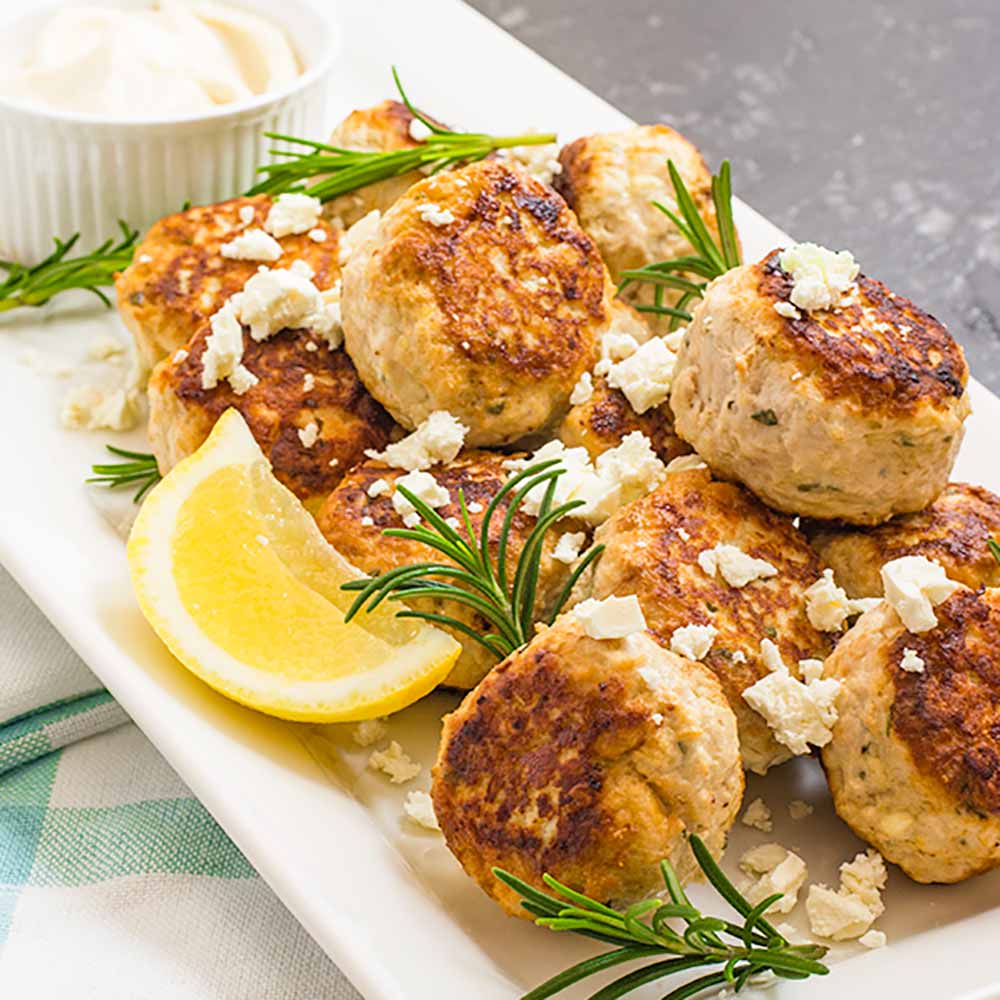 Another appetizer of finger food is these keto chicken meatballs. Serve them with your favorite dipping sauce perhaps some toothpicks for handling.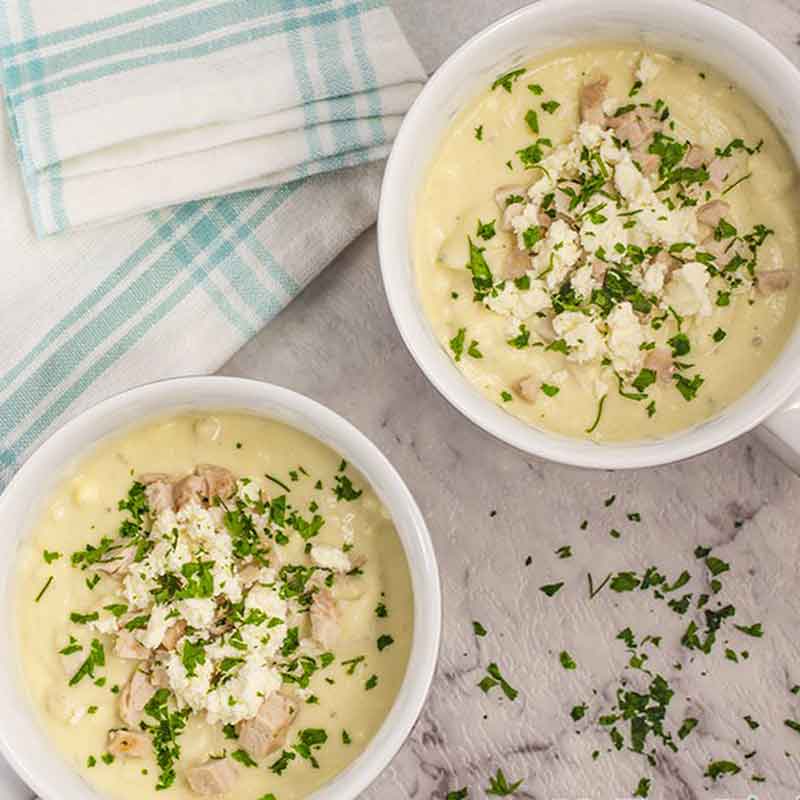 Keto Cauliflower & Chicken Soup Recipe
A chunky version of the previous soup is a very thick and hearty low-carb chicken soup recipe.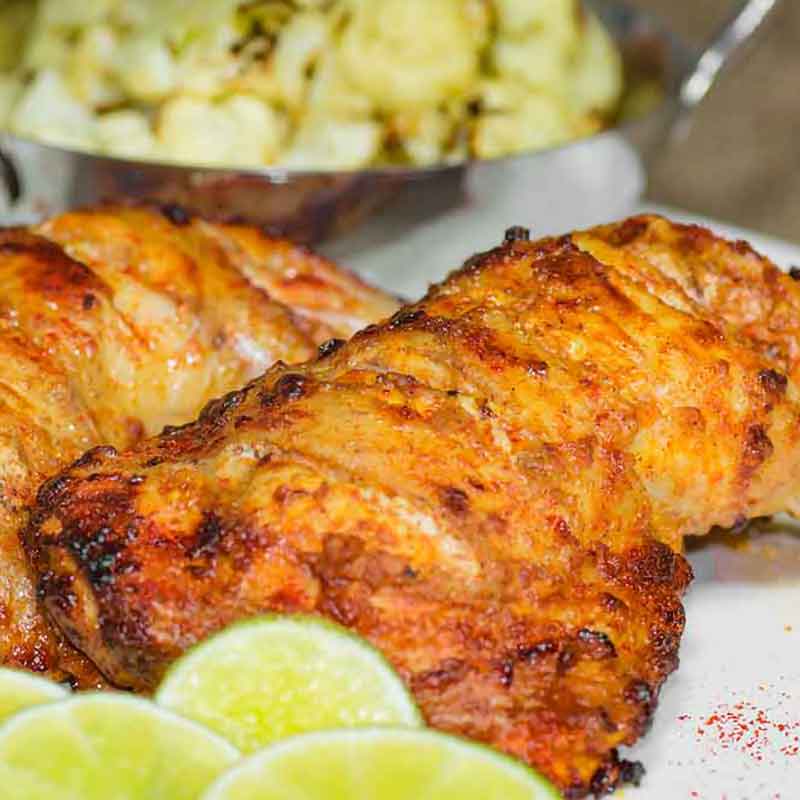 We love Indian food around here and this keto tandoori chicken recipe is a hit. With full-flavored crispy skin, it's very low-carb and high in fat.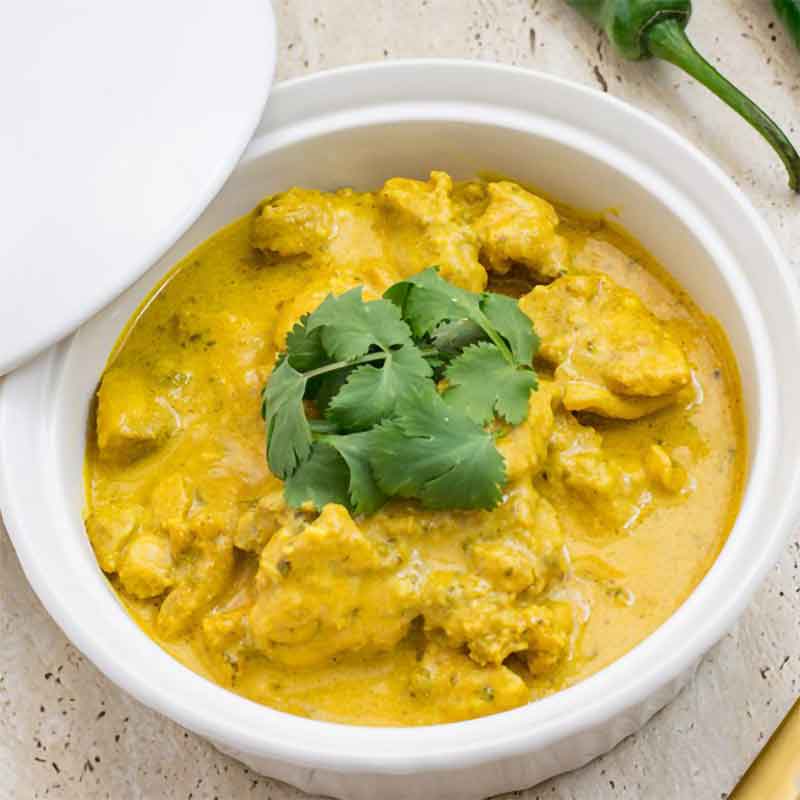 Warm keto chicken curry recipe that you'll be making again and again. This low-carb chicken recipe is so flavorsome and filling I doubt it will last long on the table at all.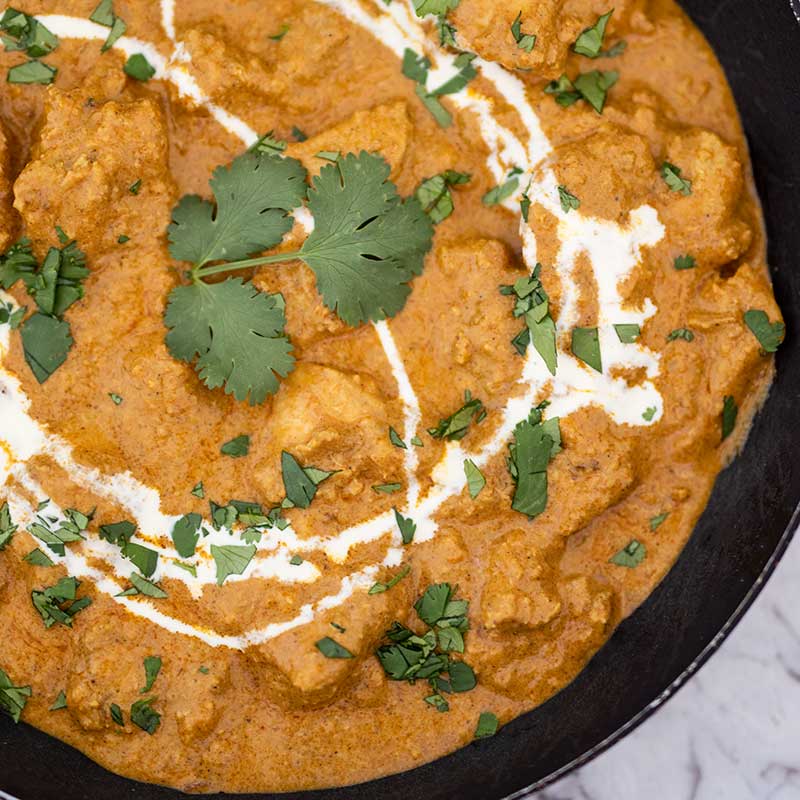 This authentic Indian Butter Chicken recipe is an absolute favorite here! It's rich, creamy, and mild – perfect to feed the whole family!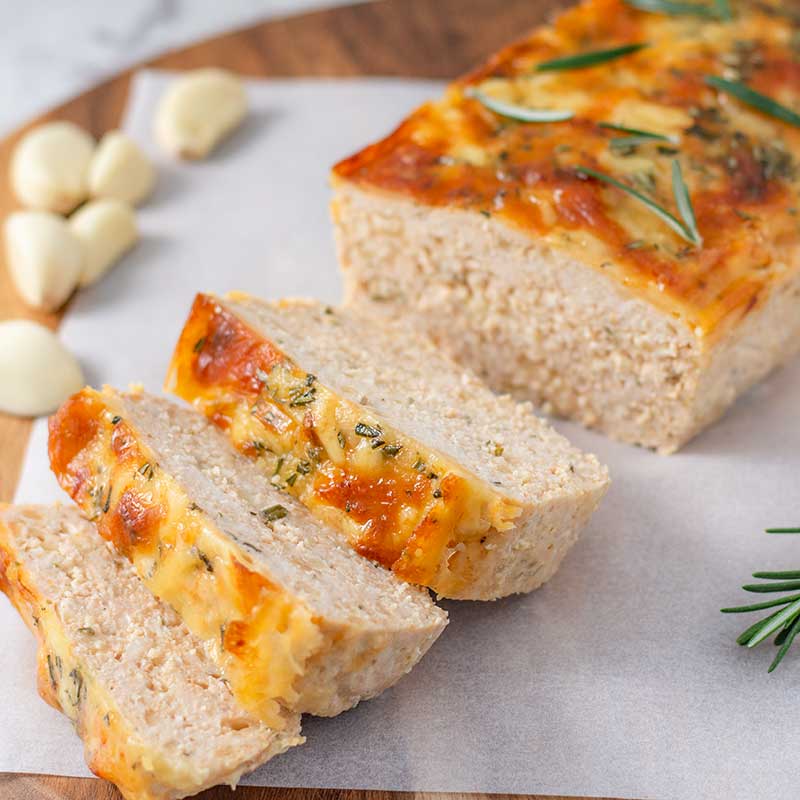 Our cheesy chicken meatloaf is the perfect budget-friendly mid-week dinner! It's moist and loaded with flavor!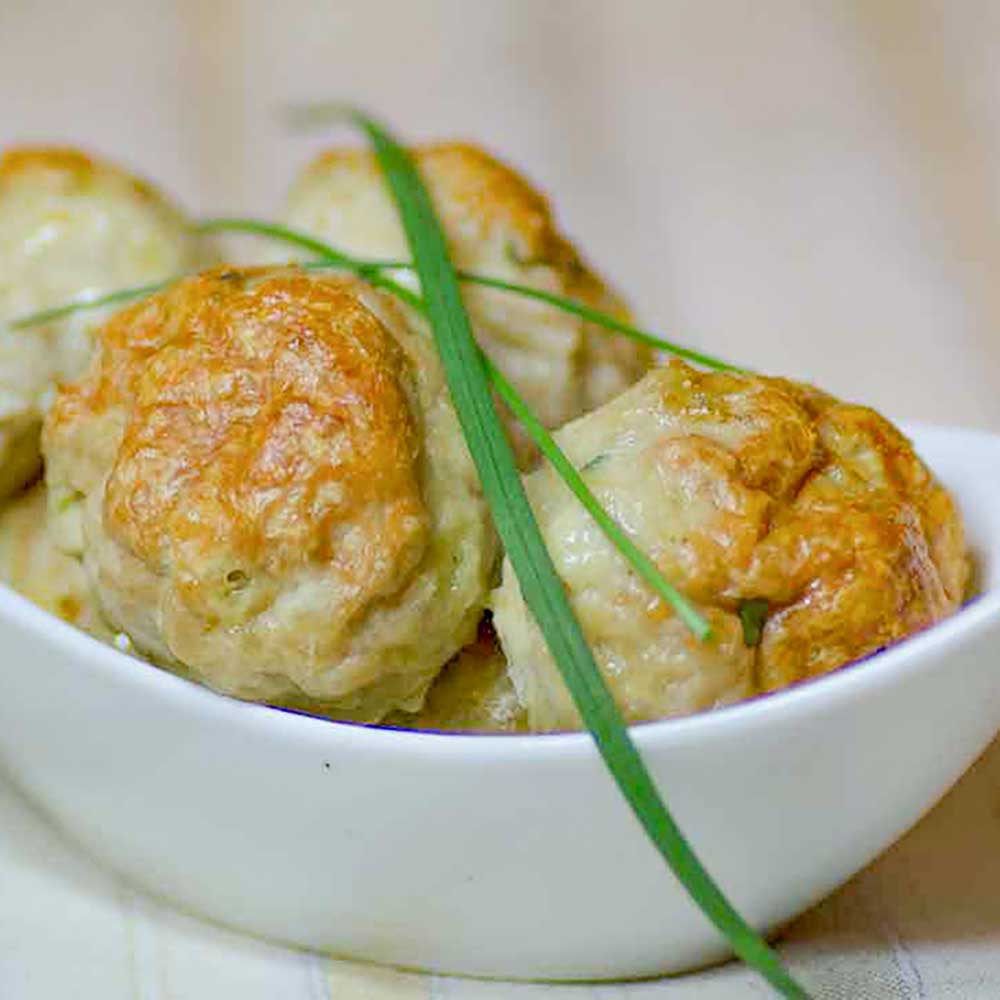 Low Carb Chicken Cheddar & Chives Meatballs
Another variation of our low-carb chicken meatball recipe, moist, tender and full of flavor.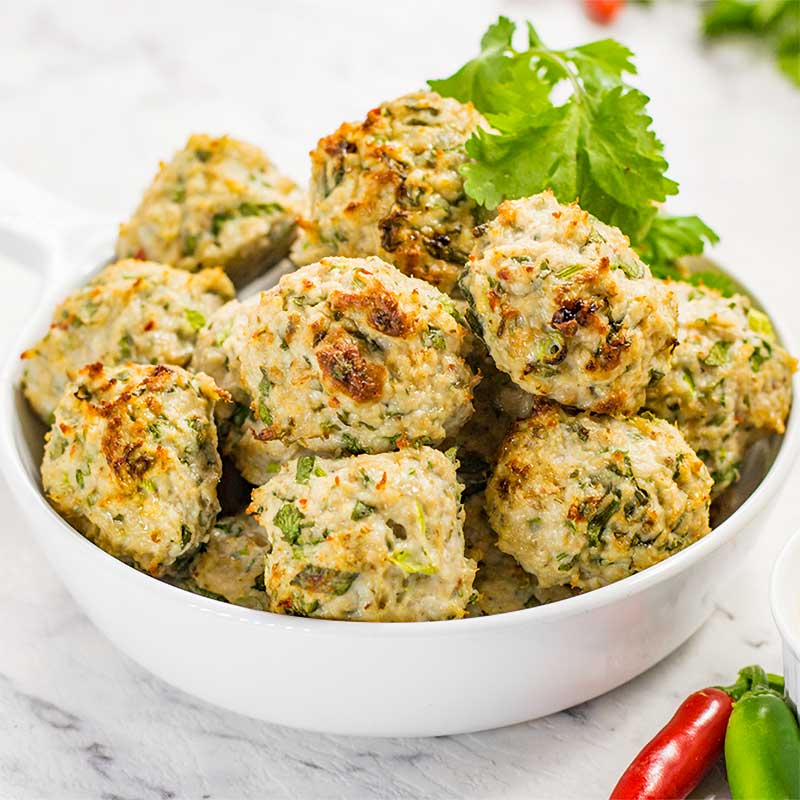 Thai Style Keto Chicken Meatballs
Staying with the theme, this Thai-style chicken meatball recipe is another to wow the crowd with.
Nobody needs to know they're low-carb just serve them and watch them be devoured.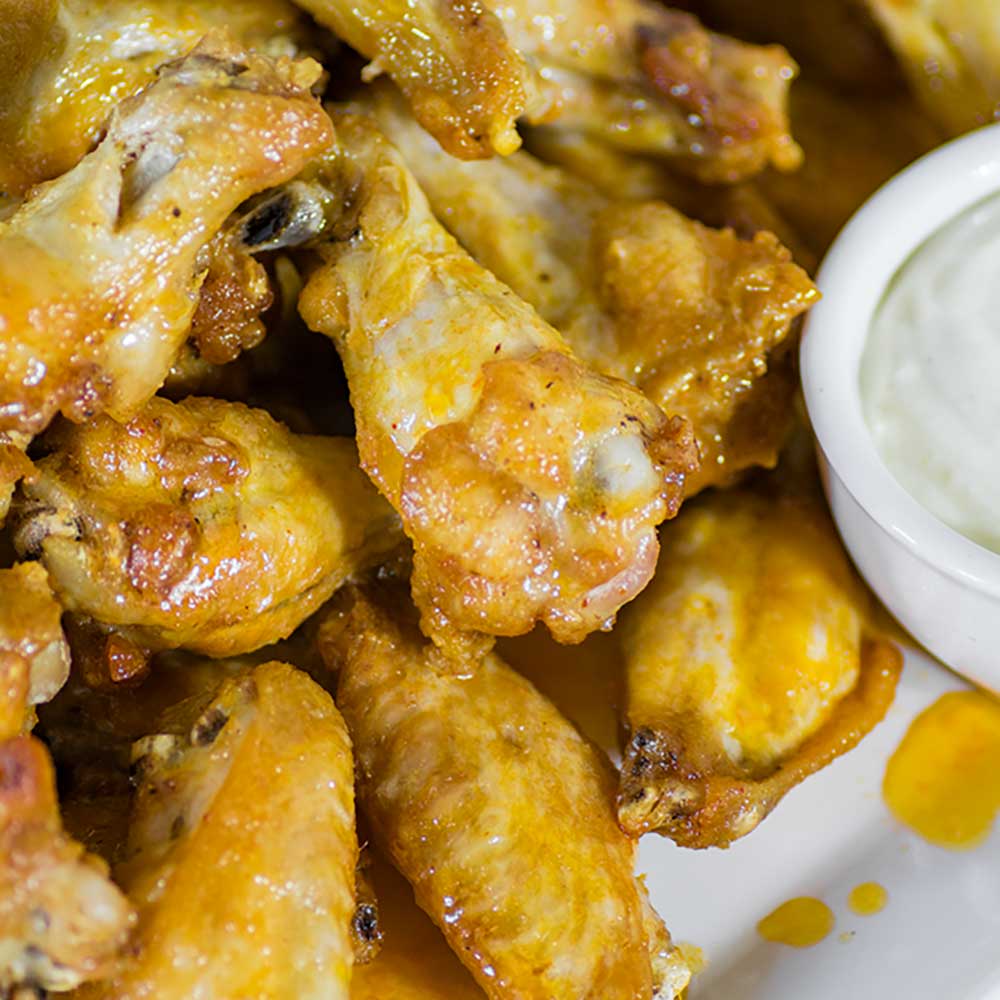 Did we mention gameday earlier? Try this keto chicken recipe out, you won't be disappointed.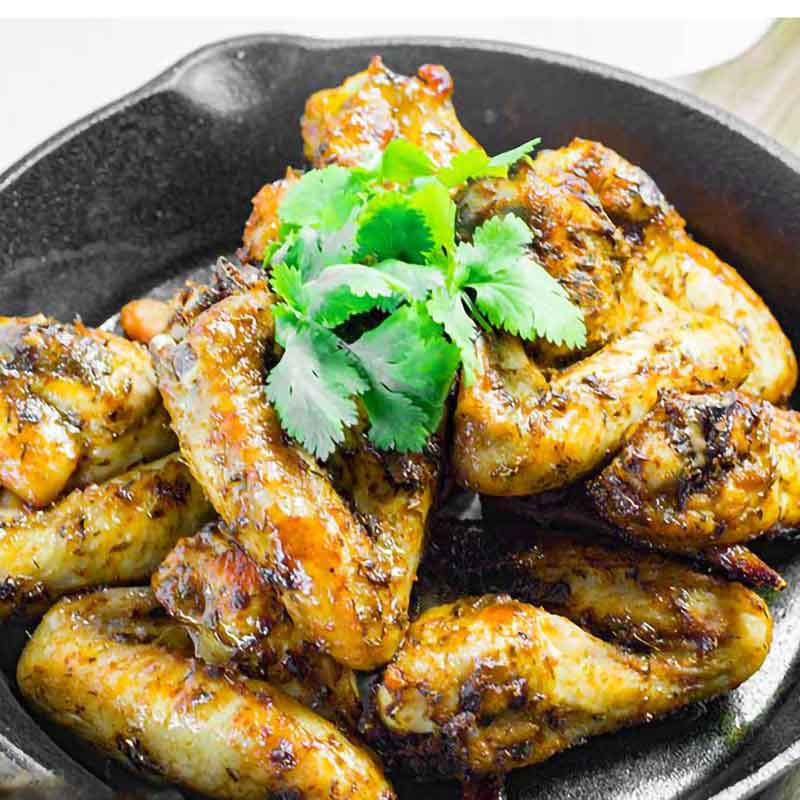 Keto Texan Style Chicken Wings
While you've stocked up on wings you might as well make this recipe. The delicious BBQ flavor makes this chicken dish an easy to please must-have.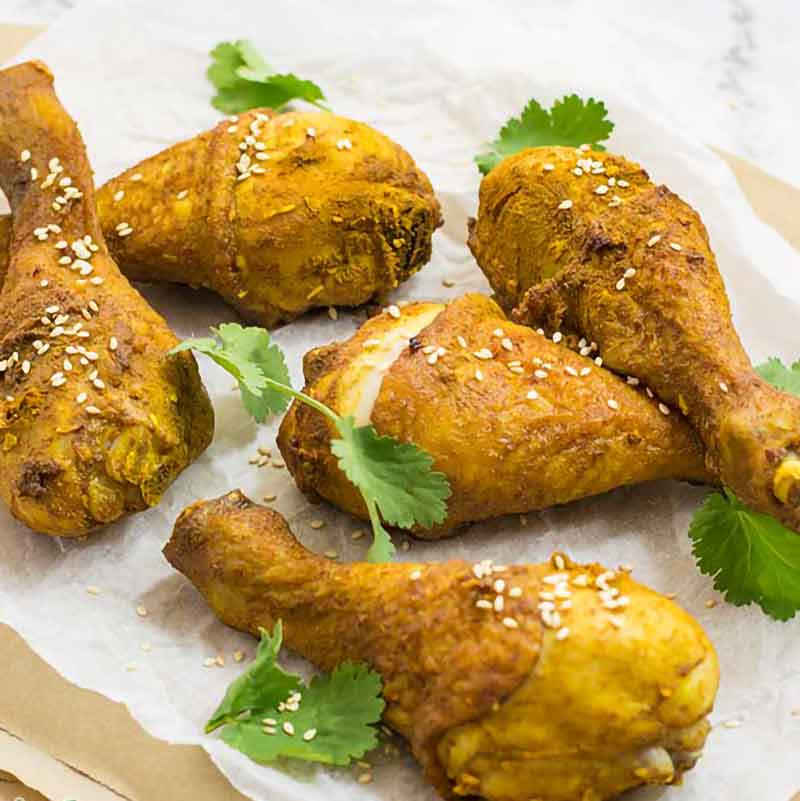 Keto Chicken Drumsticks Recipe (Indonesian Style)
We love exotic flavors and this Indonesian-style keto chicken drumstick recipe really tempts the taste buds.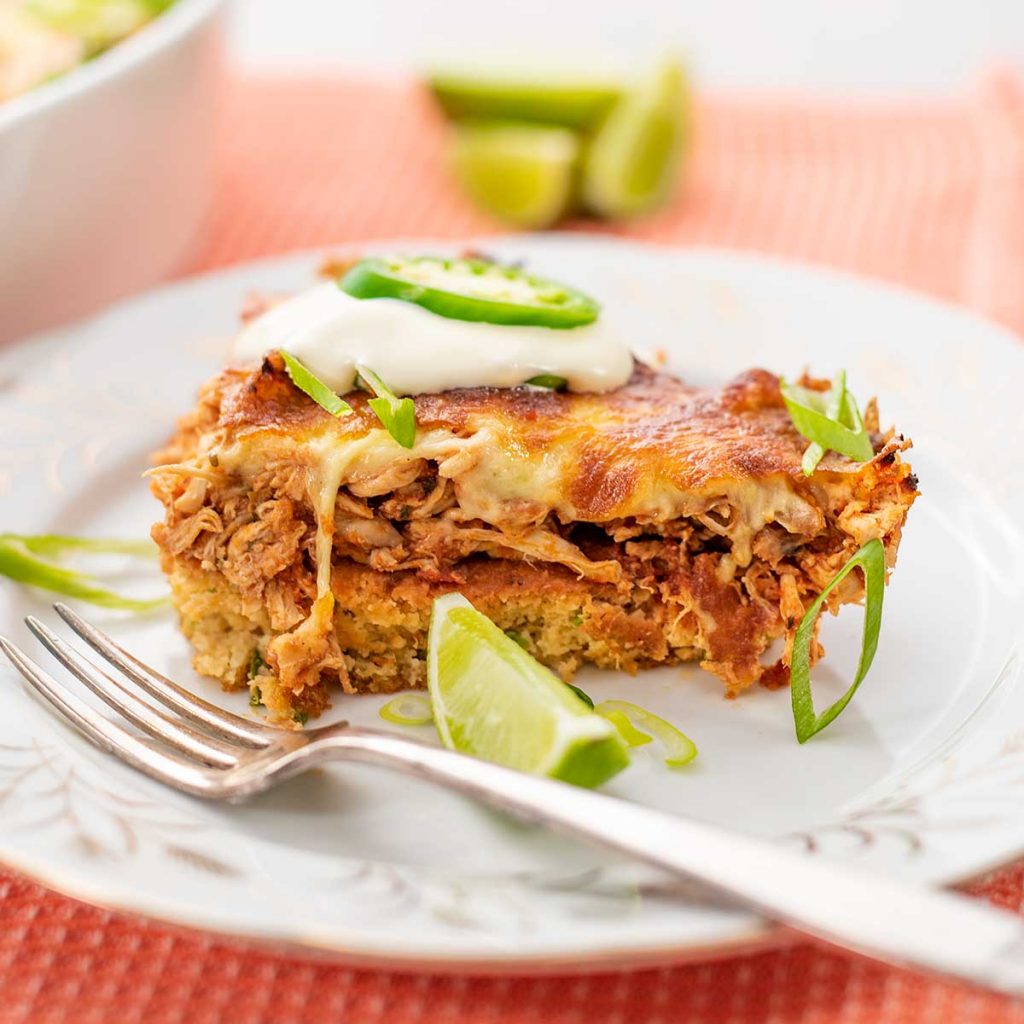 This is one delicious casserole – a jalapeno cornbread base topped with shredded chicken, mild sauce, and covered with cheese. YUM!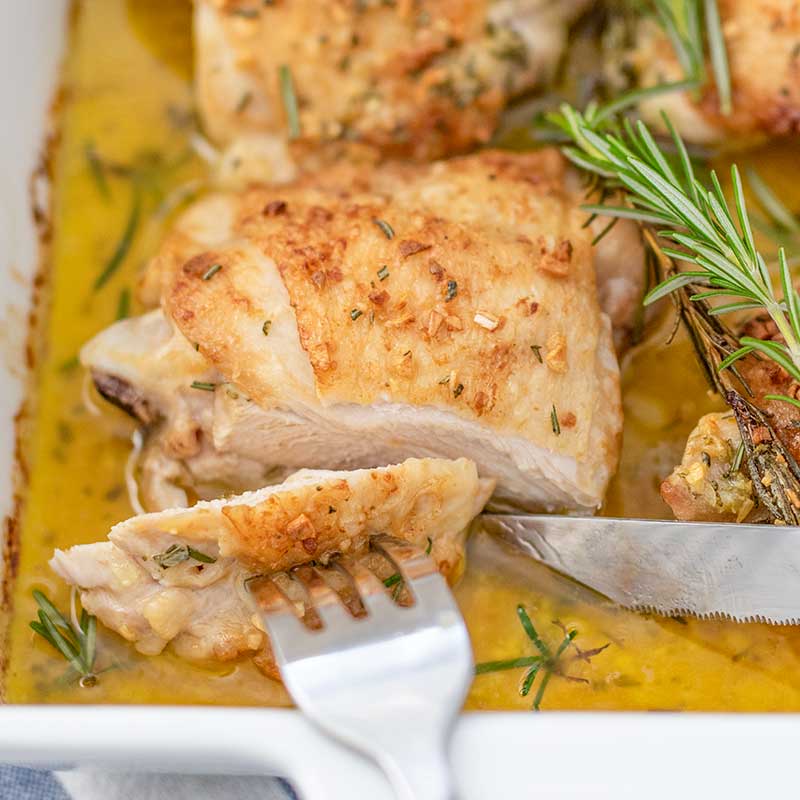 This tender, garlicky chicken is baked in a delicious butter bath – and you can save some of that flavorsome butter to cook your veggies in! Double YUM!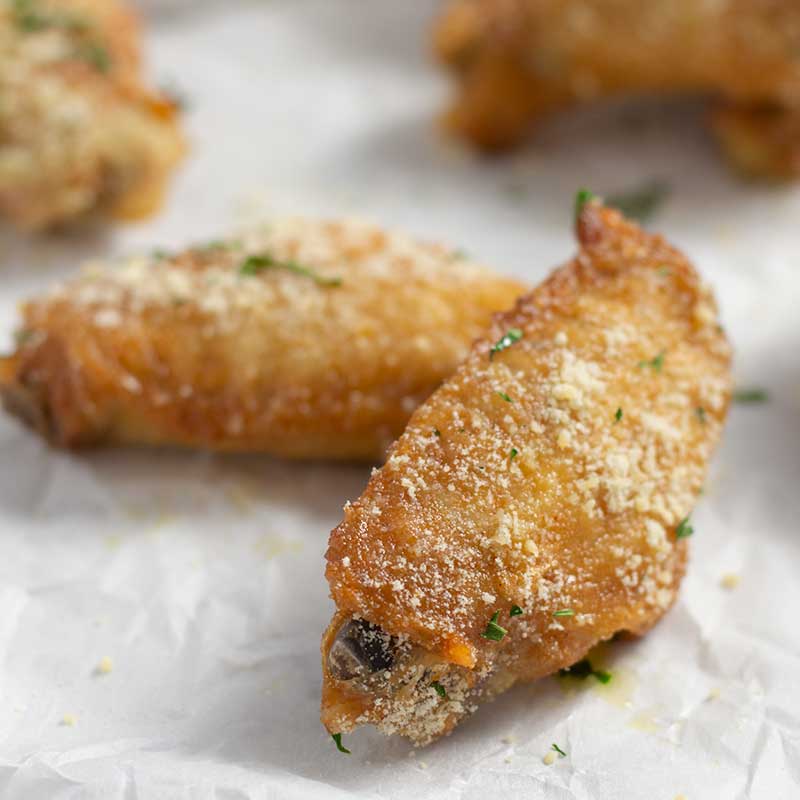 These crispy deep-fried wings are perfectly seasoned and coated in a yummy buttery, parmesan sauce. They are finger-licking good!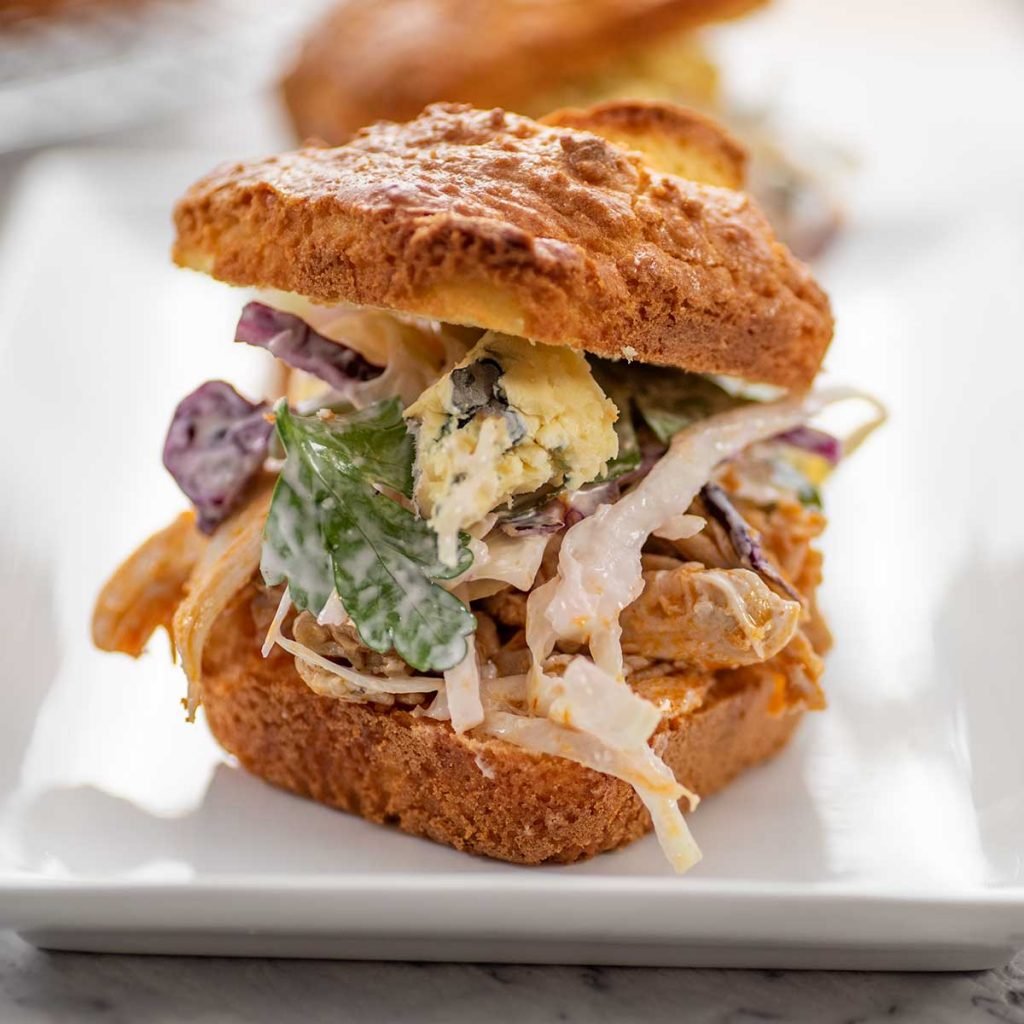 These instant pot mini burgers are the perfect potluck dish or game day snack! Loaded with spicy chicken, coleslaw, and blue cheese, they will be the first dish to go!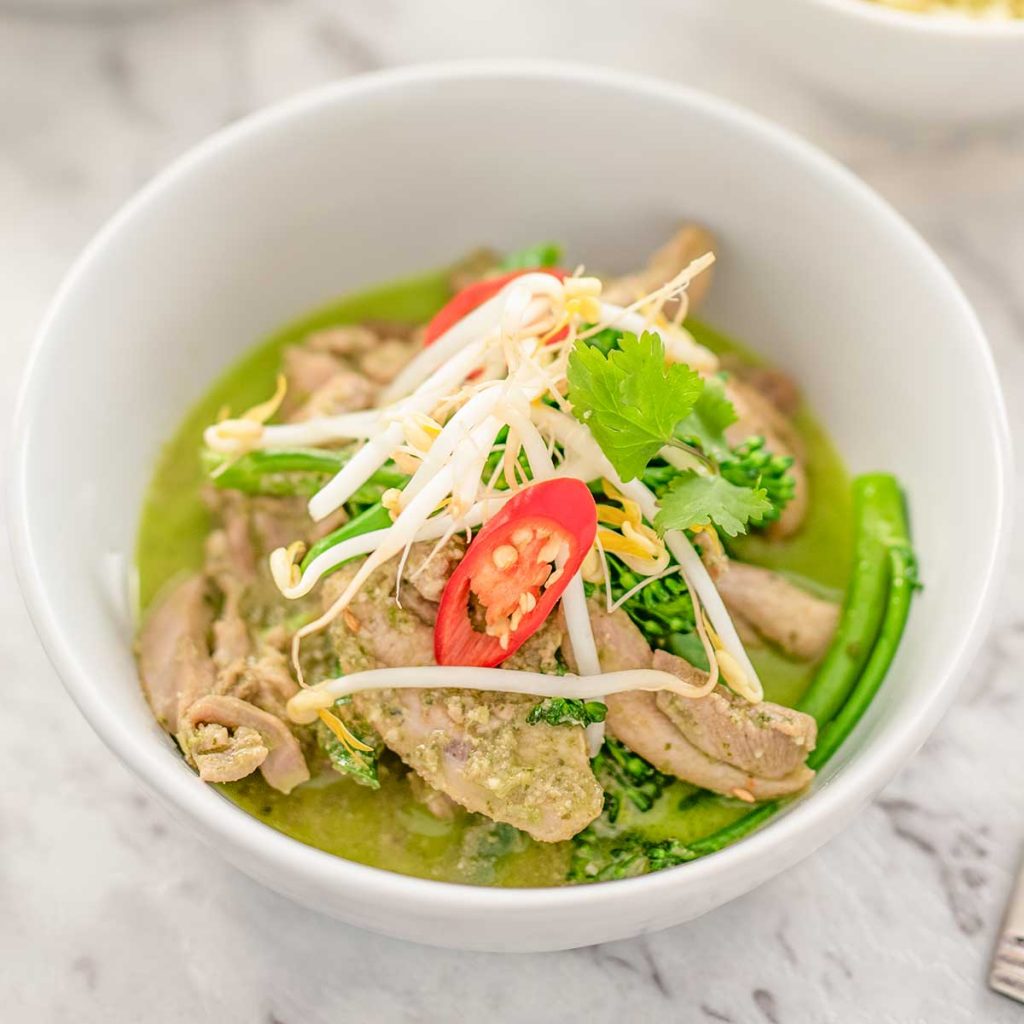 This delicious curry is straight out of Thailand! It's made with our Keto Green Curry Paste and free from hidden sugars and carbs, plus you can freeze the extra paste for dinner in a hurry!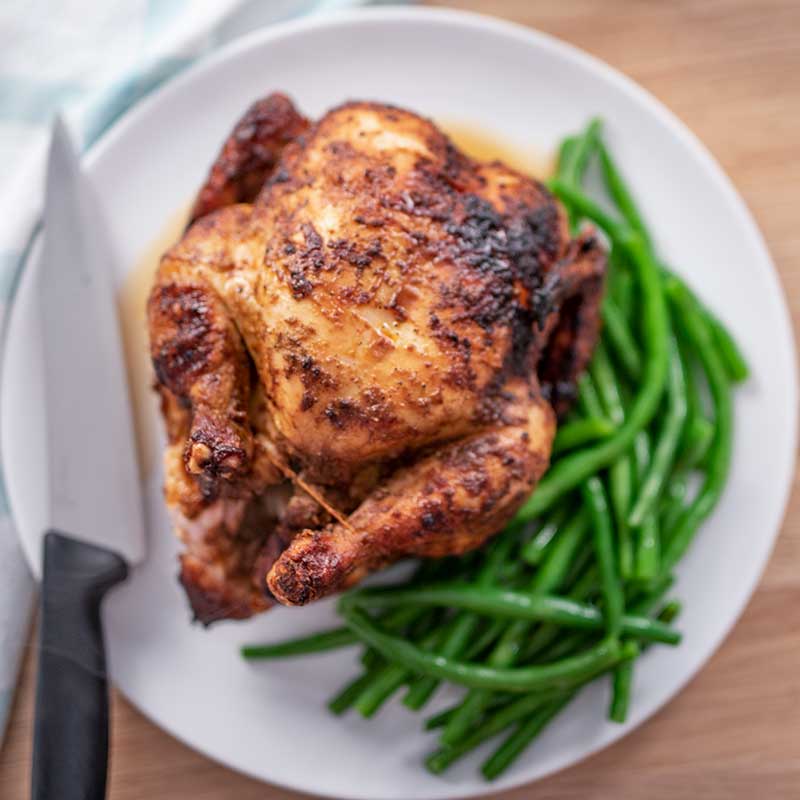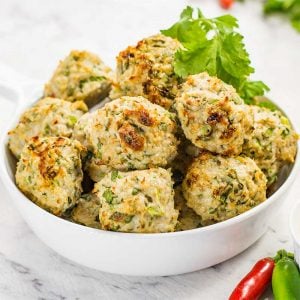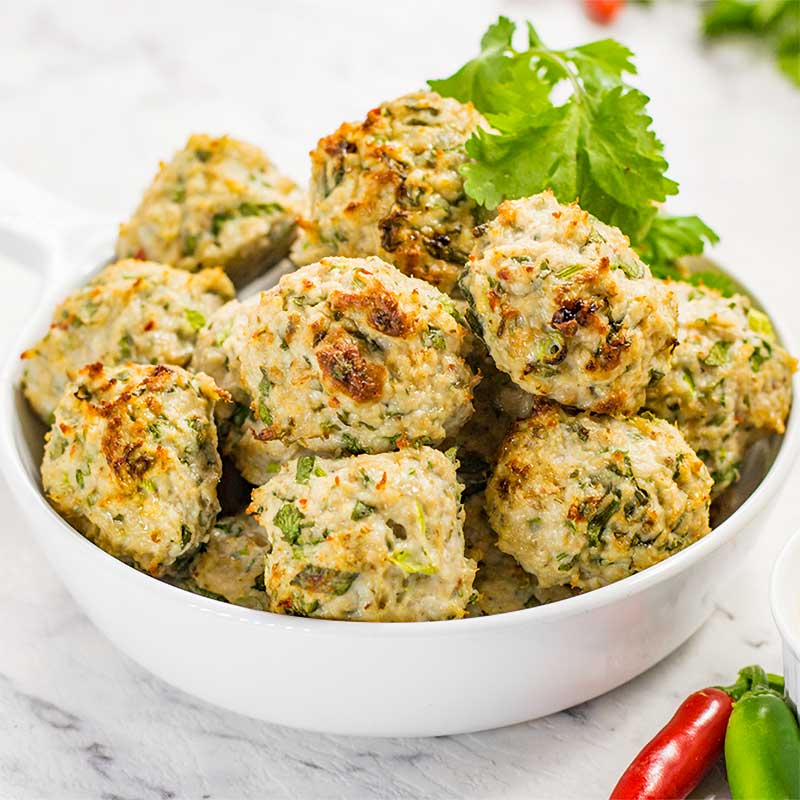 Keto Chicken Meatballs - Thai Style
Tantalizing Thai Treats, our Low Carb Thai Chicken Meatballs with Dipping Sauce are a great meal, snack or finger food.
Print
Pin
Email
Ingredients
Thai Chicken Meatballs
2

pounds

Ground Chicken

1

tablespoon

Fish Sauce

3

cloves

Garlic

crushed

2

teaspoons

Ginger

grated

1

Lime

zest only

2

Serrano Chili Pepper

finely chopped

1

tablespoon

Coriander

ground

4

Scallions

thinly sliced

1

bunch

Cilantro

finely chopped

1

teaspoon

Salt

1/2

teaspoon

Pepper

3

tablespoons

Almond Flour
Instructions
Thai Chicken Meatballs
Preheat oven to 200C/390F.

In a large mixing bowl add all the "thai chicken meatballs" ingredients.

Using your hands, mix all ingredients well. We recommend wearing a pair of food safe gloves to complete this step.

Roll the mixture into balls approximately the size of 2 tablespoons. We made 20 meatballs from the mixture.

Place the balls onto a lined cookie sheet and place into the oven.

Bake for 15-20 minutes, until the meatballs have browned and are firm to the touch. If you are unsure, cut one in half to check that the meatball is cooked through.
Dipping Sauce
Add all "dipping sauce" ingredients into a mixing bowl and whisk together until combined.

Serve dipping sauce with the cooked meatballs and enjoy.
Nutrition
Serving:
5
meatballs
|
Calories:
390
kcal
|
Carbohydrates:
4
g
|
Protein:
26
g
|
Fat:
29
g
|
Saturated Fat:
6
g
|
Cholesterol:
138
mg
|
Sodium:
1118
mg
|
Potassium:
878
mg
|
Fiber:
1
g
|
Sugar:
1
g
|
Vitamin A:
220
IU
|
Vitamin C:
12
mg
|
Calcium:
33
mg
|
Iron:
2
mg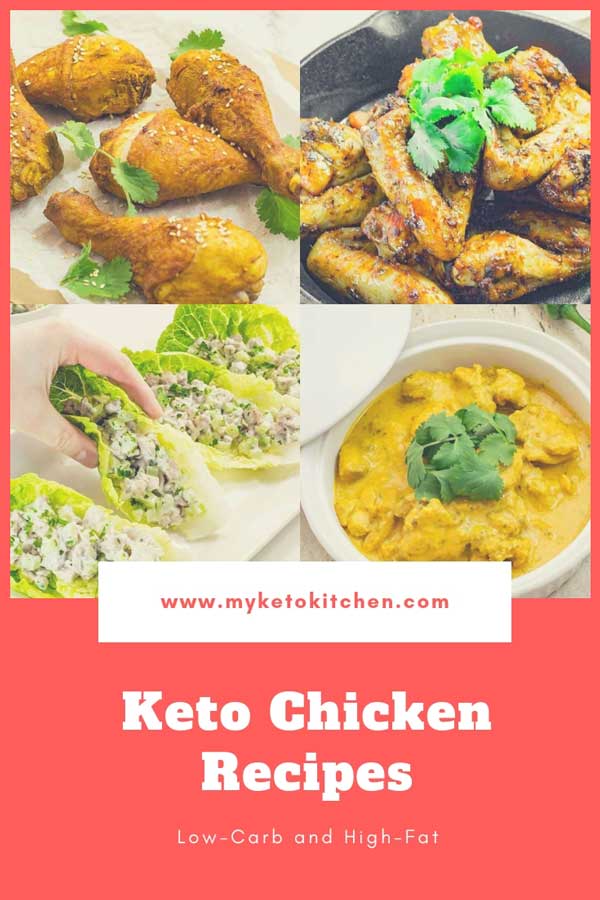 If you want us to make your favorite chicken recipe into a Keto-friendly version – let us know in the comments or send us an email!