Over time we've developed quite a list of delicious keto bread recipes for a variety of applications both savory and sweet.

Below is a list of our favorite keto bread recipes following at the end our most popular soft and fluffy loaf where we actually use yeast without sugar to make a soft and fluffy loaf.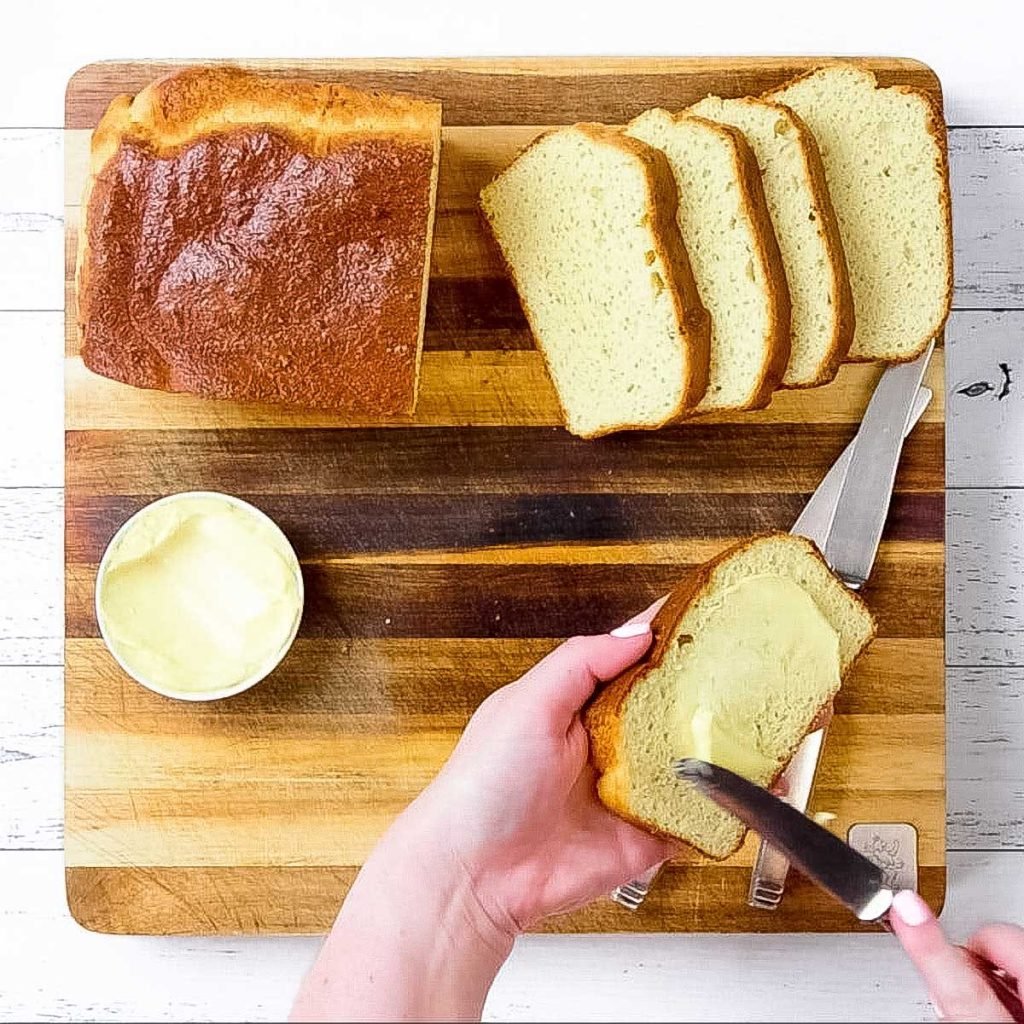 Keto Bread Recipes List
We have a variety of other keto bread recipes for different menus such as:
Scroll down the page for images of our other Keto bread recipes or follow the link to the recipe below.
The Best Keto Bread Recipes List
Keto Pull Apart Bread – Cheesy Garlic & Herb
This cheesy garlic and herb keto bread has quickly become a favorite, so soft and doughy.
Bake this and put it in the middle of the table, it won't last long.
Keto Garlic Knots Bread Recipe
These little Keto Garlic Knots are an excellent replacement for dinner rolls to serve alongside your main meal.
They also go well with soup.
A sweet and delicious Keto cinnamon Loaf that's perfect with tea or coffee.
Ultra low-carb of course, make this loaf for your friends, keto or not they'll love it.
Keto Baked Lemon Poppy Seed Loaf
A delicious take on the famous Starbucks recipe except we bake it keto style.
This means keto-friendly flours and natural sugar substitutes it's very low-carb.
A very handy keto bread recipe to have on hand for fans of various Mexican, Mediterranian, and Middle Eastern cuisines.
Try our Keto Donor Kebabs where we use this delicious recipe as the wrap.
The perfect entertainer recipe, these Keto Scones are a winner for tea parties or functions.
Make these in a batch and share them with your low-carb friends.
Moist and very tasty with cheese and bacon.
This keto baked bread is the perfect accompaniment to soups and stews.
Look at these baked Keto Bagels, not only delicious they present just like a real bakery bagel.
Use them to make the Keto Reuben Bagel below – YUM!
That Keto bagel recipe has so many possibilities, master it and it will be as versatile as the following baked bread rolls recipe.
This keto-baked recipe is very similar to our keto bread above.
The difference is that the buns are baked in a baking tin, with slightly different ingredient portions to suit their volume.
The perfect example of how to use our keto burger bread rolls with our Mexican-style chicken burger.
Baked Keto Cheese and Bacon Bread Rolls
What's more delicious baked straight from the oven than one of our favorite low-carb baked recipes that are these cheesy beauties?
Baked keto rolls are an excellent replacement for hamburger buns.
Such sweet and aromatic dessert yet we use no sugar or flour.
Perfect served with morning tea when friends arrive.
A wonderful side to soups this low-carb baked focaccia brings out a touch of gourmet dining.
But where can you find a low-carb version of this baked keto focaccia? Nowhere that we know of, so time to bake your own.
We couldn't leave our original and favorite keto baking recipe out of the list.
Baked fresh from the oven served with a knob of butter is heaven. They also work well if cooked in batches and frozen. Simply microwave until soft and serve immediately.
Keto Biscuits (Like Scones for those outside the US)
Delicious little Keto Biscuits are a bread-like recipe that is a lot like a scone, common outside of the US.
If you're looking for something to smother your keto bread recipes with, take a look at our Flavored Compound Butter Recipes.
Our Best Keto Bread Recipe
This keto bread recipe is a new and improved version of those we've baked in the past, it's the best low-carb loaf around with a yeasty aroma, fluffy center, and crisp crust.
We know when a recipe is a hit, everyone talks about it and wants the recipe. The feedback is that it's the best keto bread recipe anyone has tried.
This recipe is better than any homemade ketogenic bread we've had yet. That can be attributed mostly to the aroma and texture achieved by adding yeast.
Keto Bread Ingredients
2 teaspoons of Dry Yeast

1 teaspoon of Inulin

2 tablespoons of Warm Water

7.5 ounces of Almond Flour

1 tablespoon of Psyllium Husk Powder

1 teaspoon of Baking Powder

½ teaspoon of Xanthan Gum

Pinch of Salt

4.5 ounces of Unsalted Butter, melted

7 Eggs, room temperature
How to Make Keto Bread
Making keto bread is one of our favorite low-carb foods to make as it satisfies that part of the diet many people miss.
Preheat your oven to 170C/340F.

In a small mixing bowl, add the yeast and inulin, followed by the warm water. Mix well and leave to proof in a warm place for 10 minutes.

In a large mixing bowl, add the almond flour, psyllium, baking powder, xanthan gum, and salt. Mix well.

Add the melted butter and eggs and mix well.

Add the proofed yeast and mix well.

Once the mixture is combined, pour into a 9x5in loaf pan that has been lined with parchment paper.

Leave your batter to prove for 20 minutes in a warm spot, covered with a tea towel.

Bake in the oven for 30-40 minutes, the bread is cooked when golden brown and makes a hollow sound when tapped.

Remove from the tin and leave to cool on a rack.
Once the keto bread has been baked and cooled slice the keto bread loaf into 16 slices and enjoy straight away or store it in the fridge for later.
Most keto bread recipes lack a special ingredient that most high-carb baked doughs have. An ingredient that when it wafts past your nose instantly turns your senses on and also makes your keto bread light and fluffy.
How To Store Keto Bread
Store Keto Bread in the fridge for 3 days, it can also be stored in sandwich bags and frozen for up to 3 months.
One loaf of keto bread makes 16 serves. 1 serving is one slice and has 1g net carbs.
Secret For The Best Keto Bread
The secret ingredient that makes this keto bread so good is yeast. Yeast is what gives this keto bread recipe a cut above the rest.
Yep, we know, "yeast". The reason that yeast is left out of keto bread recipes is that commonly it requires sugar to rise.
What most people don't know is that you can bake using a natural product called inulin instead.
Inulin (not "insulin") is a soluble prebiotic fiber that is food for the yeast to consume (like it also feeds on sugar) allowing our keto bread recipe to rise and become soft and fluffy.
Why Add Yeast To Keto Bread Recipes?
There are three reasons we like to add yeast to some of our keto baked goods.
Keto Breads are typically dense and often grainy and dry. Yeast won't make it as light and fluffy as the high-carb bread that we're used to in the supermarket. But it does make it lighter and more doughy than other low-carb bread.
Inulin that the yeast feeds on is a super prebiotic and has a multitude of health benefits.
The aroma. We have used yeast a number of times in our keto recipes purely for the aroma.
Your sense of smell is every bit as important as taste when it comes to the desirability of food and yeast does that with bread.
We tested that theory with our famous ketogenic soft pretzels recipe.
About Our Keto Bread
We have tried and baked tonnes of variations of keto bread. This recipe was a work in progress through lots of trial and error.
We looked high and low to come up with a solution that would not only taste great but bake like real bread with the same aroma.
The bread needed to be yeasty, fluffy, and soft without the carbs required for normal bread to rise yet also stay within the keto diet macros.
This is, without a doubt, the best keto bread recipe we've both made and tried. Just try it once (exactly per the instructions) and you'll never try another again.
This Keto bread is also Gluten-Free, Paleo Friendly, and of course very low-carb.
How Many Carbs Per Serving Of Keto Bread?
Due to the fact that we don't use any sugar or high carb flower our Keto bread contains only 1g net carbs per serve.
To make this keto bread even more ketogenic serve it with quality grass-fed butter that also has near-zero carbs per serve.
Kerry Gold is our favorite butter.
Calories In Keto Bread
There are only 140 calories per slice of our special Keto bread recipe.
This keto bread is baked using only the most ideal ingredients for a ketogenic diet.
Two slices of this ultra low-carb keto bread make the perfect combination for sandwiches and burgers still keeping within your daily macro limits.
Servings Per Loaf of Keto bread
This loaf makes 16 slices, which is one slice per serve.
For counting your calories and macros simply multiply by each slice, eg, two slices are 2 x 140 calories = 280 calories total.
Can I Substitute The Keto bread Ingredients?
We get this question a lot with almost all of our recipes.
Sometimes you can get away with substituting ingredients but with our Keto bread recipe, it is recommended that you don't use anything except for what we use to bake it. It took a lot of experimentation to come up with this keto bread recipe and to achieve the texture and flavor.
So the short answer is no. I'm sorry on this occasion, please stick to the recommendations above if you want the best Keto bread you've ever tasted.
Keto Bread Meal Ideas
I like to eat my keto bread warm with a slab of butter. But it goes well in the toaster and it's an excellent replacement for hamburger buns. Try our flavored butter recipes for some variety.
You can make keto french toast with it. I love to eat my keto bread toasted with Maple Ricotta topping for breakfast.
Try drying it out in a low oven to make Keto Croutons. Put it in a food processor for crumbing chicken, fish, or schnitzels.