These easy keto salad recipes just goes to show that the ketogenic diet offers a lot of room for nutritious high-fiber vegetables. Healthy sauces help these keto salads become tastier, more filling, and higher in fat.
This Keto Broccoli salad is super nutritious and easy to make, full of flavor and essential greens for fiber and vitamins. We use our low-carb mayonnaise recipe as a delicious dressing and healthy fats.
Everyone loves a delicious Caesar salad, but sometimes the sauce is so sugary, and the bread is so high carb it destroys the healthiness that salads are supposed to be. But not ours, this keto Caesar salad is ultra-low-carb, very healthy, and simply delicious. It has croutons too!
Keto Croutons (for Caesar salad)
They are not a salad on their own, but we know how many of you love your croutons. Make these keto croutons for any salad, but they go particularly well with our Caesar salad above or keto soup.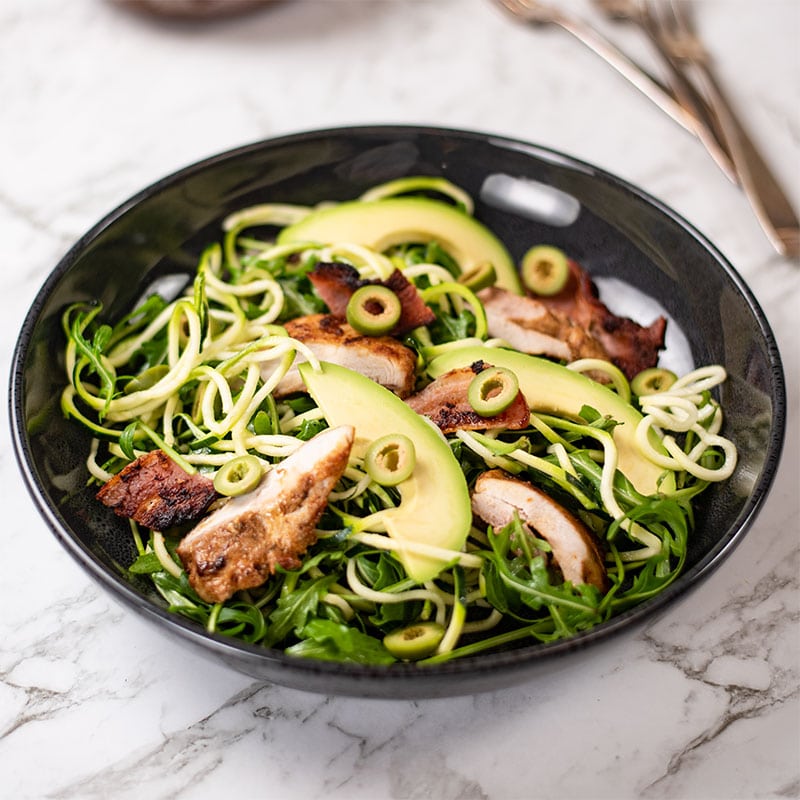 We love our zoodles, aka zucchini noodles. They're so versatile. Just add your favorite ingredients like we've done here with chicken. This chicken zoodle salad is easy to make and looks like a dream on the table.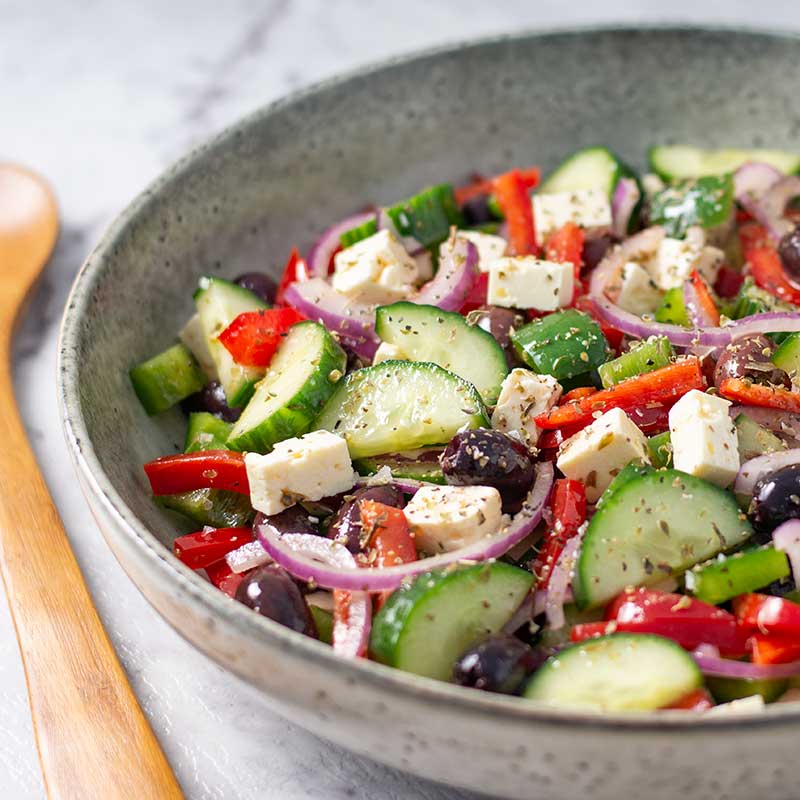 Know for healthy fats. This Keto Greek Salad adds a little extra to make it more suitable for LCHF diets. This salad goes well with keto lamb dishes.
Keto Halloumi Cauliflower Salad
I love halloumi and couscous but can't have the carbs well, try this salad where we make a healthy couscous alternative with cauliflower. This keto salad goes great with red meat or chicken.
Poke bowls have become a thing around here in recent years for a good reason. They're delicious and can be very healthy. We took this Hawaiian favorite and make it a very keto salad recipe.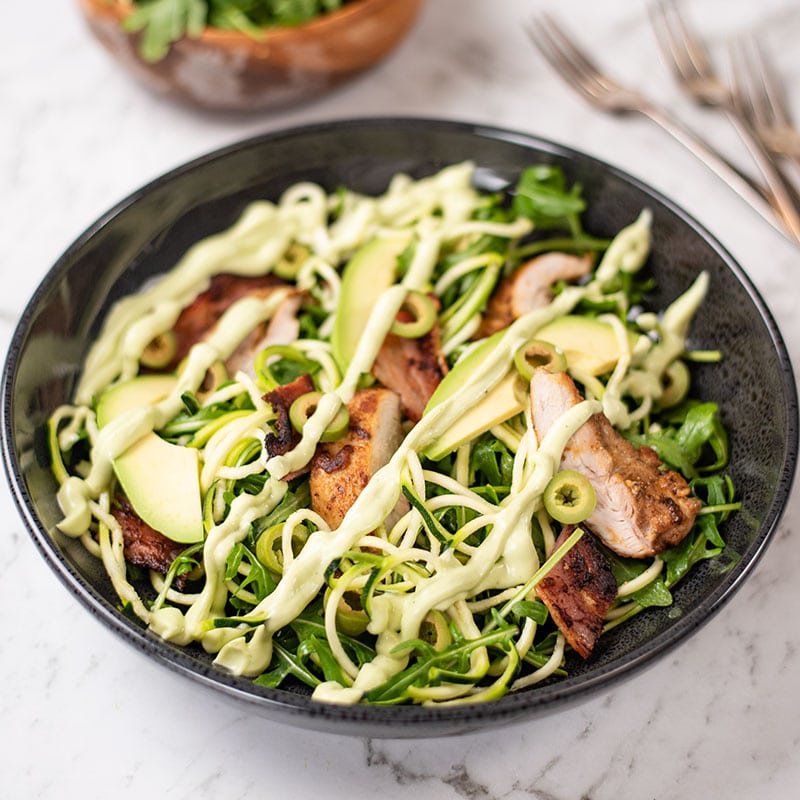 Keto Chicken, Bacon & Avocado Zoodles Recipe
This Keto Salad recipe has so many different flavors and textures that it feels like a party in your mouth. Ultra low-carb with healthy fats and vitamins, it's the perfect keto lunch or dinner for everyone.
There's no keto salad recipe ingredient better than eggs. Loaded with all essential amino acids and healthy fats, this salad recipe is tasty and nutritious.
Smoked Salmon, Avocado, and Rocket Salad
No one can argue the health benefits of the essential oils in smoked salmon topped with rocket and avocado. You have yourself a superfood meal right there!
Avocado and Egg Keto Salad Wrap
Easy to make and filled with the complete BCAA profile of eggs. The combo of avocado and egg in this keto salad recipe is not only super easy to make. But again loaded with healthy fats, vitamins, and minerals.
Fresh Asian Style Keto Salad Recipe with our Secret Peanut Dressing
The secret to the taste of this salad is the dressing. Check out the recipe card for the recipe. Delicious and fresh, everyone will love it.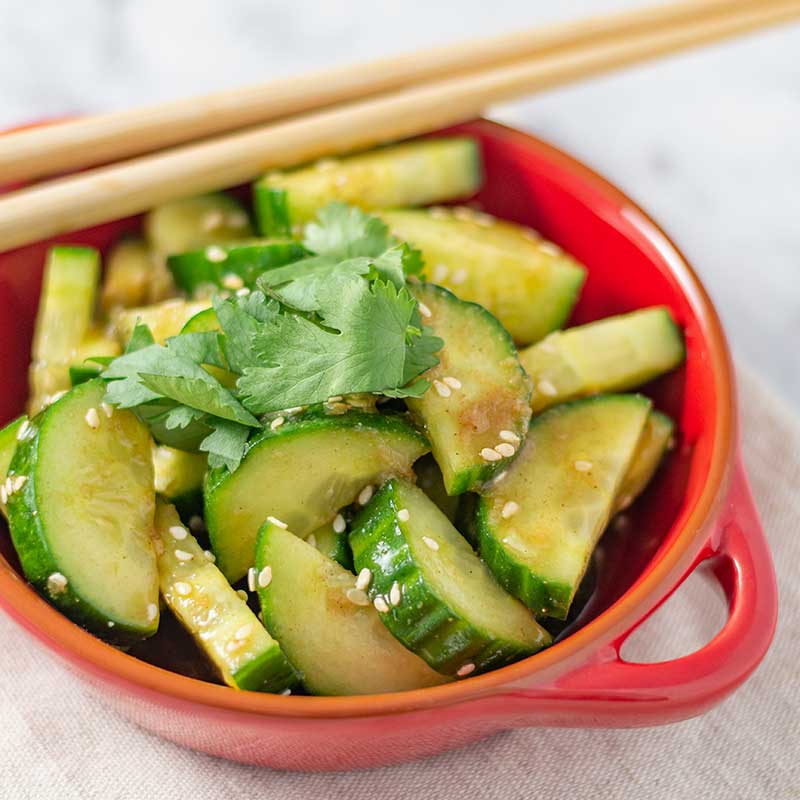 Light yet full of healthy fats, this Keto Chinese Cucumber Salad recipe goes well served with chicken, beef, or fish.
Chicken Keto Salad Wraps Recipe
This chicken keto salad wrap recipe is a very satisfying meal and super easy to make. Serve them as a main for lunch or as a side with dinner.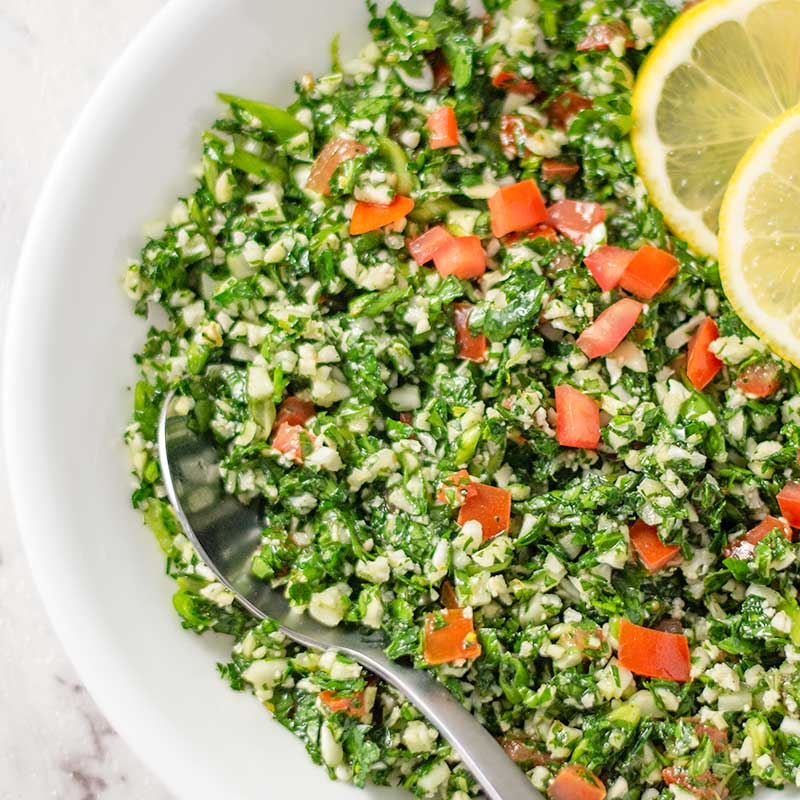 A traditional Middle Eastern dish Tabbouleh adds a unique taste, it goes well with lamb, beef, and chicken and is very healthy.
Coleslaw is a classic BBQ Salad, the secret to making it keto is all in the dressing.
Keto coleslaw goes great with any grilled meat, and it's perfect for making beforehand for a nice picnic outside.
This sauce recipe goes with our Caesar salad, but it can also be used to add extra fat to meats and vegetables.
---
Enjoy!
Let us know if you have any other Ideas for our Keto Salads recipe collection.