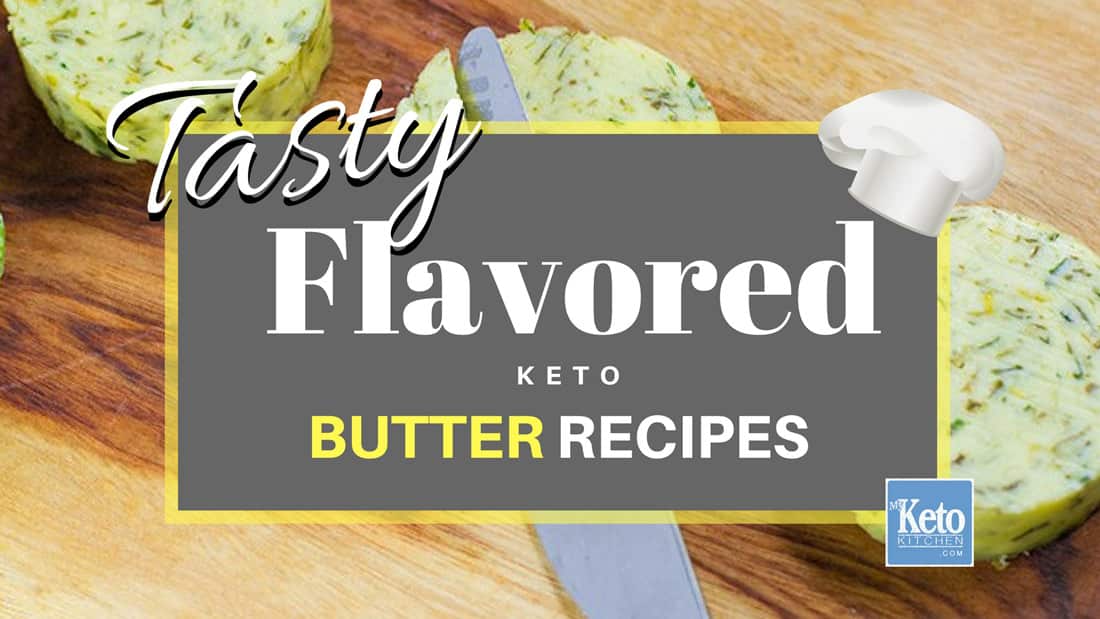 These Steak Butter recipes are the perfect source of fat and flavor for LCHF Diets. We make a variety of flavored butter (aka Compound Butter).
Keep your steak butter it on hand for steak, fish, chicken, vegetables or just to be used as a keto spread.
Steak butter is also known as Compound Butter or Herb Butter and is a mixture of butter and other ingredients, including herbs and spices.
Steak Butter is very easy to make and you can get creative with your own combinations. Make them as strong as you desire.

The Versatile Garlic Steak Butter Recipe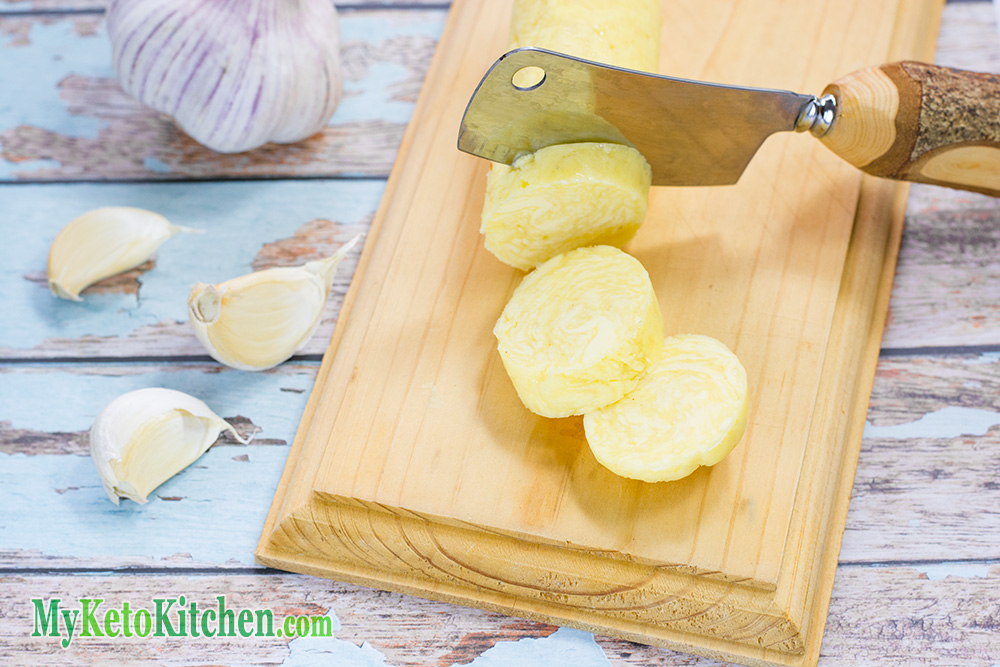 Garlic plus butter is a classic combination that works with just about anything, just be sure to have something on hand for the breath afterwards ;). Get the classic garlic butter recipe here
Spicy Chili Steak Butter for an Extra Kick in your Meat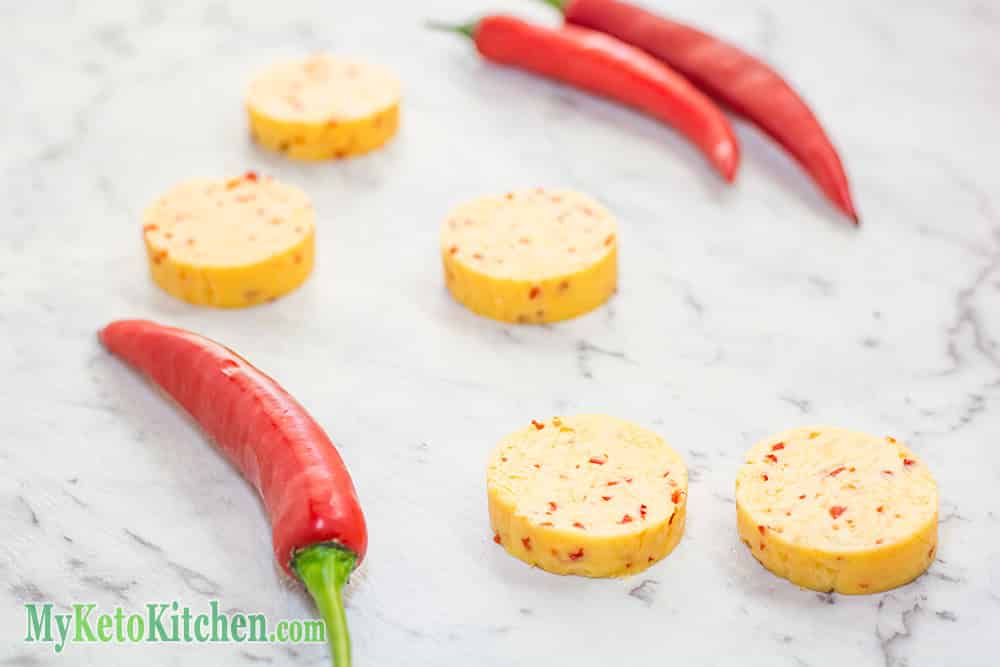 Chili Steak Butter is a cheeky way to get the chili spice into all those nooks and crannies of the meal. With red meat wait until a steak is rested so that it's relaxed and open to being flooded with more flavor. Get the Spicy Chili Butter recipe here.
Cilantro & Lime Flavored Butter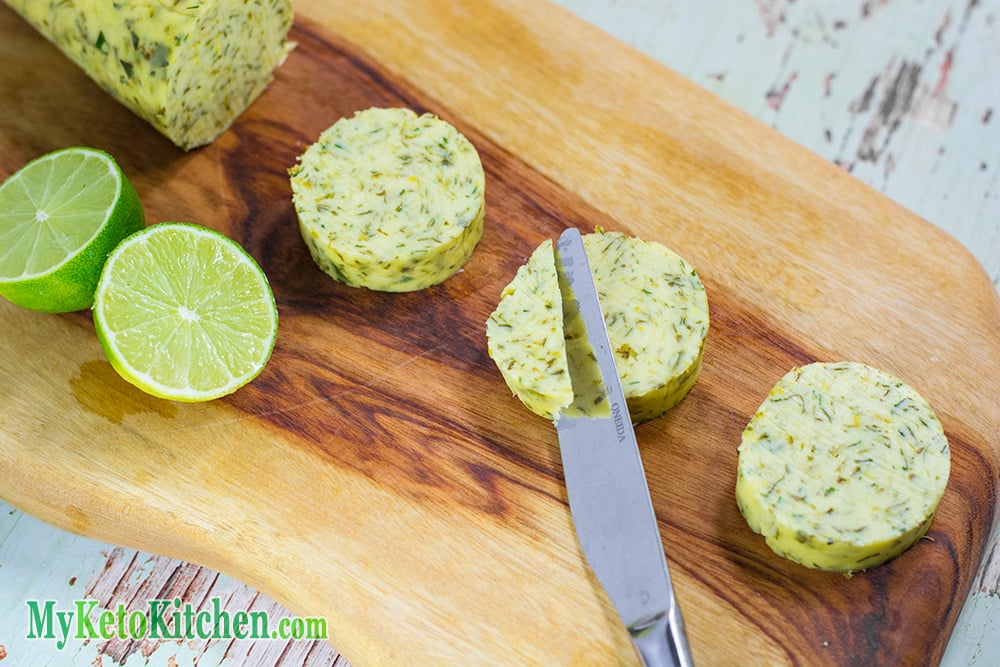 Zesty and fragrant it is wonderful melted over chicken or fish dishes. You can add it to fish while it's cooking in foil or drop a knob on as its served. Find the Cilantro and Lime Compound Butter Recipe here.
Lemon & Chive Flavored Butter
Another refreshing citrus and herb butter that makes an excellent aromatic and tasty way to add more fat to a low carb meal and is great with grilled fish too. Recipe Card for Lemon & Chive Butter here.
Marinated Olive Flavored Butter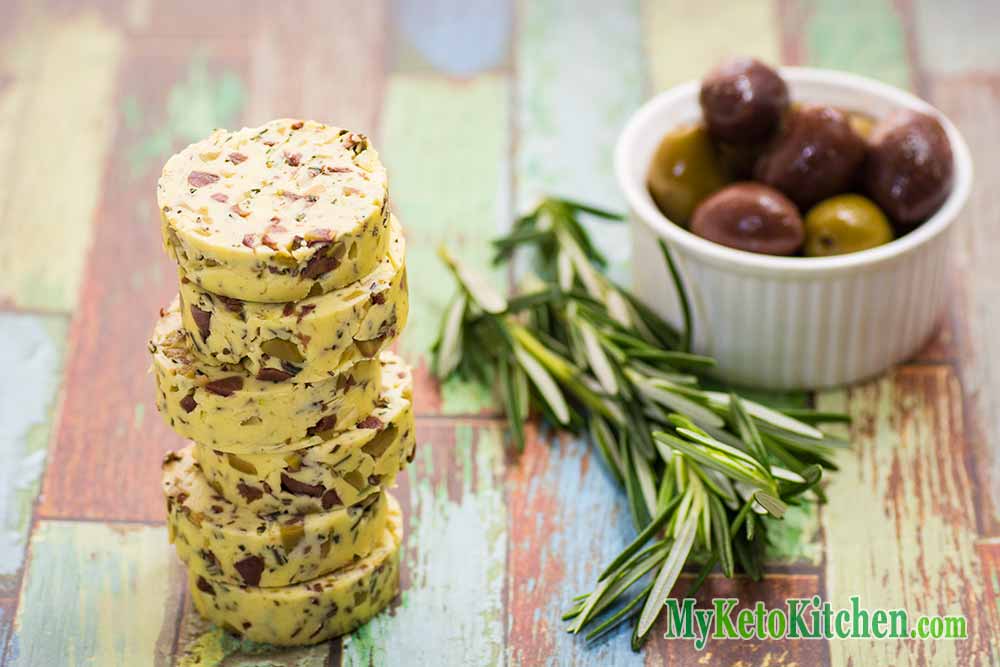 A delicious blend of kalamata & green olives with fresh rosemary goes great dropped onto hot vegetables or used as a spread with low carb crackers, but you can add it to whatever you wish :). Get the Kalamata & Green Olive Butter Recipe here.
Cafe di Paris Flavored Butter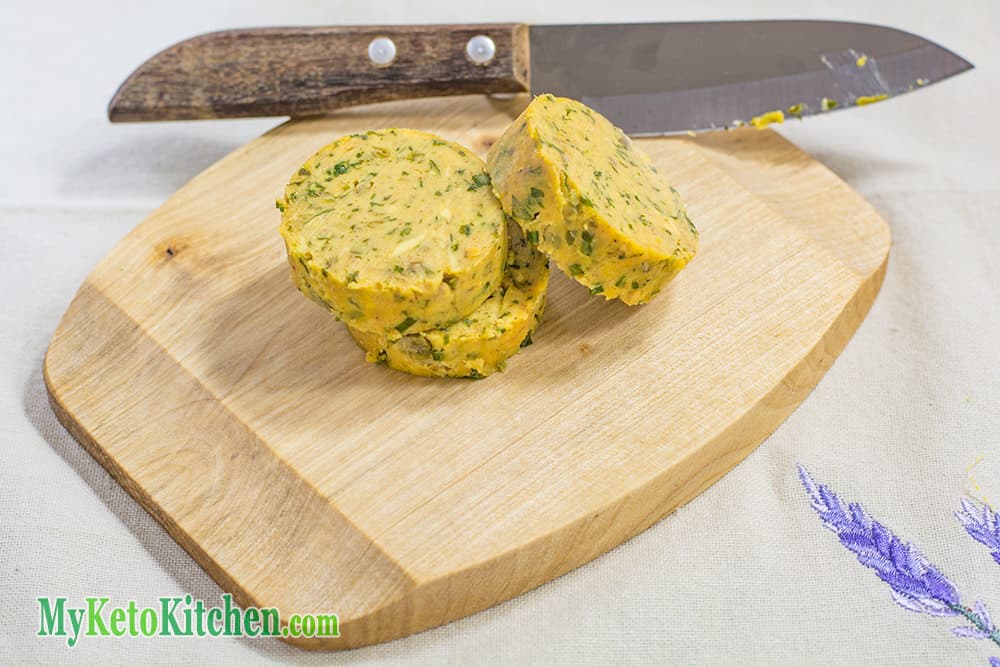 Ideal melted atop a grilled steak the Cafe di Paris, flavored butter is an intricate blend of herbs, spices, garlic, mustard and anchovies it will add some serious tastes to your meat dishes. Cafe Di Paris Butter Instructions here.
Pesto Flavored Herb Butter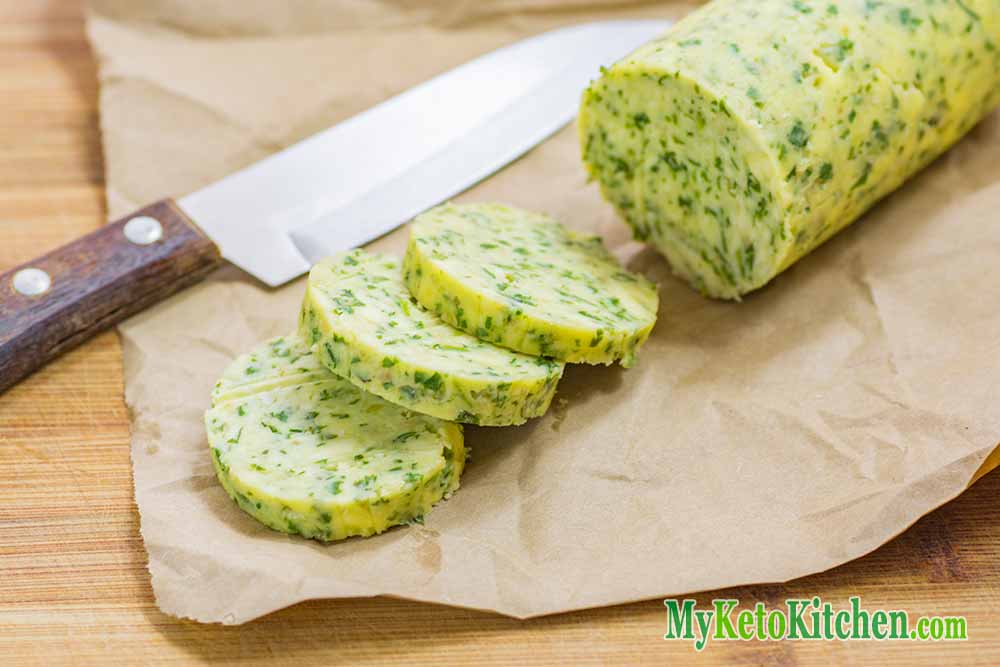 Based off our tasty Rocket, Parmesan & Pine Nut Pesto Steak Butter, this recipe is just 2 ingredients and can be cooked in minutes. Find the recipe for our Pesto Flavored Butter Here.
Caramelized Onion Blend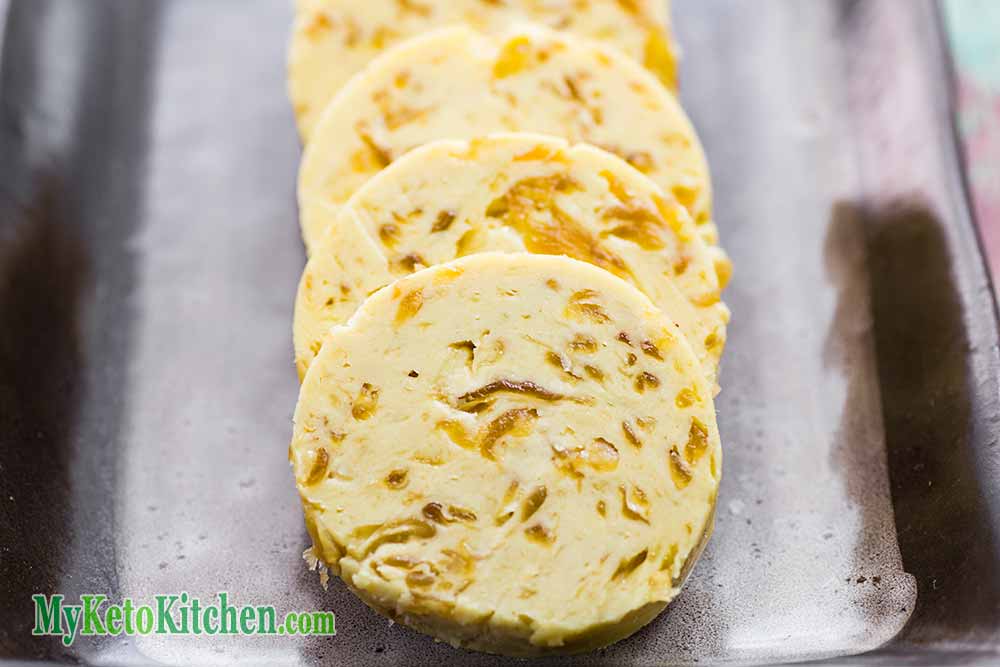 Sweet caramelized onion blended with butter makes a great add on as a low carb bunless burger topper, your burger will be dripping with healthy fat and much tastier for it. See the Recipe for Sweet Caramelized Onion Butter.
Bacon & Parmesan a delicious LCHF Keto addition to Eggs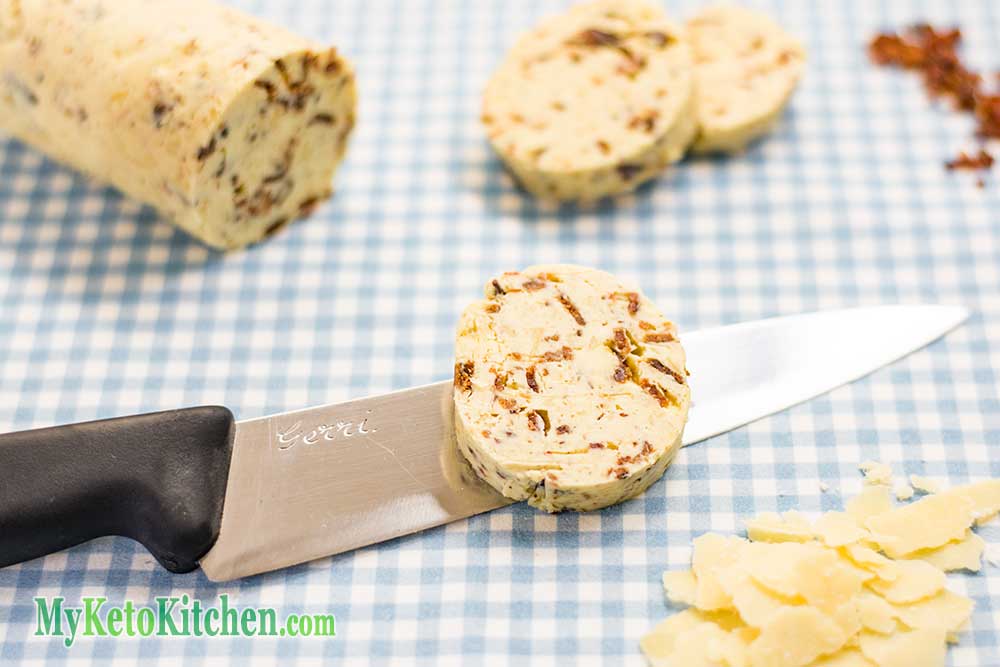 Crispy bacon alongside sharp Parmesan Cheese blended with Butter makes an ideal spread for crackers &, low-carb breads but another novel way is to drop a chunk of it onto hot fried eggs. Get the Bacon and Parmesan Butter recipe here
Steak Butter Recipe – Italian Herb with a Sneaky Ingredient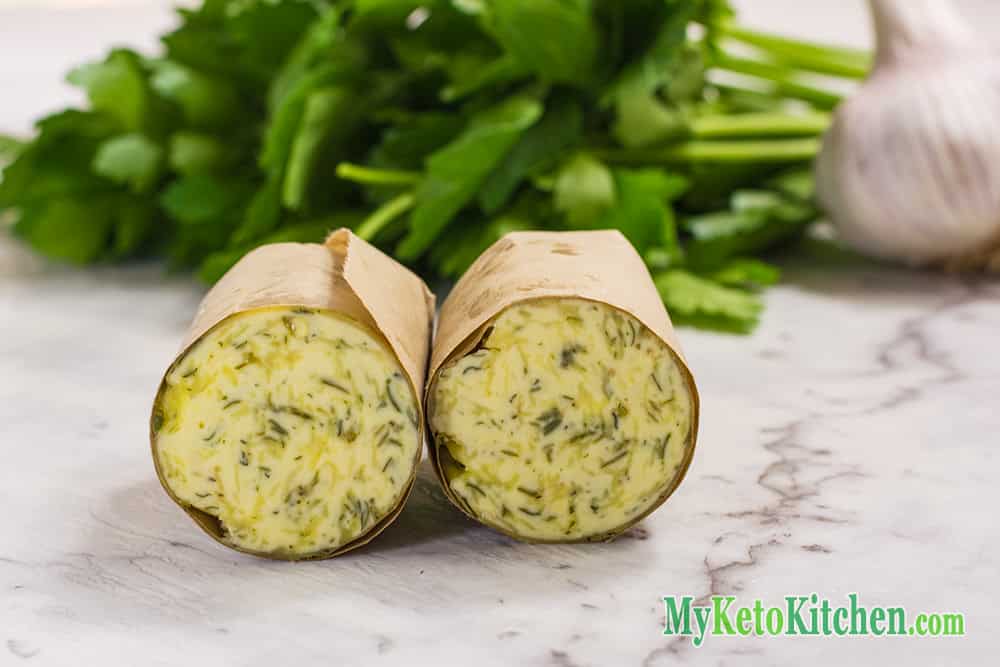 Garlic, herbs & red wine vinegar are combined to make this tasty flavored butter a wonderful addition to all sorts of dishes, again it's the perfect steak butter.
 How To Make Flavored Steak Butter
Finely chop the parsley, oregano and thyme and add to a mixing bowl.
Add the remaining ingredients and mix well.
Gently spoon the butter into a piece of cling wrap and roll into a log shape.
Allow to set in the fridge for 20 minutes before serving.
Store in the fridge for up to 3 weeks, or in the freezer for 3 months.
More great savory flavored butter combinations;
Maitre d Hotel – unsalted butter, parsley, lemon juice, salt, pepper
Bacon & Chive – unsalted butter, crispy bacon, chives, sour cream, salt, pepper
Mustard – unsalted butter, your favorite mustard or a mixture of dry mustard and mustard seeds, salt, pepper
Greek Inspired – unsalted butter, lemon zest, garlic, parsley, chili, salt, pepper
And don't forget the sweet butter flavors;
Cinnamon – unsalted butter, cinnamon, sweetener
Pumpkin Spice – unsalted butter, cinnamon, ginger, nutmeg, allspice, cloves, sweetener
Maple – unsalted butter, sugar-free maple syrup
Have a favorite Steak Butter Recipe? Let us know below.