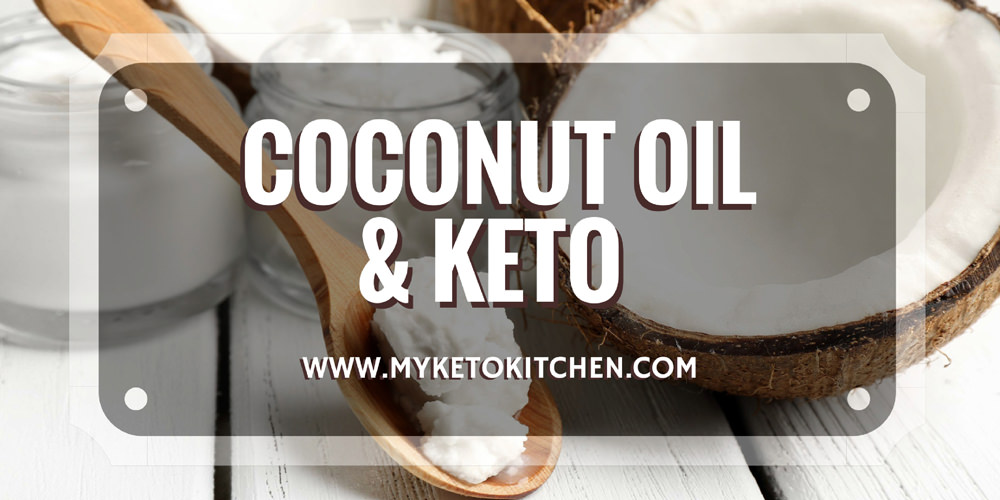 We use coconut oil in a lot of our recipes but not just because it makes a great replacement for many traditional ingredients. You can also use coconut oil for ketosis by raising ketone levels sooner for people on a ketogenic diet.
Coconut Oil for Ketosis & Weight Loss
Coconut oil contains medium chain triglycerides or MCTs for short.
MCTs are easily digested and are a great instant source of energy as they don't need to be broken down before they're used, unlike most other fats.
MCTs are converted in the liver to ketones that are responsible for putting people in a state called ketosis which is the purpose of a LCHF ketogenic diet.
MCTs have also been shown in research to have thermogenic effects (fat burning effects). Some studies show that consuming MCTs right before a workout won't only give you an instant energy boost but will also put your body in a greater fat burning environment.
MCTs as found in Coconut Oil that have a marked effect on ketosis or ketone production, have been shown in clinical studies to have a greater energy expenditure than LCTs (long chain triglycerides found in fats such as olive oil.
Resource: Weight-loss diet that includes consumption of medium-chain triacylglycerol oil leads to a greater rate of weight and fat mass loss than does olive oil
Lauric Acid in Coconut Oil has a Hunger Blunting Effect
Coconut Oil contains more than 50% of the MCT called Lauric Acid.
Lauric Acid has been shown to lower the hormone Ghrelin through elevated ketone production
Ghrelin is the hormone responsible for regulating hunger
The more ghrelin you produce the hungrier you'll be, the less Ghrelin you produce the more satisfied you'll be.
Resource: Effects of dietary medium-chain triglyceride on weight loss and insulin sensitivity in a group of moderately overweight free-living type 2 diabetic Chinese subjects.
Adding Coconut Oil to a Ketogenic Diet Boosts Your Immune System
Coconut Oil not only contains Lauric Acid it also contains Capric Acid and Caprylic Acid, which are antimicrobial lipids. They are antibacterial, anti-fungal and antiviral.
Lauric acid converts to monolaurin in the human body which acts as an antiviral, fighting viruses such as the influenza virus and herpes simplex virus. Coconut oil also fights bacteria such as listeria monocytogenes, giardia and helicobacter pylori.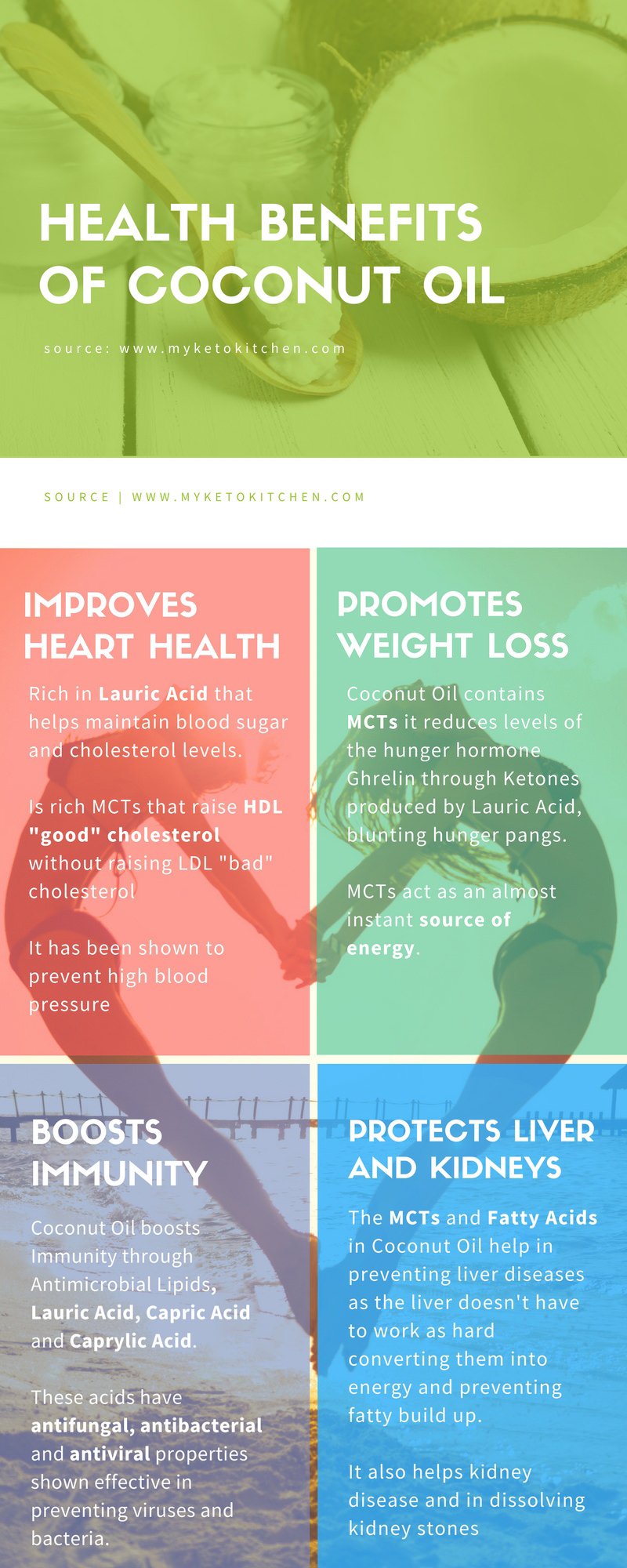 Uses for Coconut Oil in Ketogenic Diet Recipes
While some people do eat coconut oil by the spoonful for its ketogenic benefits, energy boosting and hunger sparing properties, you don't have to. Coconut Oil can be used in a variety of recipes and is a great addition to every keto kitchen.
Cooking Benefits of Coconut Oil
Coconut Oil has a very high smoke point and can withstand high temperatures making an ideal cooking oil.
Coconut Oil solidifies at 24C/76F so it's an excellent addition as a hardener for fat bombs and desserts.
See below for an example of one of our Ketogenic Coconut Oil Recipes