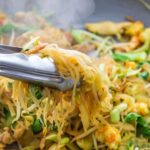 Print Recipe
Keto Noodles Recipe - Low Carb "Singapore Stir Fry" - EASY to Make Taste of Asia!
Delicious Konjac, Bacon, shrimp & chicken combine to make this Tasty Singapore "Stir Fry" Noodles so great. Very Easy To Make! Quickly at the ingredients to a wok with a splash of Soy Sauce.
Prepare the Konjac Noodles by placing them into a colander and running hot water over them for 3 minutes. Leave to drain well.

Prepare the remaining ingredients and have them ready to throw in quickly.

Add the sesame oil to a wok or a large non-stick frying pan over high heat.

Add the bacon and saute for 1 minute.

Add the chicken and saute for 2-3 minutes, until browned all over.

Add the onion & garlic and saute for 2 minutes, stirring well.

Next, add the celery, prawns and curry powder and stir well.

Push the ingredients to the sides of the pan leaving a space in the centre, add the drained konjac noodles and stir the ingredients together.

Saute for 2 minutes before adding the Sugar Free Sweet Soy.

Add the bok choy and bean sprouts and toss through, ensure all ingredients are covered in the sauce.

Continue cooking for 1-2 minutes until the bok choy has softened slightly.

Remove from the heat and serve immediately.
Serving:
240
g
|
Calories:
397
kcal
|
Carbohydrates:
6
g
|
Protein:
32
g
|
Fat:
26
g
|
Saturated Fat:
7
g
|
Polyunsaturated Fat:
3
g
|
Monounsaturated Fat:
4
g
|
Cholesterol:
135
mg
|
Sodium:
630
mg
|
Potassium:
362
mg
|
Fiber:
3
g
|
Sugar:
2
g
|
Vitamin A:
32
%
|
Vitamin C:
33
%
|
Calcium:
8
%
|
Iron:
19
%