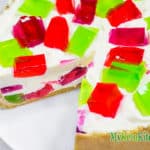 Print Recipe
Keto Jello Cheesecake - Sugar Free, No-Bake & Tasty Crust!
What happens when you mix Jello and Cream Cheese? You get a Delicious No Bake Sugar Free Jello Cheesecake, perfect to impress the family over the holidays!
Jello
In a heatproof jug place 2 cups of boiling water and dissolve 1 sachet of Jello and 1/2 teaspoon of gelatin. Set aside to cool for 10 minutes.

In a second heatproof jug place the other 2 cups of water and dissolve the second sachet of Jello and 1/2 teaspoon of gelatin. Set aside to cool for 10 minutes.

Line 2 rectangle containers with cling film and pour one flavor of Jello into each container. Place in the fridge to cool for at least 4 hours or overnight is best.
Base
Place the Keto Vanilla Shortbread Cookies in your food processor and blend until they resemble crumbs.

Pour in the melted butter and blend until combined.

Press the mixture into the base and 2 inches up the sides of a 9in spring-form tin. I wear food safe gloves to keep my hands clean.

Set the base in the fridge for 30 minutes.
Cheesecake
Clean out your food processor and add the cream cheese and Natvia. Blend until smooth.

Add the heavy cream and lemon juice and blend until smooth.

In a heatproof jug, place the ⅓ cup of boiling water, sprinkle over the gelatin then stir to dissolve. If your gelatin isn't dissolving, place in the microwave for 20 seconds and stir.

With the food processor blending on a slow speed, pour the gelatin mixture through the top, then increase the speed to quickly combine.
Constructing the Cheesecake
Remove the base and Jello from the fridge.

Cut the Jello into large cubes and place ⅓ of the Jello into the base, using a mixture of the flavors.

Layer ½ of the cheesecake mix over the top of the Jello and gently tap the counter top to even it out and remove air bubbles.

Layer over another third of the Jello over, followed by the rest of the cheesecake mixture.

Top with the remaining Jello and set in the fridge for at least 4 hours.

Cut into 16 slices and serve.
Serving:
130
g
|
Calories:
353
kcal
|
Carbohydrates:
4
g
|
Protein:
7
g
|
Fat:
34
g
|
Saturated Fat:
18
g
|
Polyunsaturated Fat:
0.3
g
|
Monounsaturated Fat:
2
g
|
Cholesterol:
84
mg
|
Sodium:
130
mg
|
Potassium:
22
mg
|
Fiber:
1
g
|
Sugar:
1
g
|
Vitamin A:
800
IU
|
Vitamin C:
1.7
mg
|
Calcium:
30
mg