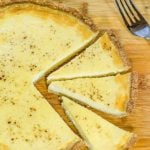 Print Recipe
Keto Custard Recipe - Pie / Tart - "With Low Carb CRUST"
Our Keto Custard Pie or Tart (depending on where you're from) ticks all the boxes of the classic recipe. The "Low-carb Crust" is crisp, sweet and the delicate vanilla custard is like silk on the tongue - only 2g net carbs per serve.
Base
3/4

cup

almond meal

1/4

cup

Flaxseed Meal

2

tablespoons

natvia

1/4

teaspoon

nutmeg

1

ounce

Butter

unsalted, melted

1

Egg
Filling
Base
Preheat fan forced oven to 175C/350F.

Mix together the almond meal, flaxseed meal, natvia and nutmeg in a bowl.

Add the melted butter and egg and mix well.

Spoon the mixture in a 9.5in pie dish and press into an even layer across the base and up the sides.

Bake in the oven for 12 minutes until the base is firm. If the base starts to rise from air bubbles, prick it with a fork and gently press down. Set aside to cool slightly.
Filling
Reduce oven to 160C/320F.

Scrap the seeds from the vanilla bean and discard the pod.

In a bowl whisk together the eggs, egg yolk, vanilla seeds and natvia.

Add the cream and mix well, before pouring through a fine sieve to removed any larger vanilla bean pieces.

Pour mixture into base and gently place in the oven.

Bake for 25 minutes, or until the custard is just set and there is a slight jiggle when moved.

Sprinkle with a pinch of nutmeg and place in the fridge for at least 30 minutes to set.

Cut into 12 even pieces and enjoy.
Serving:
100
g
|
Calories:
215
kcal
|
Carbohydrates:
8
g
|
Protein:
5
g
|
Fat:
20
g
|
Saturated Fat:
7
g
|
Polyunsaturated Fat:
1
g
|
Monounsaturated Fat:
3
g
|
Cholesterol:
38
mg
|
Sodium:
12
mg
|
Potassium:
30
mg
|
Fiber:
6
g
|
Sugar:
1
g
|
Vitamin A:
7
%
|
Vitamin C:
0.2
%
|
Calcium:
6
%
|
Iron:
4
%