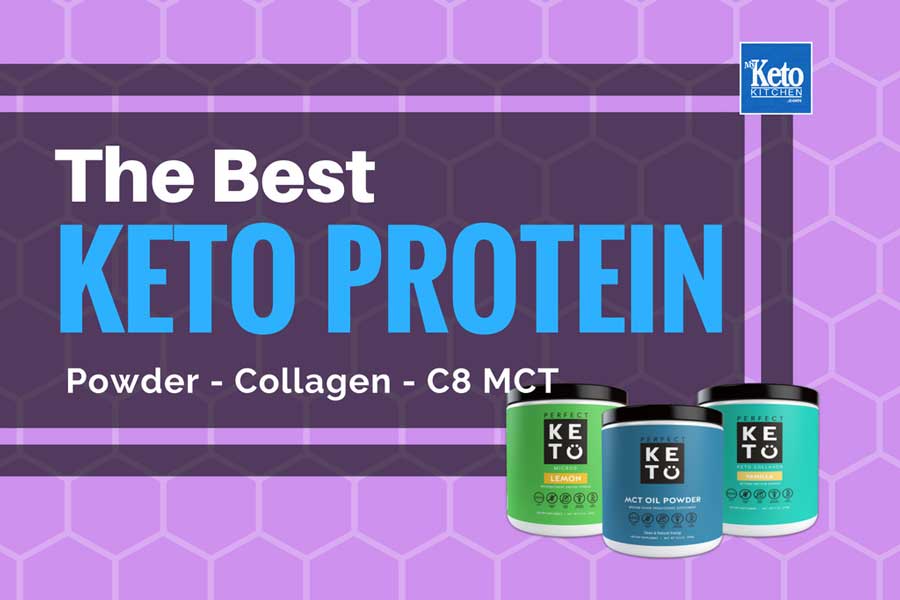 We get asked often, "what is the best keto protein powder that's perfect for low carb diets"?
We've fallen into this trap as well. So we did a little research on what makes the perfect keto protein powder.
The best keto protein powder consists of good fat to protein ratio and near zero carbs.
Good low carb protein powders should have no sugar alcohols (such as maltitol) that will spike insulin and no dirty (do nothing) fillers.
We'll Review 4 of the best low carb protein powders that we've found to be perfect for keto diets. If you don't want to read through this lengthy review you can jump straight to their product links below.
The Best Keto Friendly Protein Powders
What Protein Powder Is Best on Keto?
The best protein powder for a keto diet has different traits to whey and many other meal replacement proteins.
We list some very simple guidelines to follow. Pay more attention to the nutrition panel and ingredients than the front label.
Things to look for in keto protein supplements:
Is a collagen protein base
Has no maltitol added (is sweetened with natural sweeteners such as stevia and erythritol)
Has not only protein but also a good healthy fats
Does not use fillers
Is very low carb
Contains MCT oil for energy
Is easily blended for use as recipe ingredients or in beverages
The Best Collagen Protein Powders
There are a lot of products coming into the market of late aimed squarely at the ketogenic diet. People have become more aware and educated. So companies have realized that they won't get away with putting rubbish in their products anymore.
One pioneer in the ketogenic diet market is Perfect Keto.
Perfect Keto has been around for some time now. They have developed a number of quality products that help people get into ketosis and stay there.
Perfect Keto Protein Powder Review (Grass Fed Collagen)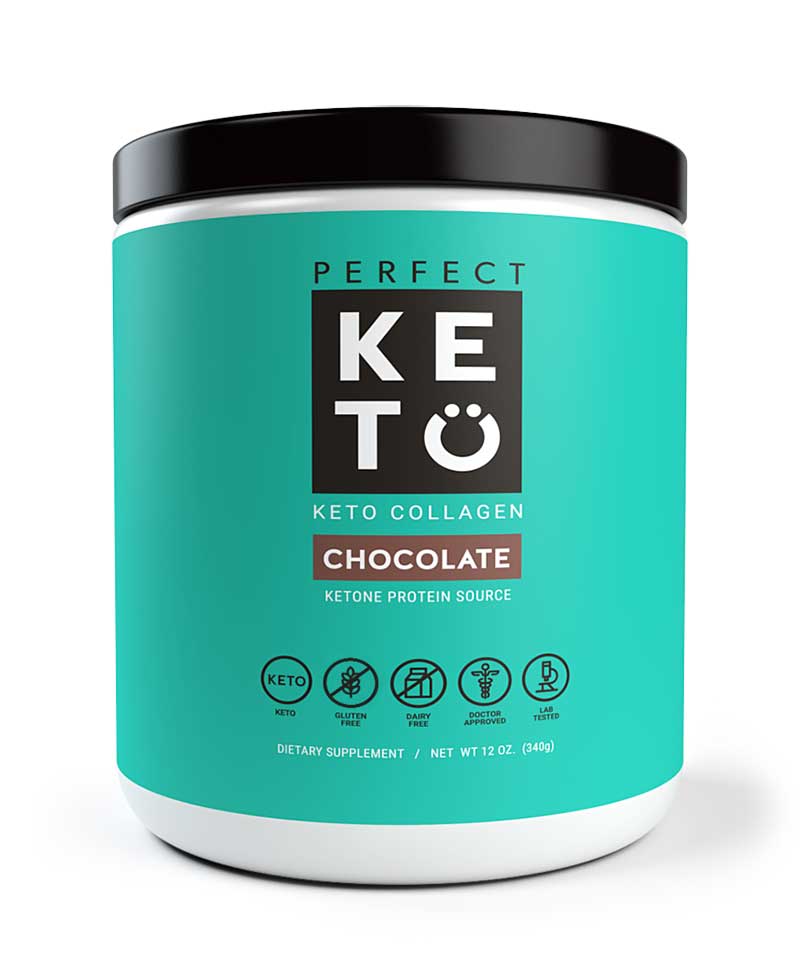 Perfect Keto's Collagen Protein is a premium low carb collagen protein product.
Perfect Keto has put a lot of work into getting a product to market that truly serves keto dieters.
There are no artificial sweeteners or cheap fillers added to perfect ketos collagen protein and other products, it's why we like them so much.
Buy Perfect Keto Products Here
Perfect Keto Collagen Protein
Helps lean muscle growth and preservation
Supports healthy bones, skin, and ligaments
Contains MCT oil for energy and maintaining ketosis
No artificial flavors or ingredients
Perfect with keto smoothies, recipes, and keto coffee
Does not cause an insulin spike due to the MCT content
We use perfect keto collagen protein for many of our recipes, it's actually our favorite.
The team at Perfect Keto have also been so kind as to provide us with a perfect keto coupon code of 20% off for My Keto Kitchen readers just apply the code: MYKETOKITCHEN at check out.
Read more about Perfect Keto Collagen Protein on their website.
---
LevelUp Grass Fed Keto Protein Powder
A new low carb keto protein powder on the market is Grass Fed Keto Protein Powder by the company LevelUp.
LevelUp is getting some rave reviews on Amazon. (Read The Reviews Here) it's another that contains Grass Fed Collagen.
It also combines with C8 MCT Oil (which is the caprylic fatty acid) for Ketone production and it contains less than 1 net carb per serve.
About LevelUp Chocolate Cream Low Carb Keto Protein Powder
Grass Fed Collagen Protein
C8 MCT Oil optimal for Ketosis
No Maltodextrin
No artificial sweeteners
No Fillers
100% Non-GMO and %100 Natural
All that, a great taste and 5-star reviews are why LevelUp makes it as one of the best keto protein powders available for low carb diets.
Currently has a promotional sale if you buy it here on Amazon.
---
Kiss My Keto Protein Powder with Collagen & MCT Oil
Here's another we want to put on our best Keto Protein Powder shopping list. Along the same lines as the two best low carb protein powders above, Kiss My Keto have kept true keto ingredient content.
Kiss My Keto Collagen, MCT, Low Carb Protein Powder
Kis My Keto protein has no artificial fillers or nasty sweeteners, a good amount of C8 MCTs and also uses Collagen Protein.
Kiss My Keto Collage Low Carb Protein Powder is highly rated by just about everyone that tries it. Take a look at the Amazon review here.
Its sold as a meal replacement, coffee creamer or shake ingredient. I'll be making fat bombs recipes with it. While it's an excellent ingredient as part of a shake, coffee or what not, I wouldn't be using it to replace an entire meal. Between meals, as an ingredient within a meal, pre-workout or as a kick start to ketosis is how I'd be using it.
Check for the latest Kiss My Keto Protein Powder specials here.
---
NowKeto™ KetoCollagen™ Basically Keto Protein Powder with MCTs
NowKeto another keto protein powder that has entered the space. With trademarked names for similar ingredients to the products on our best keto protein powder list.
Nevermind that though, everyone needs to market their good product the best they can as the competition is stiff!
NowKeto KetoCollagen comes with some solid reviews that you can read here.
The fact of the matter is that ingredients don't lie. And NowKeto Low Carb Protein Powder with collagen and MCT's is a quality product.
There's none of the rubbish you'll find filling the protein products that are not on this list. And the ingredients are all natural.
---
Concluding The Best Low Carb Protein Powders
There's a bucket load of low carb protein powders. We could have put them all on the best keto protein powders list, but that would be misleading. When we look closely at the ingredients in many low carb proteins that we left off the list they had:
Some "do nothing but rip people off" filling in there
Maltodextrin as a sweetener
Artificial ingredients for preserving
Or just had really poor reviews that we hadn't sampled ourselves
Note: If you have a keto product that you think deserves to be here send us a message. But be aware nothing will get your product on the best keto protein powder list or endorsed by us in any way if it's loaded with garbage.